2015 Ski-Doo Tundra Xtreme Review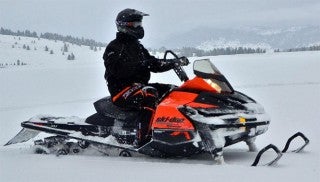 Ski-Doo's Sno-Ute has attitude
What can you do with Ski-Doo's 2015 Tundra Xtreme? Haul stuff and haul booty. In the half day we rode it at our annual Spring Ride & Reveal in West Yellowstone, we found the beautiful orange and black Tundra Xtreme to be a worker bee sled that is part pickup truck, part deep-powder player, part meadow blaster and part smooth trail cruiser. It is a sport utility snowmobile with just enough brawn to make it a legitimate snowmobile with purpose.
When we took Ski-Doo's Tundra Xtreme out for a test ride, we also took along Yamaha's Phazer M-TX and an Arctic Cat Sno Pro M8000. With the Sno Pro leading the way, the Tundra Xtreme and Phazer M-TX had no choice but to follow. They had to go big or go home. With these three deep-powder snowmobiles (mild, wild and hauler) under our control, we ventured off into some deep Montana powder using the Tundra as our equipment hauler for one of our videographers.
When we see Tundra, we see a 154-inch powder snowmobile with a 16-inch wide powder track and deep lugs. What did we learn this year as we have the previous years? The Tundra Xtreme handles deep powder very well for an almost-a-pickup. No, we will not chase Ski-Doo's XM Summit 600s on it, but we will take it out into the deep woods to gather up some firewood, repair a log cabin, or go exploring. On second thought, I'd like to take on a XM Summit 600 with this and see if the Tundra Xtreme will go where the Summit ventures.
The Tundra Xtreme has a smart ergonomic system that gives the rider handlebar leverage whether standing or sitting; the runningboards with wide snow dump holes (like a Summit) and seat are spacious. The 110-ish horsepower E-Tec 600 H.O. motor powers the REV-XU utility chassis just fine, and the storage area on the tunnel has ample room for tools, bags, video equipment or whatever. The tunnel also offers a generous supply of latchet holes to hook or tie down anything. We found the telescopic front end to be robust enough for its weight and loads, and comfortable for the trails.
Jerry Basset, Sr. Editor of Snowmobile.com, wrote in August 2012: "The direct-injection, two-stroke engine is pure BRP/Rotax by way of shared engineering with BRP's Evinrude outboard franchise. Bringing in bits from BRP's Swedish Lynx snowmobile subsidiary, the Xtreme features a telescopic front suspension and articulating rear suspension."
The Tundra Xtreme is a worldwide snowmobile. All snowmobiles can work and play across the Snowbelt that blankets many nations and countries. Ski-Doo's Tundra Xtreme is made to be the packhorse, minivan, truck, bus or whatever for those winter dwellers where summer is a few weeks of bad ice-skating. The Tundra name is appropriate.
Tundra, what is it really? According to Wikipedia, Tundra is: "A type of biome where tree growth is hindered by low temperatures and short growing seasons. The term tundra comes through Russian as 'uplands', 'treeless mountain tract'. There are three types of tundra: Arctic Tundra, Alpine Tundra, and Antarctic Tundra. In tundra, the vegetation is composed of dwarf shrubs, sedges and grasses, mosses, and lichens. Scattered trees grow in some tundra regions."
The Tundra Xtreme is made for this climate in such a geographic location. Not all lands are steep-n-deep fun lands, where Ski-Doo's XM Summit rocks and rolls.
The Tundra, as a utility snowmobile, is large in footprint. Its PowderMax track is 16-inches wide with a length of 154-inches. Added to this width and length is a lug height of 2.25-inches that gives the Tundra the flotation and bite to tackle a wide array of moderately deep snow conditions. This track is made for tundra – the land type.
Up front, the Tundra Xtreme uses a telescopic suspension, which is a front suspension that relies on struts. As mentioned earlier, the Tundra Xtreme is part Lynx – Bombardier Recreational Products' overseas line. This front suspension is known as Lynx Telescopic Strut (LTS) with Motion Control shocks. Travel for the LTS is six inches.
The Tundra Xtreme's rear suspension is the SC-5U parallel slide rail with articulating rear and a "lock-up" feature. It relies on HPG gas shocks for bump soak and has up to 14 inches of travel.
Being this is a utility snowmobile, you might assume it is a heavy beast. Not true. This utility snowmobile is relatively light, weighing in dry at 495 pounds. With 495 pounds carried by the wide and long non-ported PowderMax track, narrow-edged Pilot DS skis, and its SC-5U articulating rear suspension designed to accommodate the extra-long track, the Tundra Xtreme is a surprising deep-powder sport utility snowmobile.
Furthermore, with its 32-inch ski stance combined with upright aluminum handlebars outfitted with J-hooks and a center-mounted grab bar (like a Summit), riders can easily stand or sit to lean into a turn or a sidehill, thus making the just over 130-inch long utility snowmobile an easy snowmobile to manage. In fact, with a little training, a rider can take it to the mountains and stitch a little sidehill into mountainside.
On the trails, the long chassis handles rollers well and delivers a comfortable ride. The narrow ski stance does limit high-speed turning, but hey, this is not a cross-country racer – even though it will handle a single-rider cross-country tour quite well. After all, a rider can haul a 7 Eleven in the back and have all the foodstuffs they want for a deep excursion.
When we see a Tundra Xtreme, we no longer roll our eyes and wonder why we need to spend some evaluation time on it. Actually, we have opened up a little corner in our heart for it.
The Mountain Team for Snowmobile.com are not experts on two-up or utility snowmobiles, but we found the Tundra Xtreme to be a well-rounded, comfortable, useful, and expertly designed deep-powder sport utility snowmobile with some go.
So, what can you do with Ski-Doo's 2015 Tundra Xtreme? Haul stuff and haul booty.
2015 Ski-Doo Tundra Xtreme Specs
Engine
Rotax 594.4cc two-stroke; bore/stroke of 72.0mm/73.0mm; liquid-cooled two-cylinder; Electronic direct injection
Horsepower
110 (estimated) @ 8100 rpm
Drive
Rotax TRA III drive with QRS secondary; Rotax push button electronic reverse; 3400 rpm initial engagement
Front Suspension
BRP Lynx telescopic strut (LTS) with Motion Control shocks; 6.0-in travel
Rear Suspension
Ski-Doo articulating SC-5U parallel slide with HPG shocks at rear and center arms; up to 14.0-inches of travel
Length
131.6 in
Width
39.4 in
Height
51.0 in
Ski Stance
32.0 in
Track
16 x 154 x 2.25 PowderMax
Weight
495 lbs (Claimed)
Fuel Capacity
10.6 US Gal (91 Octane)
Features
Electric start; REV-XP X narrowed seat saddle; locking mechanism for articulating suspension; Pilot DS 2 skis; REV-XU platform with REV-XM wide-opening snow clearance runningboards; mountain strap OPTIONAL: Mirrors; LinQ attachments: hitch; baggage
MSRP
US$11,199 – C$12,249