Snowmobile River-Run = Mad-Skills! + Video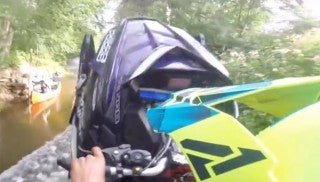 This snowmobile river-run by Oscar Nordstom is crazy, he's got mad-skills! He and his buddy not only "hop" onto a lake and run a very narrow river line, they catwalk past a canoe at a dock, and even go through a small overpass tube.  Mad props on this ride.  If you want to check out his Facebook Page, here's the link: https://www.facebook.com/OscarNordstromStunt/.
NOTE/Safety Tip: the more shallow the water is the easier it is to puddle-jump.