Klim Releases New Radius Goggle

Klim has recently released the new Radius goggle, which it calls the most advanced snowmobile goggle in the world.
"The Klim Radius goggle is completely revolutionary and is the result of tirelessly sourcing technical solutions to pain points riders can encounter every day they ride," Klim says in a release.
The heart of the new Radius goggle is its PolyCarb2 Premium Lens – what Klim calls the snowmobiling's most advanced lens system. With Polycarbonate (PC) inner and outer lenses, Klim says the Radius is more durable and scratch resistant than the competition.
Another key feature of the lens is its Zero Fog Technology (ZFT). ZFT was developed in conjunction with suppliers and the treatments they apply to the facemasks of U.S. military pilots and special operations personnel. With ZFT, Klim says fogging is practically eliminated.
The Klim Radius goggle is designed with more volume between your eyes and the interior surface of the lenses. According to Klim, this higher volume is affected less drastically by changing temperatures and humidity levels, keeping condensation saturation to a minimum.
Managing all that airspace in the Radius goggle is its Fresh Air ventilation system, which is designed to maintain clean, clear air in front of your eyes and across the lens interior without drying your vision. According to Klim, in-frame directional intakes, massive lower and upper frame vents and substantial in-lens vents all combine to keep the airspace restored with clean air. Combine the Radius Goggle with a Klim F4 Helmet and you get the first fully integrated helmet and goggle ventilation system ever developed.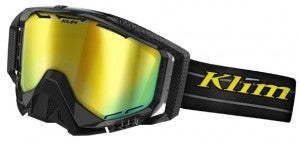 Klim says every dimension of the Radius goggle skeleton has been engineered to provide the most unobtrusive peripheral Field of View (FOV) available. Every component of the Radius goggle is designed to disappear from your vision as soon as you put it on. "Horizontal and Vertical Field of Vision is greater with the Radius than the competition," Klim says in a release.
Finally, Klim utilizes two exclusive foam structures on the Radius goggle to provide maximum breathability, durability and comfort – FOAM3 face foam and RADVENT frame vent foam.
FOAM3 face foam is a high-wicking face contact fabric designed to transport sweat off your skin quickly to keep a fresh, dry junction between your face and the goggle. Klim says medical-grade foam absorption properties make this the most potent sweat dispersing foam structure available.
RADVENT foam, according to Klim, provides snow and debris-blocking properties with air permeability and breathability performance equal-to much less dense foams. This allows maximum air and water vapor to escape without allowing snow or other debris to penetrate into the airspace between your face and the goggles.
The Radius goggle is available in three iterations: Radius Polarized ($159.99), Radius Mirrored ($129.99), and Radius Tint ($109.99). Visit Klim.com for more information.