Best Snowmobile Goggles to Protect Your Eyes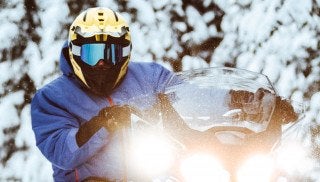 From high tech to budget friendly, we've found the best goggles in the industry
Are you looking to upgrade your snowmobile goggles? When you're on a snowmobile riding around a beautiful snowy mountain, the last thing you want is freezing flurries, ice, or the harsh cold hitting your face. Protection in this intense climate is the most important thing to consider when planning your snowmobile adventure.
There are several excellent options on the market for you to choose from, including snowmobile goggles from brands like FXR, Scott and 509. Because there are so many choices, it can be overwhelming to find the best set of goggles for you. We have narrowed them down and selected the best snowmobile goggles with the best features to optimize your experience. From top-performing and affordable goggles to those with the most advanced technology, you will be sure to find the best pair of goggles for your needs.
509 Kingpin Ignite – Best Heated Snowmobile Goggles

One of our top choices is the line of 509 snowmobile goggles, with the Kingpin Ignite being our favorite. These sleek goggles come with an incredible heated dual-lens technology, which heats your lenses to a toasty 104 degrees Fahrenheit. Not only will this keep you warm on the icy slopes, but you can also take care of any fog that forms on the lenses with the push of a button. You can either use the heat feature for two-minute increments to deal with fog and warm up a little bit, or you can leave the heat on all day for maximum warmth on your ride. The battery is rechargeable, sonic welded, and totally water and dust resistant. The thermal conductive indium tin oxide (ITO) heated lens can stay on at the highest setting for up to five hours, so you can enjoy the comfort the whole time you're out on the mountain. The power pack rests on the band of the goggles, but it is lightweight for optimum comfort and security when riding your snowmobile at high speeds. You'll be able to stay out longer without your face freezing and without having to worry about foggy goggles.
Odoland S2 – Best Budget Snowmobile Goggles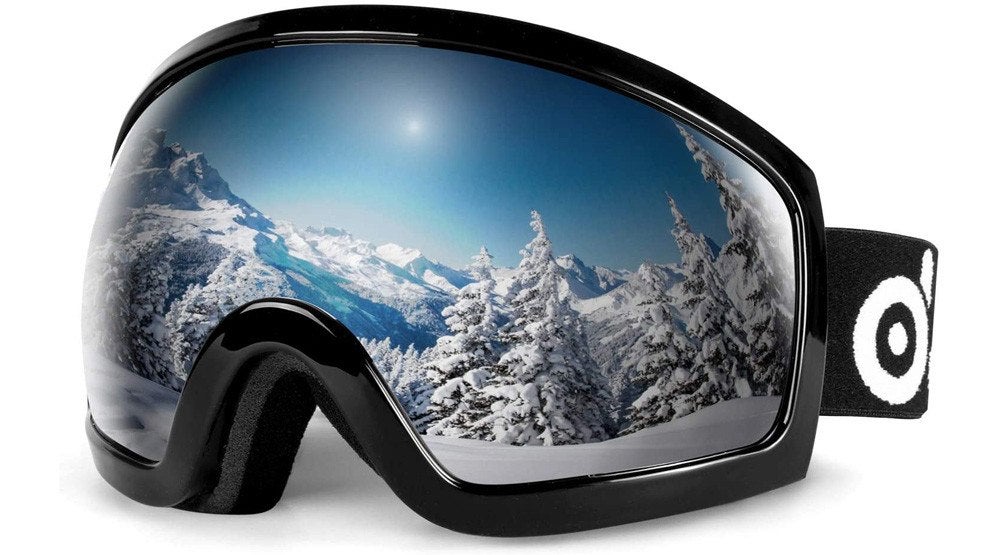 Though not exactly a pure snowmobile goggle, at a price point of under $20, the Odoland Snow Ski Goggles S2 definitely gives you the most bang for your buck. These stylish goggles provide UV protection and anti-fog technology, both of which are very important for your safety. These goggles are compatible with eyeglasses. You don't have to choose between perfect vision and protection of the elements. These Odoland goggles provide ample room between the lenses and your eyes so that glasses will sit comfortably and not get pushed into your face by a tight goggle design. If you don't love what you get, you can take advantage of the 30-day money-back guarantee. There are many other brands that offer affordable goggles. However, with this pair, you get the best value for the lowest price possible.
FXR Pilot Carbon LE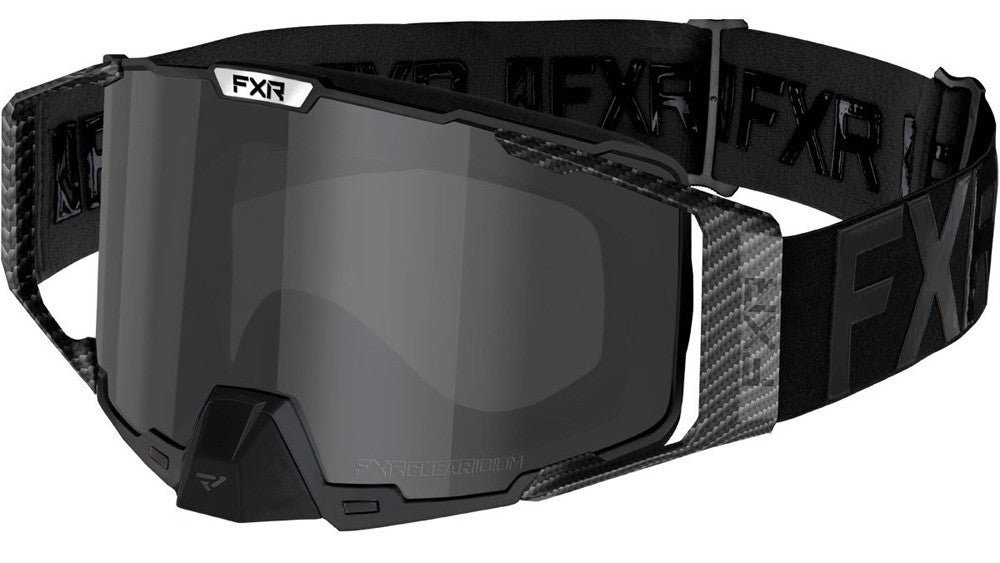 The best looking FXR snowmobile goggles, at least in our opinion, is the FXR Pilot Carbon LE. With a slick carbon fiber frame, these snow specs look the part of a premium pair of goggles. Beyond the frame, the key feature here is the CLEARIDIUM lens, with is anti-fog, oversized, impact resistant, and pre-curved. You also get a spare lens with every pair of goggles. Other features include 3D contoured triple-density face foam, moisture-wicking face fabric, removable nose piece, soft storage pouch, and a premium strap.
Klim Oculus

The Klim Oculus is the brand's premium pair of snowmobile goggles. Klim boasts that the purpose of the design was to provide the best possible vision on the snow. To achieve this, the Oculus relies on the Klim Slide-Lock technology, which allows users to quickly and easily swap out lenses for changing light conditions. Each Klim Oculus comes with two lenses – one for high light and one for low light. The Oculus also features the latest anti-fog technologies, including a massive internal air volume and anti-fog coating on the lens.
509 Kingpin Goggle

Rounding out our list of the best snowmobile goggles on the market is the 509 Kingpin Goggle. These are similar to the Kingpin Ignite mentioned above, but this version does not come with lens-heating technology. However, it does allow you to switch out your lenses in under a minute with a clip locking system for the best performance in any environment or weather conditions. The lenses used in these goggles are top-of-the-line, Italian imported, wide view, and cylindrical lenses. These give you a nice, wide panoramic view of your surroundings. The lenses also protect against UV rays and have anti-fog and anti-scratch coating.
The most exciting thing about this model is that it claims to be practically indestructible while providing maximum comfort with the combination of thermoplastic urethane polymer material and triple-layer foam to protect your face from the hard plastic. These snowmobile goggles will last you quite a while without becoming damaged. You won't need to worry about replacing them in the future for damage or discomfort reasons.
Why do snowmobile goggles fog up? 
When the cold air outside your goggles mixes with the warm air on the inside, the lenses will fog up. It can be difficult to see when your goggles fog up, which can be very dangerous, especially when riding a snowmobile. Fog can be caused by your goggles being too loose and not conforming to your face. It can also be caused by cracks in your goggles or other means of cold air getting in. If you remove your goggles, be sure to do so in a dry place to avoid getting moisture in the goggles.
How do you stop snowmobile goggles from fogging up?
If you have to remove your goggles because they are too foggy, put them in their case rather than putting them on your chin or head. Your body heat will add heat and moisture, making the fog worse. Check the inside of your goggles for snow. If it's a particularly snowy day, you should also remove any snow that may have gotten stuck in the vents of your goggles. When you clean the goggles to remove the fog, do so with a dry material. Any additional moisture will worsen your issue. Don't touch the inside of your lenses, and be sure that your goggles dry out completely before riding with them on again. It's always smart to bring an extra pair of goggles on your trip. While your other goggles are drying out in a totally dry space, you can still ride along without worrying about the frigid air stinging your eyes.
What is the difference between ski and snowmobile goggles?
Snowmobile goggles have so many benefits for users. They will provide you extra warmth on the trails and  eye protection against wind, snow, and ice. The straps of snowmobile goggles help them stay on your face, so they are great for beginners who might take a few falls as well as experts who need the goggles to stay on their faces securely during at top speeds.
Ski goggles, or ski sunglasses, are more lightweight and comfortable than snowmobile goggles, and they don't fog up easily. They have wider facial coverage than sunglasses, so they do provide some warmth and protection against wind, ice, and snow. However, they don't conform to your face, so they won't protect you against harsher weather conditions.
We are committed to finding, researching, and recommending the best products. We earn commissions from purchases you make using the retail links in our product reviews. Learn more about how this works.