Garmin Introduces New VIRB Action Sports Camera

Garmin is entering the action sports camera market with its new VIRB and VIRB Elite cameras offering features not seen on the current market leader – GoPro.
The Garmin VIRB features a waterproof housing, so there is no extra case necessary to withstand the elements. As well, it comes equipped with a 1.4-inch Chroma color display to make setup and playback simple. Other features include the ability to record up to three hours of 1080p video on one charge, digital image stabilization, lens distortion correction, 16-megapixel photos (even while video is recording), built-in WiFi, data sensors and a high-sensitivity GPS. Both VIRB and VIRB Elite feature ANT+ connectivity for remote control functionality with other Garmin products, and for data transfer with other fitness sensors.
"Action cameras are growing rapidly in popularity, and VIRB has some game-changing key features – like a color display, extended battery life, optional GPS and compatibility with existing Garmin products – that set it apart from other cameras on the market," says Dan Bartel, Garmin's vice president of worldwide sales. "Our customers already embrace an active lifestyle, whether they're hikers, mountain bikers, skiers, trail runners, boaters, or pilots, so a Garmin action camera is a compelling option to them. With GPS and enhanced wireless capabilities in VIRB Elite, users can capture not only what they were doing, but also where they were and how they did it—and then share it with their friends and family."
Get the Flash Player to see this player.
The VIRB has a design that makes it simple to record HD video – just move the slider forward to record. The 1.4-inch screen uses ambient light (instead of a battery-draining backlight) to illuminate the screen and make it easy to see in bright sunlight.
With its external housing, the VIRB has an IPX-7 waterproof rating (can withstand accidental immersion in one meter of water for up to 30 minutes), so it can record activities like skiing and kayaking without additional protection or fear of damage. An optional dive case is available for deep-water adventures, as well as a wide variety of other mounts to secure it to handlebars, helmets, surfboards and more. An industry standard mounting adapter is available, making it easy for existing action camera users to get started with the VIRB.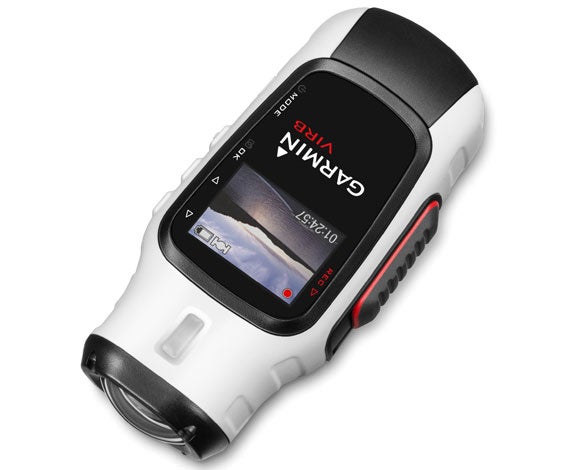 According to Garmin, video enhancement features ensure quality footage. The digital image stabilization technology corrects camera shakiness for smoother footage, and the lens distortion correction feature gives users the option to automatically remove the fish-eye look that is common with action cameras. The VIRB has a micro HDMI output for video playback and a microSD slot that can hold up to 64GB card (as much as seven hours of 1080p video).
VIRB Elite incorporates all these features, as well as high-sensitivity GPS, accelerometer, altimeter and WiFi. WiFi capabilities allow users to connect to the free mobile applications for iPhone and Android. VIRB Elite comes equipped with specific activity profiles so users can track location, speed, elevation, heart rate (monitor sold separately) and more while recording. This data can be reviewed right on the device, or can be embedded into their video during the editing process.
Additionally, in Ski Mode, the VIRB Elite is able to recognize the difference between going down the mountain and going up the ski lift. In this setting, VIRB Elite automatically turns on and starts recording when going down the mountain, and then goes into standby mode once on the ski lift. This mode saves battery and memory space, and keeps the user from forgetting to record when going down the mountain.
In addition to the optional accessory remote, the Edge 810, fēnix, quatix, Oregon 600 series, and many more Garmin devices can control the VIRB, allowing users to start and stop recording and take stills right on the device through ANT+ wireless communication. Also through ANT+, users are able to control several connected VIRB devices. Just move the slider forward to record on the master device, and all the other connected VIRB devices will record as well.
To complement the VIRB Elite, Garmin is launching a mobile application for preview, playback and remote functionality, along with a free desktop software application to edit and upload VIRB and VIRB Elite videos. With this software, users can easily edit their footage and embed sensor data in the video, then share with family and friends or upload to social media.
The VIRB ($299.99) and VIRB Elite ($399.99) will be widely available for purchase in September 2013.