Best Snowmobile GPS Systems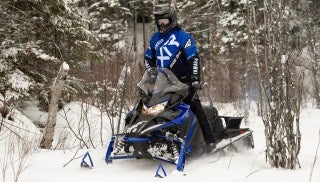 Explore new trails without worrying about finding your way back
If you're going to ride a snowmobile around a beautiful but unfamiliar snowy mountain or explore a new trail system, a reliable snowmobile GPS can come in very handy. Your adventure can easily become stressful and even dangerous if you lose your way. If you're trying to get to a particular location to take in the views, you don't want to waste valuable time searching for the best spot. Locate it as soon as possible and spend more time enjoying yourself.
Additionally, unpredictable weather can make even the most familiar trails unrecognizable and dangerous. Being able to find your way back to your vehicle or locate friends who may have gotten separated from the group is essential. To help with this, we've rounded up the best snowmobile GPS systems to take with you on the trails, as well as the best GPS mounts on the market to connect your device to your snowmobile.
Trail Tech Voyager Pro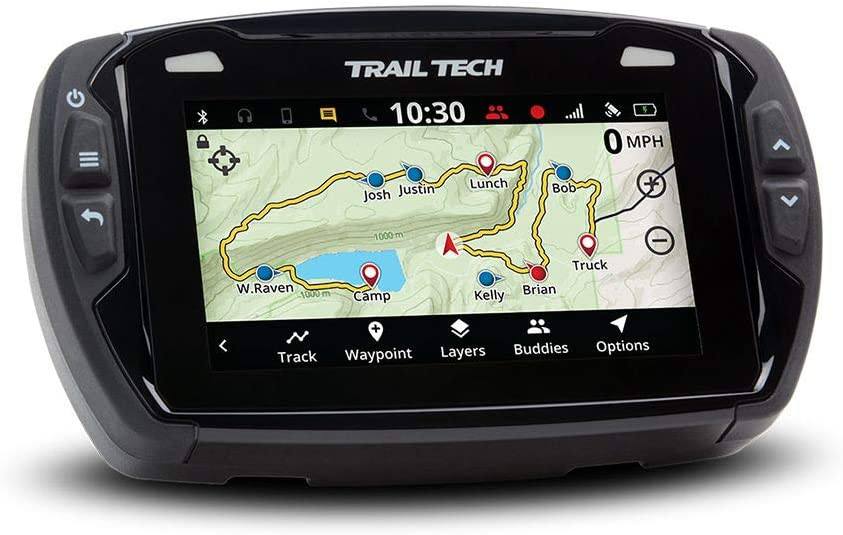 One of our favorite choices of GPS for snowmobile trails is the Trail Tech Voyager Pro. This device has a 4-inch anti-glare touch screen and can withstand the elements, with protection against damage from dust and water. The Voyager Pro shows you all the information you need on the trails, including speed, temperature, distance, elevation, and voltage. It also shows you detailed maps that show the topography of the land. There is even shading to show where hills and valleys are. The off-road compatibility with this GPS makes snowmobiling easy. You can find accurate maps of all sorts of remote tracks, routes, and waypoints that many other GPS devices can't identify. You will never get lost with this GPS. But the best thing about the Trail Tech Voyager Pro is the buddy tracking technology. You can see the precise location of up to 20 members of your group. It is also Bluetooth-enabled for intercom, phone, messaging, and media controls, so you can always be connected with your friends. Each of you can go off and explore nature on your own without fear of losing the group.
Magellan TRX7 Off-Road Navigator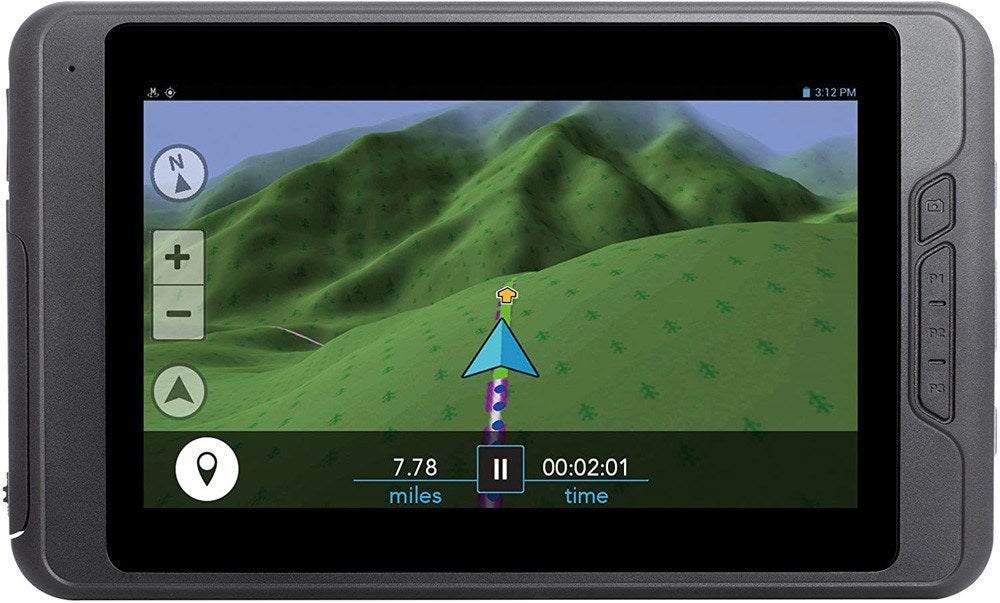 Another fantastic choice for a snowmobile GPS is the Magellan TRX7 Off-Road Navigator. The display screen on this device is huge at 7 inches. It also has a touch screen, making this GPS very user-friendly. The hi-res display shows the topography, which helps you find the best route to your destination. You can view more than 160,000 preloaded routes for off-highway vehicles, or you can access the satellite map view. Whichever way you use this GPS, you will love the accuracy of the turn-by-turn trail and street navigation.
Garmin eTrex Rugged Handheld GPS Navigator
Are you looking for something highly durable and that you can carry with you anywhere, on your snowmobile or otherwise? You may not want to attach a GPS to your snowmobile for some reason, whether that be for safety while zipping around at top speeds or to avoid ruining the sleek look of your snowmobile. There are many reasons why you may want a handheld GPS, and the Garmin eTrex Rugged Handheld GPS Navigator is an excellent choice. It is a compact and reliable device with a 2.2-inch sunlight-readable color display. This GPS comes with preloaded maps of all the remote trails that you want to explore. It also supports the GPS and GLONASS satellite system, giving you the best tracking capabilities, even in the most challenging environments. The Garmin eTrex Rugged Handheld GPS Navigator has 8 GB of internal memory to download your maps for offline use, and it has a micro SD card slot for additional memory. You can be on the trail for as long as you want without getting lost because this GPS device has a 25-hour battery life with a single pair of AA batteries.
Techgripper Handlebar GPS Mount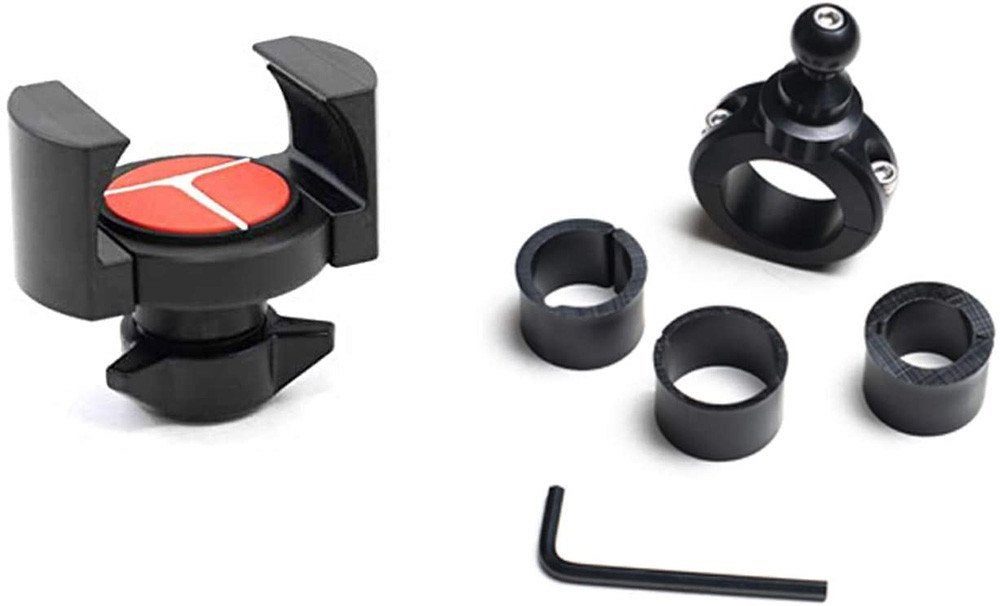 Perhaps the simplest snowmobile GPS mounting solution is this handlebar mount from Techmount. Called the Techgripper, this mount offers up 18 pounds of per square inch of gripping power and the claws spread out as far as 4.3 inches. This system clamps down on any handlebar between 7/8" and 1 ¼" and it is built of aircraft-grade aluminum.
APPS2Car GPS Dash Mount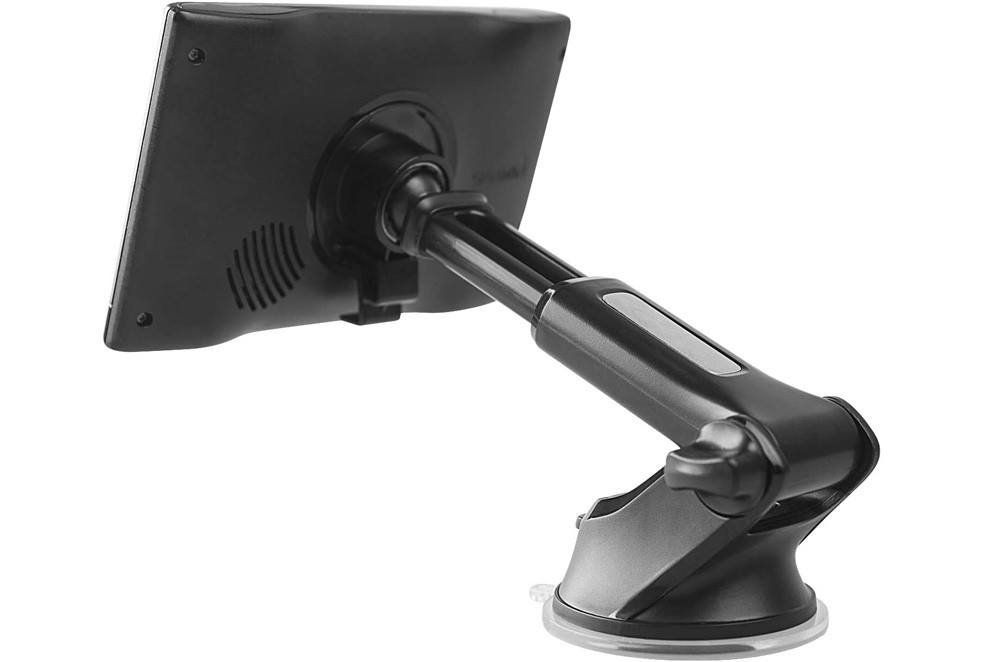 If you don't have a mount for your GPS, it will be essentially useless to you if you need to quickly glance at your location while driving your snowmobile. This swivel ball connection dash mount from APPS2Car is a great universal mount that will fit most Garmin products as well as any other GPS with a female swivel ball joint connection. The adjustable, semi-auto arm can be adjusted with a single hand, and you can tilt the screen in any direction for easy viewing at any angle. This is a great choice for a GPS for snowmobiles because of the strong suction cup mount. It has a lever for the most secure connection to your vehicle, even at top speeds.
Water-resistant GPS Case With Female Socket Adapter
When snowmobiling, you will encounter some harsh weather. It's important to protect yourself from the elements, but it is also vital to protect your electronic devices, especially those as important as a GPS. This water-resistant GPS case adds a level of protection without obstructing your view of the GPS screen. It also comes with a female ball connection attachment, so it is compatible with many GPS mounts on the market, including the one mentioned above.
How do you mount a GPS on a snowmobile?
To mount your GPS on your snowmobile, you will need to use a mount that is compatible with your device. Many GPS products come with a mount, but if not, you will need to purchase one. There are several options that you can choose from, and many of them are universal. The best mounts for snowmobiles are the ones that attach to the windshield with a suction cup or a strong adhesive. The mount will connect to your GPS device either by gripping the sides or by connecting to an attachment on the back of your device. Be sure that the GPS is securely in place before you take off on your snowmobile.
How do you use a snowmobile GPS?
When you're using a GPS for snowmobile trails, first be sure to read the manual that comes with the device. There are several different kinds of GPS systems, so there will be variations among the products. You may need to charge the device, or it may need to be connected to your snowmobile for power. However, most GPS devices work similarly. You will see a digital representation of the trail, a symbol or figure that represents where you are on the map, and details about the environment and destinations near you. You can search for destinations to find directions to that location, or you can simply use the GPS to see exactly where you are and avoid getting lost while you explore the mountain.
We are committed to finding, researching, and recommending the best products. We earn commissions from purchases you make using the retail links in our product reviews. Learn more about how this works.