Yamaha Viper M-TX Wins at Jackson Hole Hillclimb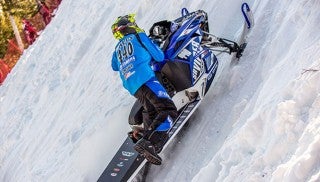 Gavin Balls rode his 2015 Yamaha SR Viper M-TX to victory in the Improved Stock 700 class at the Jackson Hole World Championship Hillclimb.
Just two weeks prior, Balls finished on the podium in second place in Pinedale. Turns out that was just a precursor to what most would consider the biggest stage in hillclimb competition, Jackson Hole.
After just missing the final field in several classes during qualifying the previous day, Yamaha racers and technicians set about making some last minute traction calibrations in hopes of turning the tide. "We had been working on our suspension and traction set-up for the past couple of weeks," says Mountain Race Team Manager Troy Johnson. "None of our racers had seat time on the new sleds until a few weeks ago, but we were real good from the get go and just had to find that small edge to put us over the top."
"There was a real tricky section about two-thirds up where someone had trenched out," said Balls after his victorious run. "Everyone was having a hard time getting through."
2015 Yamaha Snowmobile Lineup Preview
For an encore, Balls went on to claim third in 700 Modified and finished in the top ten in 800 Modified; a huge accomplishment given the class was filled with more than 35 of the best riders in the world, many of whom were on more powerful sleds. Yamaha teammate Chad Jorgensen added a fourth-place finish in 700 Mod to cap off the historic weekend.
"We've had Jackson Hole circled on our calendars since early winter," says Yamaha Snowmobile Product Manager Rob Powers. "We knew the new Viper M-TX would open some eyes once our racers had some seat time. It was rewarding to see the hard work by everyone involved in this project (SR Viper M-TX) pay-off in a big way. Our booth at the base of the hill was filled with other racers and fans not only congratulating us, but also looking at the M-TX in a new light."
The Yamaha Hillclimb team will continue to test and tune in preparation for the final three Rocky Mountain Snowmobile Hillclimb Association (RMSHA) events on the calendar. The next race is slated for Crested Butte, Colorado, April 12-13.