2015 Yamaha Snowmobile Lineup Preview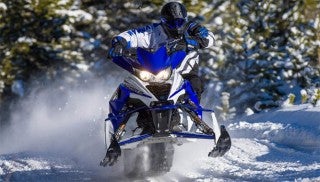 Viper line expands into mountain segment
Yamaha's great partnering experiment with Arctic Cat continues. Building on what Yamaha North America's lead snowmobile executive, Peter Smallman-Tew views as a successful first year, Yamaha launches an expanded line of its Viper series. The Yamaha-Arctic Cat pairing adds new models for western and deep snow riders, while adding limited editions and seriously tweaked new for 2015 Viper models.
Smallman-Tew noted that all Yamaha snowmobile executives had been anxious as to what impact the manufacturing alignment with Arctic Cat might have on Yamaha dealers, but he said "dealer reaction was very good as 80 percent of our dealers bought into the concept right away." Consumers had little problem accepting the Viper, which saw the best sales of any Yamaha snowmobiles in the recent past.
With dealer profitability a priority, the current season has been a success, for all brands. Smallman-Tew expected end of the season industry sales to reflect a double-digit increase. He noted that the ratio of new to non-current models should be the best the industry has seen in the past 15 seasons.
Yamaha snowmobile product planning manager, Chris Reid explained that Yamaha established targets for its newest models. Those targets include: maneuverability and control; presenting a lightweight, yet durable chassis; and offering power from a reliable engine that could be boosted if necessary.
While the Viper models hit targets with balance, response, agility and improved flotation, Reid admitted that the 2014 model line did not offer much of anything for the western and deep snow rider. That changes for model year 2015 as Yamaha adds the SR Viper M-TX.
Like the other Viper models, the series utilizes Yamaha's proven and durable 1049cc three-cylinder, liquid-cooled motor. But for running in higher altitudes and deep snow, the 2015 powertrain has been tweaked with updated mapping of the engine's electronic computer unit (ECU) to provide more instant response with quicker revving to reach the four-stroke's higher torque levels. Along with that, the Viper M-TX YVXR clutch system has been recalibrated to provide quicker shift out to get power to the track.
Read About the Yamaha and Arctic Cat Collaboration
While there will be various iterations of the M-TX, the basics include a new "mountain" SRV chassis that features:
• Tapered tunnel with powder coating that creates clearance for snow evacuation; • Open runningboards that are lightweight, offer improved boot grip and improved clearing of snow; • No rear heat exchanger, which reduces weight and snow build up.
Along with the new SRV chassis, the M-TX has serious powder play advantages built in. The tall-spindle front suspension has a narrow 38-inch stance that can be moved out an inch. And, then there is the new wide ski with single keel to aggressively mark mountainsides. All of this gives the rider good control though the vertical steering set up. A steep steering shaft angle combined with a tall riser on the mountain bar helps to put the powder player in just the right control position.
While most serious off-trail riders will stand and float off the runningboards, the M-TX adds a narrow profile mountain seat that tapers toward the front. Shorter than the standard Viper seat, the mountain seat allows the rider to swing into position for forward-foot maneuvering.
With ergonomics and power conquered, Yamaha equipped the M-TX with a choice of two suspension lengths to accommodate either the 162 or 153 track lengths. These Power Claw designs have 2.6-inch lug profiles and spin around a new Dual Shock Rear Suspension with extrovert drivers that afford lighter weight and improved in-snow efficiency. The suspensions offer specially calibrated Fox shocks, a new rail profile and front torque arm. The suspension has been designed to move cleanly through snow without creating snow packing.
There will be a number of versions of the new M-TX, including "SE" versions in the 162 and 153 track lengths. Outfitted with a 10-gallon fuel tank, the Viper M-TX 162 SE comes with Fox Float 3 shocks up front and a Fox Float 2 in the rear suspension.
Like its larger tracked sibling, the new Viper M-TX 153 SE will feature electronic reverse and a magnesium chain cover. There is also a "base" version, the Viper M-TX 153, that comes in black, shares the basic M-TX attributes, but uses coil-spring assisted HPG shocks front and rear. It will grip snow with a Power Claw track design with 2.6-inch profile lugs.
For 2015, Yamaha carries its mountain news to bolder heights, as there will be a "limited edition" series. The 2015 Viper M-TX LE adds a dramatically bright orange and blue graphics treatment along with top of the line Fox Evol front shocks.
Read our 2014 Yamaha SR Viper – Real World Test
The only other powder-play Yamaha for 2015 will be the 80-horsepower, 500cc Phazer M-TX with new graphic scheme.
In the crossover segment, which mostly consists of Yamahas with an X-TX designator, there is a new Viper model, the Viper S-TX DX. Think of this as a "tricked-out" Viper X-TX. The "S-TX" gives you off-trail bite with a 141-inch Cobra track, which means it grips with a 1.352-inch lug profile. Making this sled deluxe, hence the "DX" designation, are features like the modular rear bumper and rack, the tall wind-fighter windshield, deep-keel proprietary Yamaha Tuner skis and dual-setting heated seat. You can equip this sled to accommodate yourself – or, you and a close friend who can ride on the accessory passenger seat.
The Viper X-TX SE is probably better suited to more serious off-trail riders as it comes standard with Fox Float 3 front shocks as well as the powder-oriented handlebar with mountain strap and new deep-keel Tuner skis.
If standing out from the crowd is your thing, order early (between February 11th and April 15th) to get the Viper X-TX Limited Edition version that adds the vertical steering post, shorter mountain seat, mountain action skis, and more aggressive 15 x 141 x 2.25 Power Claw track.
Other crossovers continuing into the 2015 model year are:
• The Apex X-TX with fresh matte black or candy red color schemes; • The Phazer X-TX in black and blue.
According to industry sources, the improved winter climate created an uptick in sales throughout the trail segment. You'll find that Yamaha stayed the course with its trail Vipers, adding tweaks and upgrades as necessary to improve the customer experience. The "hot rod" trail Viper, R-TX SE, added Yamaha's own deep-keel Tuner skis plus new color packaging for the 2015 model year. The aggressive styling, strong Yamaha Genesis powertrain and excellent ergonomics continue into the next season.
While probably not getting the respect that it's due, the Yamaha Viper R-TX DX comes in with what Yamaha refers to as its comfort-tuned suspension package, complete with coil-over-shocks replacing the Float 3 shocks on the "SE" version. For sporty long haul play and speed cruising, there are few sleds as easy on the trail rider as the R-TX DX. The DX has been added to give the "base" model a bit more pizzazz, perhaps, but when you look at what all you get, well, tell us what more you need. There's a dual-level heated seat, generously sized trunk bag, Tuner skis, and ample windshield. Let's not forget the scads of information available form the Viper gauges. What do you want to know?
Read our 2014 Yamaha Viper LTX SE Review – Video
Other trail sleds for 2015 include popular Yamaha-built models such as:
• Apex, the only four-cylinder snowmobile you can buy over the counter; • Vector, with new graphics; • Vector L-TX, with updated graphics new to a sled with a "stretch track" and electric power steering and solid Yamaha drive components; • Phazer R-TX, a sport performance ride with new color scheme.
Yamaha's series of cruisers and utility models are basically the same except for new colors and graphics. Two-up cruisers can be enjoyed in various lengths. The Venture GT with its 144-inch track continues as Yamaha's premium cruiser. It shares features with the 151-inch extra-long track-equipped Venture TF. The Phazer-based Venture MP combines two-up capabilities with an ability to get utility jobs done. And, of course, for the truly serious work, there's the Yamaha Viking Professional with a three-cylinder engine powering a 20-inch wide by 156-inch long track via a three-speed transmission.
Yamaha definitely enjoyed success with its 2014 Viper. Now the company adds some upgrades and brings it to the mountains. Plus, you'll find a new series of Limited Edition models designed to set you apart on the hills, in the fluff off trail or speeding along groomed corridor trails. To provide incentive for plunking down some cash, check out your Yamaha dealers' programs. Viper M-TX buyers can get a dealer-installed turbo kit that can kick the Genesis triple from 135 horsepower to 180-plus horsepower. But you only have until April 15th to make a final decision!