More Backcountry Snowmobile Gear Choices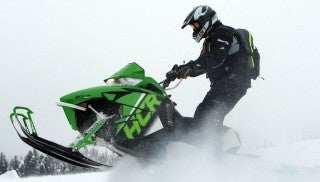 No shortage of nice to have products for the steep and deep rider
In a previous article we discussed many good products that a serious backcountry powder rider might consider owning. That was a primer as we've expanded our "nice-to-have" and must-have listings.
Engine Tether Kill Switches
Of all the parts and pieces, tether switches, along with avalanche search and rescue equipment, are the most important. We interviewed many backcountry freestylists and performance shop motor builders and this is the first item out their mouth… "Tether switch…."
When a snowmobiler dislodges from his snowmobile from an end-over, header or rollover, it is not uncommon, since the snowmobile may still be moving forward, to land on its hood (and windshield). While upside down, the right side bar with throttle, is now on the left side bar end with its throttle facing head on (compressed) into the snow. When this happens, all too often, the motor over revs and may grenade. Worse yet, with the motor at full throttle, and if, unfortunately, the driver is lying next to the rear suspension and track, the driver may be pulled into the suspension and the rotating track. Those deep lugs and track edge could tear him up.
We've been there. No limbs were mangled, but a leg and arm were stretched and a fine new Ski-Doo suit shredded.
There is a reason why every Ski-Doo is punched out with a tether switch. Use it. The other OEMs offer this as an accessory, such as Polaris' Predator tether switch.
Some dealers may order its snowmobiles (inventory) with this accessory. If your sled doesn't have a tether, check out Starting Line Products, Idaho Falls, Idaho, which has a corded tether switch for US$12.95. It's worth it.
Phantom Teth-Air Wireless Tether
Some scoff at the thought of being "tethered" to their snowmobile; "It gets in the way." There is an answer, the Phantom Teth-Air, which Ski-Doo-sponsored backcountry instructor Bret Rasmussen uses and promotes. The "Ride Rasmussen Style" and "Schooled Professor," as he is known, does not like tether cords as these are often yanked off their mounts when snaking through trees. The Phantom Cordless Teth-Air by Source Innovations out of British Columbia is a wireless tether system providing a modern digital alternative to the cord type kill switch.  Sled owners can easily install it on all snowmobile brands with an electronic ignition; it does not change the snowmobile's ignition system or an existing kill switch system.
From the company's online material, "The Phantom Teth-Air is primarily designed for snowmobiles and similar vehicles where the rider/driver may get separated from the controls. This system is designed to shut off the engine in a runaway or roll-over condition. When the engine RPMs are above user-defined tachometer setting and the Proximity sensor does not sense the rider's hand on the throttle or if the vehicle is upside down for a preset time, the engine will shut down. Also, it has time delays and tachometer arming point completely adjustable." Cost is $395.00 Canadian.
Trail Packs and More
Since a lad in this snowmobile photojournalism and editor world, I've relied on HMK backpacks/gear bags as my go-to pack. Now we have come to wear avalanche quick-deployment air bags from BCA, BCS, Pieps, and others. But for essential storage for an avalanche shovel, probe, rescue equipment, survival equipment, food and hydration, and extra pairs of goggles and gloves, the many HMK backpacks are purpose designed for the backcountry snowmobiler.
Just to be on the same page here, in a future gear report, we will discuss in detail the latest avalanche quick-deployment air bag backpacks for you.
HMK has snowmobile backpacks of various sizes for differing needs and purposes. Some externally hold a probe, shovel and saw, some internally. Some packs have hydration bladders, some do not. Going to HMK's website, will offer the product knowledge as to which backpack might suit you best.  Also, HMK has the rescue equipment you need for your backpack: probes, shovels and saws. One stop shop.
Our advice is to secure a backpack that will hold all the essentials, and have easy access to the life-saving and rescue products without slowing down response time. From our experience, HMK has these.
Backpack prices start at US$39.95 and move up to US$129.95; five are available with several color designs.
Sled Solutions' "Signature" Tunnel Bags
Powder busting in the Rockies is matter of being prepared. Like studying for a final exam, backcountry riding is all about preparation. Since backpacks can become overloaded, especially avy bags, it is best to split up the load and let the snowmobile carry some weight. Tunnel bags and handlebar bags are purpose-built to hold many backcountry equipment essentials.  While at the Intermountain Snowmobile Show, we checked out the bags from Sled Solutions, which has "signature" bags for backcountry experts Dan Adams and Chris Burandt. These powder specialists endorsed and approved these as bags to have for carrying tools, rescue and survival equipment, first-aid and medical equipment, food and hydration products, and extra outerwear.
According to Sled Solutions website, it has tunnel, under seat, and handlebar bags for all the popular mountain brands and models, and with this, various sizes. These bags known as "E-Series" range in price from US$49.95 to US$149.95 for handlebar bags and US$149 to US $245 for the many tunnel and under seat bag choices.
IceAge Hyfax Sliderail Reinforcement
Dropping a cornice, bouncing up over rock from a dry river bed, or smacking a large fallen Douglas Fir tree are skid frame rail benders. The snowmobile manufacturers have given us mountaineers lightweight snowmobiles, but at times, the weight cutting has come at a cost: lighter snowmobiles that are driven harder and faster, dropped farther and at times, bent at impact points, such as the hyfax rails.
IceAge Performance states this about its rail reinforcements: "This product is designed as a rivet-on doubler-style plate for your OEM snowmobile rails; [it is] trusted by RMSHA [Rocky Mountain Snowmobile Hillclimb Association] racers for maximum strength gains, while keeping weight gains in check. Carved from 6000 series aluminum and available in an array of high quality powder coated colors. Kits available for Pro RMK, Assault, Axys RMK, and 12-17 [Arctic Cat] ProClimb. Kit includes two (2) hill climb braces, one (1) rivet pack, and one (1) drill bit. This kit does not fit IceAge rails, but OEM rails only."
These rail reinforcement kits start at US$100 for noncurrent Polaris Pro-Ride RMK Pro, and US$174.95 for current models and brands. Color options are available.
MTNTK Blow Hole Under Hood Hot Air Elimination Kit
We've been watching this performance shop from Ashton, Idaho grow from ant-sized to quarter horse-sized in 10 years, and MTNTK Performance has become a performance shop that is governed by devoted steep-n-deep principles.
The MTNTK Blow Hole, through a high revving fan, pulls in cold outside air and dumps it on top the drive belt and to the clutch area. At the same time, it pushes out the hot air built up under the hood. Trapped underhood heat, heat soaked clutches and drive belt drop snowmobile performance. Furthermore, high temperature underhood heat also causes gasoline in a fuel line to expand, which too, drops performance. Cold underhood temps, and cold clutches and belts ensure consistent clutch performance when snow loads are high in difficult slow vehicle tree-busting lines. The MTNTK hot air elimination Blow Hole kit is endorsed and used by Chris Burandt of Burandt's Backcountry Adventures.
Currently this kit is mostly for Polaris Pro-Ride and AXYS RMK and Pro-RMK models, but MTNTK is developing kits for other brands and models, based on need. Purchase price is US$249.99.
RAZE Motor Sports Kits
As any mountain rider knows, altitude is a horsepower robber. With a dirt bike relying on a single cylinder four-stroke motor to spin a long track and a heavily equipped rider, gaining back some horsepower in the high country is paramount to having a bang time in deep pow-town. With a motor losing on average 3 to 3.5% of its horsepower for every 1,000 feet in elevation gain, RAZE Motorsports developed a kit where on average, approximately 11 horsepower is gained, rather restored. The kit is claimed to average 21% fuel savings, and the motor maintains a consistent engine temperature and a perfect air-fuel ratio (AFR) at all outside temperatures and altitudes.
The kit includes a replacement ECU with barometric sensor, an aluminum billet thermostat for consistent coolant temps, and an adjustable on-the-fly dual switch for cruise or race mode. The replacement ECU is a direct plug-and-play with a built in barometric pressure sensor to properly adjust the EFI's ECU for AFR at altitude. Got that? A handlebar mounted map switch makes it easy to flip between race tune and cruise mode. To learn more go to RAZEMotorSports.com. Cost for this kit is US$1,495.95 and is limited to the KTM 450 only.
Back Country Access Rescue Gear
Promoted by BCA as "The perfect starter kit for those who already own a transceiver," this kit includes a black Stash 20 bag, BCA's Stealth 240 probe and B-1 EXT shovel. But, what if you don't already have a transceiver? If you do not, then BCA has many top-flight avalanche receivers/transmitters to fully dress out this kit, such as Tracker DTS, Tracker2 and Tracker3. The Tracker is BCA's most advanced transmitter/receiver and is designed to significantly reduce search time.
BCA can also upgrade, if you so choose for an added cost, to other robust shovels and probes to compliment your backpack. The standard Stash 20 retails for US$239.95.
What do we use? BCA all the way, from its radios, to its beacons, probes, shovels and saws.  We can't stress enough to have the correct avalanche rescue equipment when smashing the mountains. BCA knows its stuff.  Go to backcountryaccess.com to learn about its vast product offerings and gain some avalanche knowledge.
We will be covering BCA's avalanche quick-deployment air bag in an upcoming report.
Goldfinger Left Handlebar Throttle Lever
Left handlebar throttle levers are as controversial as they are praised.  A throttle lever on the right side and a throttle lever on the left side? The ardent student to backcountry riding will say to their pals, "Don't do it." Expert instructors such as Dan Adams, Bret Rasmussen, Chris Burandt and more, never use these and never push them. Left side throttle levers are discussed as much as high handlebar posts and center-pull handlebar mountain straps – which all were accepted as normal, many years ago. But oh baby, not now. But, when there is a demand, there is a supply.
The Goldfinger left side throttle lever works for those who have right hand and arm muscle or physical limitations to ride a mountain sled using their left hand. Also, for the long-haul mile-after-mile trail rider who wants to relieve right hand fatigue, the Goldfinger is the pain reliever.
Furthermore, for the oh-so sweet beginner who has never ridden the mountains and has never sidehilled before may find, until mountain riding maturity sets in, the Goldfinger, while pulling on the mountain strap, may make their first or second trip to Wyoming's Togwotee Mountain Lodge, much more enjoyable and safe when cutting a sidehill on the snowmobile's left side.
The throttle takes about 30 minutes to install, does not interfere with the brake and does not compromise the left side handlebar warmers. The Goldfinger kit sells for US$109.95 and is available at Full Throttle Inc.
We've presented a plethora of mountain goodies for you to consider, now it's up to you to decide what you like, need or would like to see under a Christmas tree in a month. We hope these products help get your mountain snowmobile or snowbike heart beating for the deep pow.