Upgrades For Your Arctic Cat Snowmobile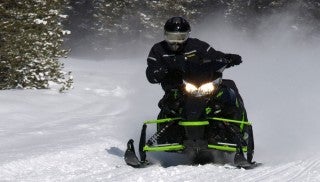 Make your Cat friendlier
You go to your local Arctic Cat dealer, buy a sled, go home and wait for snow. Except, that as a veteran snowmobiler you know that's not going to be nearly enough for you. This is your "special" Cat and you want it to be perfect and set you apart as that in-the-know sledhead that you are.
To achieve that goal and to make that brand-new Cat distinctly "yours," it needs some extras and what better time than now to get started on personalizing your next winter's ride. There are the obvious things to add such as bags. Maybe those old pieces from your previous Cat fit but look ratty, or they don't fit at all, so you sell them on Craigslist or hand them off to a friend. Who knows? They're gone.
Also, gone may be the standard shocks that came with your sled. That's a little hasty if the sled is brand new, but you're a hard charger and you want this Cat to handle like no Cat you've had before. If you're updating an older Cat, new shocks make more sense from a cost perspective, but the idea remains the same. Give your Cat an upgrade because you're planning some serious hard mile riding this winter of 2017-2018!
Of course, you need to let everyone know that you and your family buy into Team Arctic in a big way. Outfits for you, your kids and your sled must blast an Arctic Cat identity.
Guess what? You can get everything you need to customize your new – or older – Arctic Cat right from your dealer or, better yet, from Cat's online catalog. To help you along, we've listed a few items we think you'd want to consider heading into next winter's riding season.
Windshields
We understand the desire for a new windshield. There is the obvious wind-defeating value of a taller windshield. If you have experience with Cat's various windshield widths and heights then you can easily specify exactly what you want. If not, we might suggest riding with the stock one for a time until you know what you need. Extra height? Extra width? Racy styling?
After we'd ridden our personal sled for a winter or two, we decided that its racer low styling and plastic handguards just didn't keep us warm enough. We switched to a mid-height design with extra width that diverted air away from our hands. We got it from an aftermarket supplier that made it with a "classy" tint as well.
Obviously, Arctic Cat isn't your only place to get what you want in a windscreen, but you can rest assured that Cat accessories will fit and these days you'll find plenty of Cat-authorized sizes and styles.
A black mid-height windscreen like Cat's 14-inch tall by 27-inch wide one provides exceptional protection and can accommodate Cat's windshield mirrors. Expect to pay about US$120 for this style.
Shocks
Serious Cat riders tend to purchase premium performance sleds. Most of the high-end 2018 models offer premium shocks as standard equipment. And, for the average rider, those shock packages will work out well.
If simply working out "well enough" just isn't enough for you, look to Arctic Cat's accessories catalog for more serious upgrades.
You'll find Cat offers premium Elka suspension shocks as a replacement upgrade. Or, you can get unique Cat-only "Hibbert Signature" Fox shocks that will set you apart from the litter.
The Elka shocks come from a Canadian-based manufacturer of innovative performance suspension products. Sold in pairs the base Elka Stage 5 ski shocks retail for US$1,899 but offer a vast range of adjustments that let you tune for your maximum performance preferences. Although these shocks are manufactured with a base valve and spring package, there are customization options available.
The basics of the Elka shocks include:
Low-speed compression resistance for precise control of suspension resistance for ski lift and front-end diving when cornering and braking, rear-end squatting under hard acceleration, riding over whoops at moderate speed, undulations and elevation changes in the terrain.
High-speed compression firmness gives you precise control of the suspension for landing big jumps, riding at high-speed over whoops or when charging over choppy terrain.
Rebound extension speed controls the speed at which the shock absorber returns to its fully extended position after being compressed from an impact to maintain skis or track on the snow.
Threaded spring preload allows fine-tuning of sled ride height to raise or lower the center of gravity and precisely balance weight distribution across the front and rear sections of the sled without affecting the spring rate
For about the same cost factor, you can stay with Fox shock products, but upgrade to the Hibbert Signature package. The Cat accessories description notes: "The Hibbert Signature Series shock package gives you world class athlete shock calibration resulting in outstanding suspension and steering performance in every conceivable terrain condition."
As these are premium Fox products you're right in expecting top of the line features such as Fox's genuine Kashima coating, the company's Samurai sealing system and virtually infinite air spring adjustability. The special coating adds a layer of "slipperiness" and extends shock durability. The sealing system works to keep water and ice out of the shock's inner workings to maintain maximum air-ride efficiency.
As you'd expect there is distinctive Hibbert Signature decal work and styling to announce that you're in-the-know about your shocks. The Front ski shocks offer dual speed compression adjustments, a wide range of rebounds settings, a main chamber setting for establishing ride height and the EVOL air chamber to help you tune roll.
Like the Elka shocks, the Hibbert Signature shocks not only set your sled apart from other performance Cats, but allow you to establish your own precise settings for personal performance. These shocks require above average experience and knowledge in suspension tuning such as what a true veteran performance Cat rider might have.
Upgrade Kit
Performance set up doesn't just come with high end ZRs and such, racing Dads know that Arctic Cat starts its high-performance education with the ZR 120s – and, soon the new ZR 200. Racing requires an edge, even in beginner stock classifications. That's why you'll find the US$250 "120 Performance Upgrade Kit" listed in Cat accessories.
The kit – which includes a camshaft, valve springs, carburetor jets and gaskets – complies with stock racing requirements. Although not listed yet, count on Arctic Cat offering a similar kit for the all-new 2018 ZR200 that will also work on Yamaha's SnoScoot.
Protection
Keeping your Cat snug and clean counts for serious Cat fanciers and is why Arctic Cat lists an amazing array of custom-fitted snowmobile covers. Whether trailering, storing or protecting a race sled's finish, there are covers like the premium El Tigre cover that is made of long-lasting Surlast fabric with a water-repellent coating. Using Velcro and adjustable straps, these covers protect your Cat during long summer storage. Expect Cat covers to retail for at least US$250 and more depending on the style.
Keeping your Cat looking good counts, but keeping it running right counts more. That's the job of Cat's specially blended 2-cycle synthetic C-Tec2 oil. Available for US$19 in a 48-ounce pouch, this is the only oil Arctic Cat recommends for its C-TEC2 800cc and 600cc engines. It is approved for all Arctic Cat 2-cycle engines.
The C-TEC2 oil pouch packaging adds convenience, easier "pourability" and less waste. Cat's worked to create a fully synthetic formulation that gives ultimate engine protection with detergent additives that maximize the efficiency of the Arctic Power Valve.