Is the Yamaha Mountain Max Returning?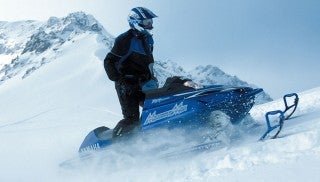 Yamaha files trademark application for Mountain Max
A recent trademark application by Yamaha has opened up the possibility for a return of the Yamaha Mountain Max snowmobile.  You can check out the trademark application for yourself right here.
It should be noted that many trademarked applications never end up coming to market, but Mountain Max is a name very familiar to long time snowmobilers. Throughout the latter half of the 1990s and up through the 2004 model year, the Yamaha Mountain Max was part of Yamaha's snowmobile lineup.
Click here to see the specs for the final year of the Yamaha Mountain Max.
Yamaha Mountain Max History
The final Yamaha Mountain Max featured a long (for its time) 141-inch track that was 15 inches wide and featured two-inch lugs. It was powered by a 698cc two-stroke triple. This wasn't the final two-stroke mountain sled in Yamaha's lineup (that honor goes to the 2016 Yamaha SX Viper Mountain), but the Mountain Max is a name with definite ties to two-stroke technology.
Could this mean we may get a modern two-stroke mountain sled from Yamaha? That's difficult to say. Mountain snowmobilers and Yamaha faithful would love a lightweight, powerful two-stroke sled for the steep and deep, but that would go against Yamaha's decade-long (plus) push for four-stroke engines in snowmobiling. Still, it's not outside the realm of possibility that Yamaha execs would like to get a bigger piece of the lucrative mountain snowmobile market. And since Yamaha looks to be bringing back the old school Mountain Cat name, maybe it is ready to unveil a modern version of an old school two-stroke engine.
This is, of course, entirely speculation on our part, but if Yamaha truly wants to thrive in the mountains, a two-stroke Yamaha Mountain Max would be an interesting place to start. And if you look at Yamaha's current mountain sled lineup for 2019, all you will see is a single sled – the Sidewinder M TX LE 162. That sled boasts a brutally powerful turbocharged, four-stroke engine. Maybe it needs a lightweight two-stroke brother to play in the snow with?