Is Arctic Cat Breathing New Life Into Its SVX 450 Snowbike?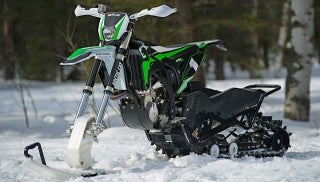 The SVX 450 may be returning
The Arctic Cat SVX 450 snow bike was introduced to the general public in the spring of 2016 to much fanfare and excitement from snowmobile media folks. We wrote a preview article on the SVX 450 here.
What set the Arctic Cat SVX 450 apart from anything else in the industry was that it was a complete unit, rather than a track and ski that you add to an off-road motorcycle, like offerings from Polaris-owned Timbersled.
For whatever reason, the SVX 450 eventually disappeared (it's no longer visible on the Arctic Cat website) and we really haven't put much thought into it after our initial article.
But for those of you who have been pining for a complete snow bike, it looks like the Arctic Cat SVX 450 might might be dead and buried just yet. We found an Arctic Cat patent application for a snow bike that was recently published, which may mean the SVX 450 is soon to return. You can read the patent application here.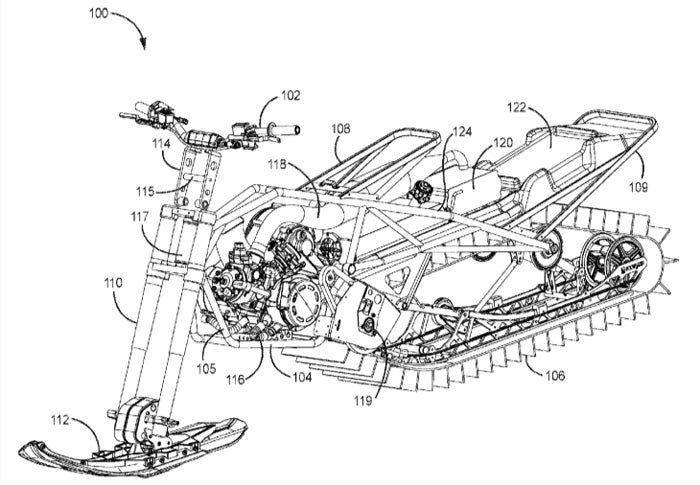 Much of the patent application is focused on the intake and exhaust systems, but beyond that we aren't sure what changes Arctic Cat has made. We wouldn't be surprised if Arctic Cat opted for a different engine than the Sherko 450 that was in the original SVX 450, but can not confirm if this is true.
Looking at the drawings, the vehicle in the patent application looks like it may be a bit longer than the original SVX 450 with a slightly longer track. However, these are just illustrations and things will likely change if and when this snow bike reaches production.  We will include a selection of illustrations from the patent document below for reference.