2014 Eagle River World Championship Snowmobile Derby Report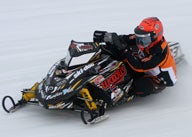 Malcolm Chartier earns second straight win
It was a long race in Eagle River, but it wasn't really a contest as Malcolm Chartier soared to his second victory in two years.
He started in the front row, got the holeshot and kept the lead through thirty laps on the legendary oval track. The world championship snowmobile derby on the northern border of Wisconsin is always a family event, and over 51 years a culture has grown around speed and hard work. The weeklong derby features vintage sleds, outlaw races, competition by children and women, and, for 15 years, snocross. After last year's 50th anniversary brought record turnout, attendance was noticeably down this year, but enthusiasm was strong as ever, boosted by warm weather and fast action.
This championship race wrapped up quickly, with the only red flag flying on the first lap. Colt Dellandra earned his spot in last chance qualifying, but lost it in turn two as congestion led to a collision and his Arctic Cat was out of the race.
Two-time champ Gary Moyle's Arctic Cat was at the front of the pack until his chain broke, and Ski-Doos held onto the top spots, as they had all week.
When the drive belt broke on 2012 champ Nick Van Strydonk's Polaris in the tenth lap, he was lucky a pre-scheduled pit stop for everyone gave his T&N Racing team the chance to replace it. It was the third year for that chance to repair and refuel before 20 more laps. Earlier championship races were 25 laps, only pausing at red flags.
The only four-time champ, PJ Wanderscheid, normally mounts an exercise bicycle to stay limber during the pit stop. This year the 32-year-old didn't compete at all, instead staying close to his father while he fights through stage four cancer.
Eight men have won the big race twice, including the primary builder of Chartier's winning sled. "I have Mike Houle as a two-time world champion, back to back, in my trailer. He's built the sled and he's done it all. So he's a great mentor, and he's guided me to handle the stress," Chartier said.
That may include showing the restraint of a champion. Last year Chartier's enthusiasm led him to shout "yeah baby" several times as he held the prized trophy. This year he only gave credit to his support crew.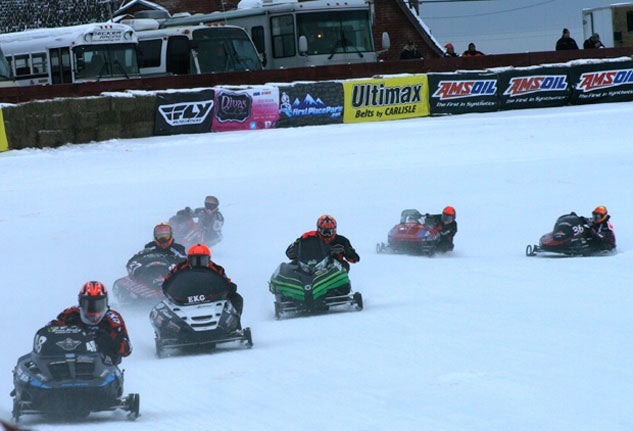 "It feels great. A lot of great people helped me to do this. The factory, Woody's, Ski-Doo, just countless people who put a lot of time in and it's really appreciated," he added, "I have a lot of friends and family from Michigan who came into town. It's great to put on a show for them. They've traveled a long ways. We did our homework. We just tried to replicate what we did last year, and we did it again."
Matt Schultz stayed with Chartier at every turn but never got close enough to be a real threat. His team put in extra hours to iron out handling problems that had threatened to keep him out of the main race.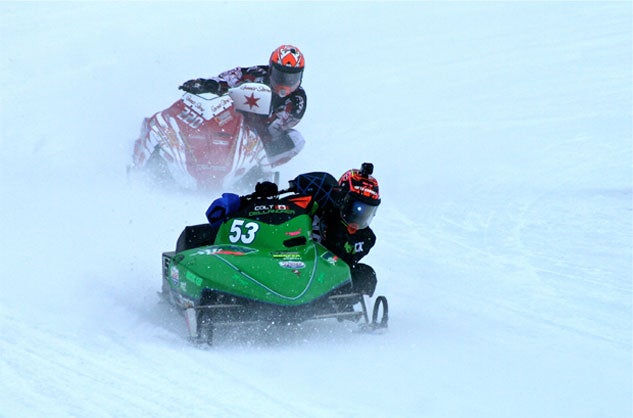 "We worked on the chassis to get it handling better. So it wasn't bad. We had good speed. Malcolm just had a better sled. So, second again. I was hoping for a big mistake and I'd be there to capitalize on it. If I could get ahead of him, I figured I could beat him, but we just never got there. We'll take second again." Schultz explained. It wasn't his fastest race, he noted, since in 2012 there were no red flags at all.
All three top finishers rode Ski-Doos, including Travis MacDonald, who had just earned his spot in the last chance qualifier and fought an impressive battle from a start in the back row to a finish at the top. He made multiple moves in the corners to pass a more experienced field.
"I was about as far back as you could be. It was definitely in the corners. The sled was handling good. A couple of guys broke. We got lucky there. The sled just hung in there and finished, so we finished this race to be on top," says MacDonald. "The last few laps I was fighting Cardell, and I didn't even realize we were in third until the race was over."
Eagle River is always about the oval track, but snocross races add vertical excitement. Corin Todd traveled from Bottega, NY to win first place. "Being in Eagle River, the world championship, this is probably one of my favorite events of the season. The crowd here is really awesome. They really get into the racing," says Todd.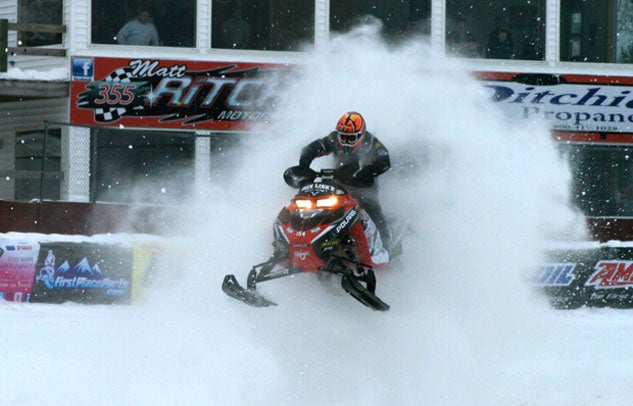 His victory and the week of Eagle River races were broadcast for the first time on the Fox Sports network and XSAN2. Now the snocross racers head back to the ISOC circuit and the oval speedsters carry on with the USSA season, meeting next weekend at the Wausau 525.