Hay Days Help Kick Off Season in Minnesota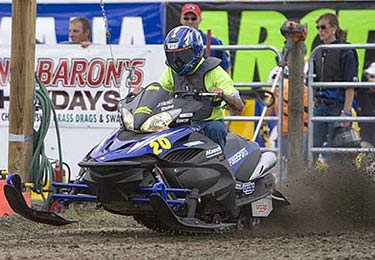 Grass drags event popular start to season
To many in Minnesota, the snowmobile season officially kicks off with the Hay Days Grass Drags.
The Sno Barons Snowmobile Club, which runs the Hay Days Grass Drags, calls it the largest snowmobile event in the world. From its humble beginnings of sparse crowds 40 years ago, Hay Days now draws almost 30,000 people each year.
The event started in 1967 and has been moved around from various locations due to land development. The 2007 Hay Days took place in Columbus, Minn.
Outside of the races themselves, the biggest attraction might be the swap meet. Race goers can buy and sell used equipment and the meet draws vendors from all over the United States and Canada.
A total of 65 different racing categories competed during the 2007 Hay Days Grass Drags, including 21 classes for amateurs.
Arctic Cat dominated the amateur stock categories with nine wins in 10 events, including five by Jeff Jaquish.
As for the pros, Brent Hoag picked up five wins and had the fastest top speed of the weekend when he reached 119mph on his way to winning the Lite Mod 1000 category. The Arctic Cat rider also reached 117mph in the Top Fuel category and 116mph in the Heavy Mod 1000.
The biggest winner on the weekend, however, was Craig Marchbank. Riding Ski-Doos, Marchbank finished first nine times, second nine times and third twice.