Heard at Hay Days: Polaris Rushing Ahead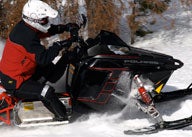 Polaris has big plans for its new Rush snowmobile
One of my favorite things about the annual unofficial opening of the snowmobile season, otherwise known as "Hay Days," is to walk around the grounds on the day before the event opens. Frequently one or more sled manufacturers host an unveiling of some sort. This year it was Polaris, which showcased its new 2010 Polaris 600 IQ race sled.
We had the chance to chat with various engineering and marketing types. Some of the info was purely canned as engineers trained by the public relations staff would retreat to a memorized script. Oh, the engineers are amiable enough and we don't fault them, especially the young ones who probably fear for their jobs if they reveal too much. The older, savvy engineers know exactly how much they can say and know what can be "given" away – while not actually given away at all. But they let you think that you got something extra. Nah, we've played this "I ask, they answer" game way too long to expect a great deal to come from an orchestrated one-on-one sit down chat with expert staffers.
We like the poking and prodding anyway. Sometimes we learn things that open our mind in totally different directions than the one intended. For example, if you've ever met with any media, you know that they tend to ask questions like attorneys do. They will ask a question, pretty much knowing the answer they will get. When the answer deviates from the expectation, they become a bit more pointed. Not too pointed, after all, you don't want to appear too eager to follow up in a new direction.
Taking In The Scene
We got a little of that at the Polaris media meeting. But mostly we got the chance to observe. That's the point where a journalist tends to sit back, look as though he's doing absolutely nothing of value, but simply taking in the scene. A lot can be learned from taking in the scene.
Once, as a young snowmo-writer, we attended a race weekend in some now-forgotten northern Wisconsin town where there weren't a lot of places to get a meal. It was after the day's events had been run and many of the manufacturers' representatives headed off to debrief and plan over a steak and a beer. From our spot at the bar, we happened to spot a table of Japanese men enjoying a beer or two. They were young, engineering and marketing types most likely with Americanized names and anonymous sounding titles. We knew some of them and wondered where they fit in the corporate hierarchy.
As we waited for our burger basket, we learned how the "shadow" hierarchy of an international conglomerate worked. We watched the men at the table as a group of three other Japanese men arrived. The fact that all of the men seated immediately jumped up to meet the new arrivals told us they were important. There were ceremonial bows, not deep, but indicative of a serious and respectful pecking order. The most important man sat first. And the atmosphere immediately became serious. This was a serious meeting with an important corporate member.
Over the years we have watched corporate environments at work. Like any corporate entity, every snowmobile company has its own special culture. We've noted that Polaris' has changed quite a bit over the years.
The Rush Is Key
One thing we learned through our observation – and old-fashioned inquiry – is that the Rush snowmobile is the most critical new launch since the Fusion. Fortunately for Polaris, this launch will be more successful.
We've sensed that the Rush is key for the Polaris snow group. Duh, like that's an editorial breakthrough! The sled was the primary focus of a preview product launch outside Salt Lake City last winter. It was available in quantities at the annual Photo Test & Ride event in Colorado in March. And at Hay Days it was outfitted in enough guises to have us wonder if the Rush isn't more a "brand" on its own. Hay Days attendees could sit on a Rush equipped for solo touring. It had rearview mirrors, a functional windshield, electric start and a set of motorcycle-style soft-sided touring luggage. Another Rush had a racy, low windshield and was fitted with a "look" that suggested performance. And there will be Rush versions heading off to battle in cross-country racing circuits.
If the sled is to be a legendary model, the cross-country circuit will help make it so. Polaris has a history in terrain racing, plus this model, is listed as being "terrain dominating." We're glad to see Polaris taking cross-country racing seriously again. Snocross, while exciting, doesn't relate to hard-riding trail riders the way success in terrain events does. We've been there. A real sled needs to be able to charge across a lake, have the handling to transition immediately from wind-blown lake terrain to crappy, narrow, rutted out lake endings that could be steep shorelines or entry to frozen river flowage. Cross-country racers run in concrete-hard ditches, up snow-filled, soft-packed roadside angles, around or over high-speed driveway approaches and on to rural back roads. A sled that can handle cross-country racing can handle our every day needs.
Work In Progress
Polaris has won more significant long distance terrain races than all other sled makers – combined! While engineers may swear by computer design, terrain racing will tweak that software for the better!
For some the Rush remains a question mark. We expect that Polaris engineering and marketing, despite their public face, are holding their breath. There are signs that the Rush remains a work in progress. We mean that simply from the fact that we don't see the total finish on the rear suspension that we expect to see in the near future. The parts can be reconfigured depending on which direction certain Rush models will go.
We fully expect to see a hardcore performance model with a suspension configuration that will be different from what we expect will be a sport touring model. Can we expect such differentiation as an SP and an LX version?
What happens in the future? Rest assured that the base Rush is certainly not the end of this project. When Polaris advertising maven Cassie Murphy highlights the number of "hits" on Rush-specific web sites, you can believe that the cost of doing business to generate those 488,000-plus visits to the Rush web site and 350,000-plus virtual riders at a Rush "virtual ride" site weren't just for our entertainment. No, indeed. Polaris kicked back more than 53,000 sales leads to its dealer network off its Internet efforts. And the snowmobile season has only unofficially opened with the arrival of Hay Days!
Related Reading: 2010 Polaris Rush Review 2010 Polaris Racing Preview