Hibbert repeats at X Games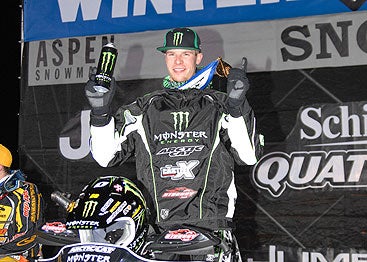 Arctic Cat rider wins third snocross title; LaVallee wins in freestyle, speed and style events
Tucker Hibbert entered ESPN's Winter X Games as the hottest snocross racer on the planet. After earning his third career X Games gold medal, he certainly lived up to all the hype.
Hibbert dominated the qualifying rounds on his Arctic Cat racing sled and by the time the 12 racers lined up for the 25-lap final on Saturday, Jan. 26, it was clear something fairly drastic would have to happen for somebody else to claim the gold. As it turned out, Hibbert avoided trouble and easily defended his X Games title, winning by 15 seconds.
"I made it around the first turn in the lead and I think D.J. Eckstrom got side-by-side with me a little bit through the first section of bumps," Hibbert told Snowmobile.com. "I held on for the lead and just kept charging from there."
Hibbert's win, however, didn't come without a touch of drama in the early going. About five or six laps into the final, TJ Gulla crashed and the yellow flag was brought out at a bad time for Hibbert.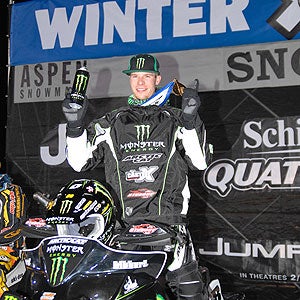 "It was a series of doubles up a hill and I had to roll the first two sets of doubles, so I had to roll over like four bumps," says Hibbert. By the time the guys behind me got there the yellow flag was gone and they made a little time up on me."
Since Hibbert doesn't run a full season for the WPSA series, the X Games is the biggest event for him and his Monster Energy/Arctic Cat team.
"The Winter X Games is truly a first class event and I'm honored to be a part of it," says Hibbbert. "They raised the bar this year with a 25-lap event but I'm ready for an even longer course and race. I felt strong the entire race. This is my job so there is no excuse not to be in shape and ready for a long final."
In what turned out to be an entertaining battle for second place, Ski-Doo's Brett Turcotte held off Eckstrom, Polaris, to claim the silver medal. The 19-year-old Turcotte was trailing Eckstrom, but a key pass on the 16th lap cemented his second-place finish.
Yamaha's Steve Taylor piloted his sled to a fourth-place finish. In a rare display of parity in snocross, all four snowmobile manufacturers (Arctic Cat, Polaris, Ski-Doo and Yamaha) had a sled finish in the top four.
"That's awesome to see," says Hibbert. "Each manufacturer was represented well at X Games this year. Unfortunately I think I was the only Arctic Cat in the final, so I had to kind of carry the weight for them. But it was great to see Yamaha up there fighting. It's good to see they're making some progression."
Top riders Blair Morgan, Ryan Simons and Mike Schultz all failed to earn a spot in the snocross final.
LaVallee earns gold in Freestyle and Speed & Style
Though things didn't go as planned for LaVallee in snocross with a sixth place finish, he more than made up for it with a pair of gold medals in the other two snowmobile events—freestyle and speed and style.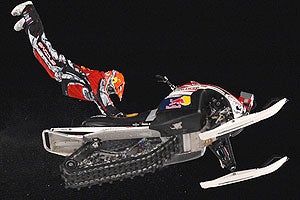 LaVallee is known as a top snocross racer, but he certainly didn't look out of place in the freestyle event. He finished third in freestyle qualifying, which was good enough to earn him a spot in the four-sled semifinal round. LaVallee edged Daniel Bodin in the semis, which led to a duel with Joe Parsons for the gold.
The final couldn't have been any closer. Bodin earned a score of 87.33 from the judges, while LaVallee barely squeaked past when he was awarded 87.66 points on his Polaris sled.
"I was pretty surprised how well the freestyle went," LaVallee told Snowmobile.com. "That was kind of something I got into last minute and I didn't expect much from it, but it worked out awesome."
LaVallee is so new to freestyle that his first competition was actually the X Games qualifier.
"I was surprised I was able to qualify for the X Games," says LaVallee. "When we got out to the X Games I was like, well, it's going to be a stretch just making it to the top four. I was just trying to go out and have fun with it."
LaVallee added another gold medal to his collection in speed and style, a new event that combines the speed snocross and the excitement of freestyle.
Two racers are pitted head-to-head in the two-lap event. In one lap riders have to perform freestyle-type stunts over ramps. The  of a race," says LaVallee. "You're out there racing a guy and you have to focus your attention to throw tricks. I think it was a great idea and I think it turned out pretty well."
LaVallee knocked out Cory Davis in the quarterfinals and fought off Joe Parsons in the semis. In the final LaVallee was awarded a score of 91.00 by the judges, well ahead of Sam Rogers and his score of 82.07.
Related Reading
Hibbert, Arctic Cat win double gold Hibbert sweeps Pro Super Stock