Hibbert sweeps Pro Super Stock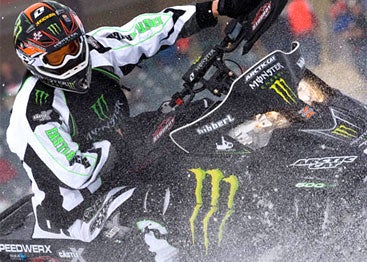 Arctic Cat rider records two wins, DQs in two others
Tucker Hibbert had a wild weekend at the World Powersports Association (WPSA) national tour event in Shakopee, Minn. as the Arctic Cat rider won two events and was disqualified from two others. It was a doubleheader for the professional riders, which meant there were four races to compete in—two Pro Super Stock and two Pro Open.
Hibbert got the weekend off to a good start when he won Pro Super Stock on Friday, Jan. 11. Dennis Eckstrom, Polaris, finished one spot back in second, while Arctic Cat's Ryan Simons was third. Carl Schubitzke, Arctic Cat, crossed the finish line in fourth, followed by three Polaris riders—Mike Schultz, Ross Martin and Shaun Crapo.
Hibbert picked up his second Pro Super Stock win in as many days on Saturday to give him three wins so far this season on the national tour. After Hibbert's Arctic Cat, an army of Polaris sleds claimed the next six spots. Martin and TJ Gulla completed the podium in second and third, while Levi LaVallee, Matt Judnick, Shaun Crapo and Eckstrom finished fourth through seventh.
"It feels awesome to get a pair of stock wins for Arctic Cat on the new sled," says Hibbert. "It's a testament to how hard everyone has worked to develop it. I can't thank my team enough for their long hours of testing and fine-tuning.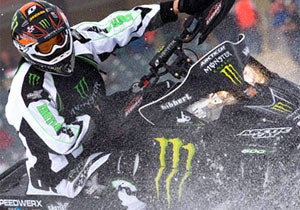 In Saturday's Pro Open final, Hibbert fought off Gulla to cross the finish line in first, but his third victory of the weekend would be short lived. WPSA officials disqualified him for jumping on a yellow flag.
Hibbert says he didn't see the flag until he had already committed to the jump because he took the outside lane and the flagger was on the inside of the inside lane
"It was kind of unfortunate, but just the flagger placement made it difficult to see the flag from the outside lane," Hibbert told Snowmobile.com. "I guess it was a mistake on my part not to see the yellow and I feel a little bit of a mistake on their part to not have flagger positions figured out where it wasn't an issue."
With Hibbert disqualified, Gulla was awarded the win. Martin and Eckstrom finished second and third, giving Polaris the entire podium. Ski-Doo's Blair Morgan and Brett Turcotte rounded out the top five.
After a pair of second-place finishes, Martin earned a win in Sunday's Pro Open final and Polaris teammate Gulla was second. Morgan finished third to pick up the only top-three finish for Ski-Doo in the weekend's pro events.
This race, however, brought more bad news for Hibbert. He finished in third place behind Martin and Gulla, but was again disqualified, this time for failing a post-race inspection. It seems the studs on the track of his sled were set up improperly.
"We got disqualified for stud-placement," says Hibbert. "They were just off a little bit. Definitely nothing that was gaining us any advantage, just something we didn't pay close enough attention to."
Outside of Hibbert's wins, it was a pretty successful weekend of racing for Polaris with eight of a possible 12 podium spots.
"Overall we're pretty happy with the results," Polaris race manager Tom Rager Sr. told Snowmobile.com. "A little disappointed with the stock finals, but I think we found some things that will help us going forward."
Martin and Gulla were solid all weekend and had finishes of 1-2, 1-2 and 2-3, only being held off the podium in Friday's Pro Super Stock.
"TJ and Ross are riding extremely well. They're not having any good luck, but they're not having any bad luck and they're not getting knocked off their sleds," says Rager. "Those two guys have been running up front a lot. It's good to see because they both have worked really, really hard conditioning-wise.
Related Reading: