Rainbow Country Snowmobile Adventure [Video]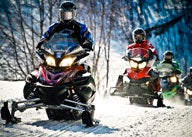 Snowmobilers welcomed with open arms
Snowmobilers are a unique breed. While we tend to cherish every flake and hope for winter to arrive early and leave late, the majority of people would rather not have to pick up a shovel or scrape a windshield ever again. They'll tell you it's cold and wet and miserable and it wreaks havoc on their commute to work. All you can do is just smile and shake your head like you would to a self-absorbed teenager. They just don't know any better.
If these snow-haters are getting on your last nerve it's time to pack up your sled and head to Northern Ontario. We recently had a chance to go on a two-day snowmobile adventure to the beautiful Rainbow Country. We used Parry Sound as our home base, which is just over a two-hour drive north from Toronto.
While the distance wasn't that great, the change in attitude was shocking. People LOVE snowmobiling here. Not only will you not hear any complaining about the snow, but you may even hear the occasional cheer when the forecast calls for a fresh layer of powder. Snowmobiling is a billion dollar industry in Ontario and businesses in Parry Sound and throughout Rainbow Country try to capitalize by making snowmobilers feel welcome. After all, they want you to come back again and again.
After checking into to our rooms at the Comfort Inn we grabbed a bite to eat at Don Cherry's Sports Grill (try the ribs!) and met up with the rest of our group, which consisted of both beginners and long-time riders. We shared some stories and laughs, but we were all eager for the first day's riding so we headed back the hotel to get some shut-eye.
Sleep didn't come easily as we were as excited as little kids on the first day of school, but after downing some juice and coffee and stuffing our faces with the Comfort Inn's free breakfast we loaded up and headed for the Seguin Trail. We met the rest of the party a few minutes drive away at the Quality Inn, which conveniently connects right to the trail.
Helmets on, we climbed aboard our sleds and headed to the Petro Canada a short ride away to fuel up. It always amazes us how easy it is to find fuel on the trails. The snowmobile trails lead right to gas stations and restaurants all across Ontario's snowmobile trails. If you're armed with a map and a little common sense it couldn't be easier to go exploring here with no worry of running out of fuel or finding some place to eat.
With the sleds fueled up it was finally time to explore this sensational trail system. You'd never know snowmobiling was such a popular activity in Ontario by the traffic on the trails. We'd travel for miles without seeing anybody – just clear, well-groomed trails that run alongside picturesque frozen lakes and rivers.
How could the snow-haters possible complain about anything that results in an experience like this? The answer is easy…they've never had a chance to try it. That's a real pity, but it doesn't have to be like this. The Ontario Federation of Snowmobile Clubs (OFSC) is trying to do something about that by making it simple for people to try snowmobiling. The OFSC has launched the Give it a Try Tour, which allows first-timers to try out the sport without any cost.
"We provide the gear, the sleds, and more importantly the orientation and training," says OFSC Marketing Manager Josh Grills, who was part of our ride party. "We give them a chance to go out and try snowmobiling and give them a chance to go out for an hour ride. From our research, everyone wants to it, they just don't have the chance to try it."
The OFSC believes that once people try snowmobiling they'll love it, which is hard to argue with after our first day exploring these trails. It was a great start to our snowmobile getaway, but we were hungry after a long day of riding and were looking for someplace to unwind. A tip from the locals brought us to Wellington's Pub & Grill, which was packed with regulars.
We were all in good spirits and the drinks flowed freely, but if anyone was looking to get in and get out in a hurry they were at the wrong place. It's a more relaxed pace here and when you're having as good a time as we were you can afford to "wait a Muskoka minute." Besides, our waitress Cher and bartender Rebecca kept us laughing and entertained throughout dinner. It was one of the highlights of our trip.
Our second day would take us a little further north to French River – home of the famous French River Snowmobile Bridge. Before reaching French River we made a pit stop in Point au Baril where we met up with Bruce Bishop, owner of Pleasant Cove Resort. Pleasant Cove not only offers four-season accommodations in its 18 fully equipped cottages, but it also has a snowmobile rental fleet and provides guided tours. If you're a beginner this is another good place to get a taste of the sport.
Lorraine Sommerfeld, a rookie who was part of our ride party, showed us firsthand how true that is. She had some nerves beforehand, but quickly realized why snowmobilers are so passionate about the sport.
"I know I'll do it again. Absolutely," says Sommerfeld. "It was a lot more fun that I thought it was going to be and I wasn't as scared as I thought I would be.
Sommerfeld was also impressed with her snowmobile – a Polaris RUSH 600.
"I was really happy with it because it worked with me. I've been on some motorcycles, I've been on some ATVs – sometimes they're working against you," says Sommerfeld. The thing runs itself. All you have to do is stay with it and steer it. And the second you let up on the throttle it stops, so there's not a lot of fear, which was a good thing for me. It's very forgiving – you can make some mistakes and you're not going to pay for them."
Our trip reached its high point when we finally reached the sensational French River Snowmobile Bridge – Canada's largest cable-supported snowmobile bridge. It stretches 300 feet across the French River, which flows 50 feet below. While the statistics give you an idea of its size, to fully appreciate the bridge's magnitude and beauty it has to be seen. Words fail to describe what it feels like the first time you cross it. The views are something to behold and it's a moment none of us will soon forget.
But that's really snowmobiling in a nutshell. It's about more than having fun with your friends and family – it's about making memories and seeing and doing things most people never have a chance to experience.
Related Reading Ontario's Northern Corridor: Incredible Spring Trail Riding Ontario Snowmobiling Offers Many Unique People & Places Ontario Adventure to Moosonee Choosing an Ontario Snowmobiling Destination Go Ride Ontario!