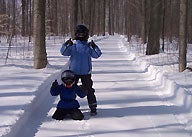 The world's top snowmobile destination
Snowmobilers typically ride a whopping 150 million collective kilometres (99 million miles) here every season. They recognize a great thing when they see it. So those in search of the ultimate trail riding experience need look no farther than Ontario, because there's no place like this.
This Canadian province delivers over 34,000 kilometres (21,000 miles) of maintained snowmobile trails, the world's largest recreational trail network. Better yet, the entire system is totally integrated and inter-connected. So regardless of where you enter, you can ride almost anywhere in the Ontario snowbelt by trail, without interruption. Best of all, Ontario is so big that its snowmobile trails are rarely congested. In fact, you can ride all day in many regions without seeing any other traffic. Talk about having the place to yourself!
What's more, these world-class trails connect most snowbelt communities and lead to every service and amenity a snowmobiler needs, from lodgings and restaurants to gas stations and sled dealers. The Ontario Federation of Snowmobile Clubs (OFSC) represents the 232 community-based clubs that maintain these trails. Altogether, these clubs operate a 302-unit fleet of industrial grooming equipment that logs upwards of 100,000 hours in a typical season, while using more than a million litres of fuel. That's a pile of groomers, working the OFSC system, just for you!
Snowmobiling is big business in Ontario. With an annual economic impact of more than $1 billion, it's the winter mainstay for many communities and businesses. And that vested interest means there's lots of support: during last season, total investment in new and improved snowmobile trail infrastructure topped $6.5 million, with another $3 million on the way this season. These are dollars over and above the $20 million or so clubs spend on trail operations to keep the system in top-notch shape all winter long. All of this high finance boils down to one essential message for snowmobilers: delivering great trails day in and day out is the mandate in Ontario. So many folks depend on snowmobiling tourism for their livelihood that you can depend on Ontario for the best riding anywhere.
So what about snow? Ontario is the heart of the Great White North and that means reliable snow and plenty of it. Favourably positioned from its geography, Ontario benefits from cold temperatures, lake effect snow, multiple winter storms and deep frost. This sled-friendly weather provides a snowmobile season that usually stretches from early January to late March, with some northern areas running from Christmas even into early April. So Ontario has both ample snow and great season length, just the combo riders need for consistently great sledding.