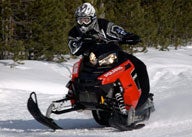 Snow means sales and a rebound for dealers
You'd think that a winter that rivaled few before it — at least in the Midwest — would be good for snowmobiling. You'd be right.
Both Polaris and Arctic Cat recently released their quarterly statements. Both companies claimed very good results and crowed about increases in market share. Arctic Cat's claims come from strong sled sales. According to Arctic Cat's financial statements, "Snowmobile sales grew 33 percent to $77.8 million in the third quarter compared to $58.7 million in the prior-year quarter, led by increases in both North American dealer sales and international sales to distributors. Year-to-date snowmobile sales increased 15 percent to $186.5 million versus $162.3 million in the same period last year, led by higher international sales to distributors."
Recently spokesmen for Arctic Cat suggested that overall industry sales were up. The reason? Drum roll, please! S-n-o-w! No matter how smart a marketing guy you think you are, snowmobile sales seem to always rest on one thing — snow!
In the Midwest, snow came early and often, setting a record for total December snowfall in Minnesota. That act of nature managed to help sled dealers get their noncurrent inventories down to extremely manageable levels. But, beware of too good a result. Dealers actually would prefer a small carryover heading into the next selling season as noncurrent models offer price-shopping consumers a bargain versus the newest models. Of course, it is rumored that Arctic Cat will kick off its 50th anniversary season by highlighting something new for 2012. It better, after all, model year 2011 was more bold, new graphics than actual significant model evolution.
That helps explain how Polaris finally managed to over take the extremely popular deep powder Arctic Cat models in the West. Polaris' new RMK models with an 800cc twin that proved reliably powerful managed to regain a status that it had lost in recent years. Cat found sales of its popular, yet aging mountain Cats threatened by Ski-Doo's new narrowed and ETEC-powered powder sleds as well.
Still, all in all, Arctic Cat, which relies on sled sales much more than Polaris does, has done well. Interestingly, Cat's parts, garments and accessories sales only grew six percent in the third quarter. And, overall PG&A sales for the year are actually off one percent versus the previous year.
As for the general outlook, Arctic Cat executives envision overall snowmobile industry retail sales increasing 5 to 10 percent, with Arctic Cat dealer inventories declining 20 to 30 percent, allowing for dealers to enjoy improved gross margins.
The reality of improved sled sales comes on top of the snowmobile manufacturers working hard to reduce dealer inventories in recent years. The consumer may find that early season sales may be the best, if not the only, way to guarantee that they get the 2012 sled of choice as there is no indication that the sled makers are going to overbuild again — at least for right now!
As for Polaris, that company is less about recovery based on sleds, though that is what built the company in the first place. No, Polaris has become an ATV manufacturer with incredibly strong retail in the side-by-side market. According to Polaris financial statements, sales of the company's ATVs (all-terrain vehicles) and Ranger side-by-side vehicles increased 40 percent during this year's fourth quarter versus last year.
Still, Polaris snowmobile sales were reported as increasing 28 percent during the 2010 fourth quarter compared to the prior year's fourth quarter.
If you think snow doesn't make a difference, Polaris attributes North American snowmobile retail sales to consumers increasing more than 40 percent for the recent fourth quarter "…primarily due to heavy amounts of early snowfall in many key riding areas in North America and the success of model year 2011 new product introductions."
Polaris also reported strong sales in the Scandinavian region, which reflected a 43 percent fourth quarter increase. And, like Arctic Cat, Polaris too has worked to alleviate dealer sled inventories by 22 percent through December.
Even with this up tick in sled sales, don't be fooled. According to Polaris honcho Scott Wine, "2010 was an exceptional year for Polaris. Not only did we deliver record sales and earnings, but… we gained market share in all of our businesses and grew sales in every region of the world." And it was highlighted by wheeled products, not traditional tracked ones, though the increase was strong.  If you look at a pie chart of Polaris products and their contributions to the company, you'll note that sleds account for 20 percent versus 67 percent for off-road wheeled products, which are ATVs and Ranger side-by-sides.
From an industry standpoint, we have to assume that other sled makers enjoyed an increase as well. It all means that the snowmobile industry should be looking to surpass the 147,000 units sold this past season. And the fact that dealers in snow-heavy areas report good sales thanks to the early and frequent snows might suggest a break in the recent economic decline. At least consumers seem to be willing to spend for power toys again. But, we need to be cautious here as reports of increases in gasoline prices are rampant. Seems we can never get good news without having a hammer slammed on us. But we suspect it would take $5 per gallon gas prices to seriously curtail the use of power toys. At least ATVs and side-by-sides can be driven on highways in some areas, so that they can be a bit more realistically utilized than sleds. Although, we are having a winter that seems to know no end, sleds may be usable into June at this rate.
Overall, the news from Arctic Cat and Polaris remains encouraging for an industry that has taken a beating in the past few seasons. It seems that some folks have dusted off older sleds and even chosen to upgrade now that snow is once again in fashion.
Oh, how a snowy winter makes us snowmobile folks smile and raises a snowmobile marketer's IQ a few points as well! Snow is truly the key ingredient, but then we all knew that, didn't we?