Snowmobile Business Looking Up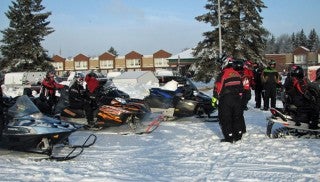 Continued sales growth provides a positive outlook heading into new season
So you thought last winter was a "pass," with less snowfall than you wanted? Not if you lived in Boston! They may be digging out still. Of course there were areas of the snowbelt that suffered somewhat. The Midwestern US had come off a stellar season the year before, so any lighter snowfalls and storms would seem anticlimactic. But there was snow and places for determined snowmobilers to ride. And, out West, where less than 10 feet of snow per storm signals a light year, there was riding to be had as well.
Granted, heading into the end of the calendar year, all snowmobile makers were quite giddy as preseason sales looked to surpass anything they'd seen in recent years. But, then, around Christmas, sales slowed and the once-giddy sled makers realigned their predictions and dealt with reality, which, as it turns out wasn't so bad after all. Snowmobile sales in the North American snow belt were up eight percent, but not the double digit rise that sled makers had expected based on their preseason speculation.
The nearly 152,000 sleds sold last season compares well enough to sales seen over the past few years. Of course, it pales to the 208,592 units sold in 2001, the peak sales year for this new century. Beginning with 2001, sled sales withered for a decade until we started to see an upward trend that has shown sales growth from 2010 to now. So, there is reason to feel good about the sport.
Snowmobiling as a sport and an industry represents a world wide economic impact of about US$40 billion annually that represents nearly two million users in the United States and Canada alone! When you look at the feel good aspect of the sport, think about its impact on job sustainability. Sled sales and the sport of snowmobiling represent more than the people building the sleds and dealers selling them. The impact brings jobs to tourism, aftermarket businesses, and government, which finds ways to generate programs to provide trails and other infrastructure. That impact, according to the International Snowmobile Manufacturers Association, amounts to creation of at least 100,000 jobs!
As you can tell from the new for 2016 selection of snowmobiles, the makers of Arctic Cat, Polaris, Ski-Doo, and Yamaha snowmobiles have confidence to create brand new products like the fleet of utility and touring Cats, the expansive line of Yamaha Vipers and born-again core models like the Vector and Venture, Ski-Doo's new Enduro and Blizzard line, as well as totally new deep snow Polaris sleds. You don't do that if you expect the industry and the sport to fold. No, this is confidence being expressed by the sled makers.
Why not? Heading into the next season, sled makers are buoyed by similar interest in their products as last season at this time. Remember that was when sales were expected to reach mid to upper double digits. The optimism is real and very genuine. Plus, based on how the sled makers handled the drop for anticipated double digit sales to a reality that was half of that, these sled company executives know how to react to limit the damage if Mother Nature holds back on the snow and there is a replay of last year.
According to industry reports, carryover product amounts are manageable at the dealer level. This was not always the case as unsold product through the 1970s and 1980s created a massive backlog of inventory and caused some snowmobile producers to leave the business. With just four sled makers today, there is profitability enough to go around.
What appears to be powering the sport, besides snow, is a serious, experienced, and stable population of winter enthusiasts. According to ISMA, modern day snowmobilers are: • 44 years old on average • Ride an average of 1,520 miles per year • 53 percent trailer to a snowmobile destination • 47 percent ride from their residence or a vacation home • 70 percent belong to organized clubs according to an ISMA survey
As you might expect, snowmobilers are charitable folks, raising more than US$3 million for charities last season. And, of course, by their nature are outdoorsy types with a fondness for the latest tech toys, which explains the popularity of GoPro cameras, GPS systems, and Polaris high-tech onboard riding technologies. That's all good for the sales of aftermarket technologies. That awareness of winter-based technology applies to personal gear as snowmobilers tend to insist on and wear the gear that warms and protects them from the elements. As you can extrapolate, each sled maker's parts, garments, and accessory lines continue a robust growth.
This active lifestyle makes an impact. Consider that snowmobilers in New Hampshire, which ranks 46th in overall area of the 48 continental states and 42nd in overall US population, make an economic impact of more than US$1.2 billion annually. That state has 7,400 miles of signed and maintained trails. That's more trail miles than a dozen other larger snow states, but far less than the combined 41,000 trail miles in Minnesota and Wisconsin.
Whether you ride new or old sleds, just know that North America's snow belt with more than 135,000 miles of maintained snowmobile trails offers room to roam for a day trip or a long distance marathon. It's this infrastructure that helps to maintain the sport's popularity with winter enthusiasts. You have places to go. You have reliable snow vehicles to ride. And you have the support of a strong snowmobile community.
Sled sales tell some of the story about the health of the sport, but its the active snowmobiler that is the backbone of the sport and reason for the industry. After all, back in the mid-1950s after the Hetteen brothers sold their first Sno-Traveler, they knew they needed to build another one. And another after that! They may not have known what the future would look like in 2015, but they knew active outdoor winter enthusiasts would build an industry. This past season, 150,000 plus buyers joined that first-ever Sno-Traveler buyer in expanding a sport.