First Impressions of the 2013 Snowmobiles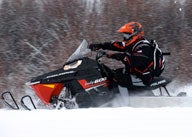 Some new models but mostly evolutionary change
This has been an incredibly strange year for snowmobiling here in the northern plains. Last season we enjoyed a wealth of snow. This season, there was an early hint of snow, but by Christmas the Grinch had stolen the snow season. Sled sales were strong as enthusiasts sought fresh replacements for their older sleds. Then as the season was to approach — nothing!
Heading into December the sled business had expectations of up to a 30 percent sales increase from the previous season, all based on heavy snows during the long winter of 2010-2011. Now that optimism has shrunk to hoping for sales the same as before. We have heard that sled sales are expected to be flat or down a percent or two. Frankly, that is good news. And we see optimism for the 2013 model year to be healthy.
The sled manufacturers are not in a panic mode. Why should they be? They are all wily veterans of the snow wars. Polaris has been selling snow machines since the mid-1950s. Ski-Doo started the recreational revolution in the early 1960s. Arctic Cat came on board 50 years ago. Yamaha, the newcomer, has more than 40 years invested in snowmobile making. No, the sled makers understand the vagaries of winter and snowfalls. That could be one big reason that the deep powder market has gotten the bulk of attention for the better part of a decade. It may not snow in the Great Plains, the Northeast, or around the Great Lakes, but it will snow in the mountains and those snowmobilers will buy sleds.
Right now the top selling sleds are powder models like the Polaris RMK. The top selling trail sport sled may be the Ski-Doo MXZ, but that market segment has trended downward. Showing a strong up tick is the stretch track segment of sleds like the Polaris Switchback and Arctic Cat XF series. And that is why you will see increased attention being paid to this niche of sleds. It's why Yamaha added a 1.75-inch lug height track to its Nytro XTX and it's why Ski-Doo expanded its rMotion rear suspension to the Renegade series.
While flattened sales projections may have kept the sled manufacturers from showing more new products for 2013, there remains ample reason to upgrade. Western powder riders have the most reason to look for a new sled. Polaris introduced a seriously upgraded 800 Pro-RMK with QuikDrive that replaces the traditional chain drive and other powder-specific features. But key to this model is its weight. Polaris claims that the 2013 Pro-RMK will come in at 417 pounds! Think about that.
A mountain sled with a 155-inch track, 800cc two-stroke twin, long tunnel and it weighs 417 pounds? Ski-Doo's short-track fan-cooled MXZ Sport 550 can't beat that. And Ski-Doo is known to build some of the lightest sport sleds in the business. The 550 Sport weighs 423 pounds — six pounds more than the longer Polaris Pro-RMK 155. So, it appears that we may be on the verge of a weight war. Between model year 2012 and 2013, Polaris managed to eliminate 14 pounds from its most popular powder sled. Plus, by using carbon fiber elements and honeycombed lightweight parts with even greater strength than the pieces that were replaced, the newest mountain Polaris is said to give up nothing in durability. Arctic Cat intends to get back the riders it lost to Ski-Doo during the Twin Spar era. The new breed of Arctic Cat with the tall spindle Arctic Race Suspension, new ProClimb and ProCross chassis, and turbo powered four-strokes gives those ex-Cat riders a good reason to return. The battle is on. It will be especially brutal this year. With sled sales flat, there is only one way for sled makers to gain market share. They have to steal buyers from the other guy.
When it comes to the powder segment, Polaris has the upper hand with a proven product that is now lighter and more technologically interesting. At our recent sled test session, Ski-Doo showed that it will not surrender buyers easily. By maintaining its Summit's inherent chassis stiffness for rider response, Ski-Doo engineering added some bold new features to make the 2013 Summit a uniquely suited mountain carver. The Summit will add a new tMotion rear suspension that allows two-degrees of flex to help the sled turn during powder carving. The outside two-inches of the Summit's 16-inch track will flex more freely, giving riders improved control. But, maybe more important than any of that, is the shift forward of the ski spindles and a revision to a more vertical handlebar steering position. Ski-Doo is not about to surrender any of its hard-earned market share to any other snowmobile company.
One thing that Ski-Doo offers is a unique set of sled wraps that allow an owner to personalize his sled right down to adding his name if he wants. The number of wraps is amazing and the ones that Ski-Doo showed off at the test reviews were impressive, right down to the psychedelic wrap that left us with vague memories of crazy trips through the 1960s. Bold, new graphics takes on a new meaning with this special option.
Both Polaris and Arctic Cat showed off pre-season special editions available in bold new colors like Polaris Voodoo Blue and a special heritage-inspired retro style on select models. Most of these offerings will be limited to early orders.
We liked what we saw from all the sled manufacturers, but found the return of the Indy most intriguing. At an early sneak preview, we had seen a static copy of Polaris' attempt to return to its most successful years of Indy domination, but it took a ride or two in real world conditions for us to appreciate this new breed of Polaris Indy.
The 2013 Polaris Indy comes in two versions, a base model and the one we'd want, the Polaris Indy 600 SP. That's the one with the new Pro-Steer ski, one-piece curved handlebar, higher grade shock package, and new heated hand grips. The Indy is destined to be a price-leader that is expected to rekindle warm feelings for the Polaris brand by offering strong value for the money. It should do that as it gets the Rush front end and the newest version of the crisp running Cleanfire 600 twin. This will be a fun sled for groomed trail running, but its standard slide rail suspension will not match the Rush Pro-Ride for banging in the bumps.
We expect that Arctic Cat will make strong gains in its second season with the new ProCross and ProClimb models. We found the base four-stroke 1100 works extremely well. It took us a bit to accept it on its own merit as we have too much two-stroke experience in this so-called 600 class of sleds, but we came away very impressed with the Arctic Cat four-stroke performance. It's smooth and deceptively strong. It's quiet and has great getaway torque for very strong corner-to-corner and midrange pull. We've definitely underestimated this Cat niche. We won't any more.
As its competitors, Arctic Cat's changes are mostly evolutionary. The new CrossTour, like Polaris' Adventure model, is based on the company's stretch track offering. Cat's Race Replica (RR) draws directly from the race world and is intended for serious big bump riders.
Every sled maker seems to have something new for us to consider heading into the 2013 model-buying season. Just think of ordering early if you want to guarantee the sled you really want. We don't foresee any of the sled manufacturers going crazy with building up inventory as we head into the winter of 2012-2013. Based on this past season, we figure that all of us will be a bit cautious until we see the white stuff lay down in our favorite riding haunts. Be wary, but if there is a sled that you really want, don't wait.
Related Reading 2013 Polaris Snowmobile Lineup Unveiled 2013 Yamaha Snowmobile Lineup Unveiled 2013 Arctic Cat Snowmobile Lineup Unveiled 2013 Ski-Doo Snowmobile Lineup Unveiled