The Essential 10 of Backcountry Gear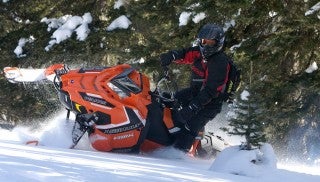 Backcountry riders need the right gear and knowledge of how to use it.
The backcountry is quite possibly the most adventurous place to ride a snowmobile. Unlike riding trails there are few restrictions in the backcountry. You can go virtually anywhere, over any terrain you want. But know that you also take on greater responsibility in the backcountry, because you should know how to avoid danger and render aid to others.
Riders in the backcountry are further removed from emergency services, such as Search and Rescue (SAR), and ambulances. In the event of an injury, an Emergency Medical Service (EMS) helicopter may be the best way — if not the only way — to evacuate a rider. However, helicopters have limitations in low cloud ceiling and low visibility, which are prevalent in mountainous winter conditions, and may be unable to make the extraction. The situation may be limited to SAR hauling a victim out on a sled. Backcountry riders need to understand the risks they are taking upon themselves and prepare accordingly.
Backcountry riders should seek out training such as wilderness first-aid and avalanche level 1 classes. Proper gear should also be taken into the backcountry. No rider should go into the backcountry without proper equipment.
Backpack (airbag)
No backcountry enthusiast should venture out without an airbag. Airbags simply work and keep an avalanche victim above the slide, preventing trauma. Airbag packs can also carry other essential gear.
Gear in the pack
There are different ideas and methods regarding the gear that people should take with them. We reached out to some backcountry professionals for some tips on gear they take with them. Lyle Dahlgren is the Senior Development Technician at Polaris and has been riding in the West for 19 years. He has ridden snowmobiles all over the US (including Alaska), Canada and Chile. He has snowmobiled in areas that are accessible only by helicopter insertion. Lyle states at times like that, it really makes you realize what is important to have in your pack in the event the helicopter could not return for the extraction. Lyle states he or his co-workers have used most of the following items at one time or another, and that a person just never knows when these items may need to be used.
The other backcountry professional we reached out to is Mike Duffy of Avalanche1.com. He is the most well know avalanche instructor in the snowmobile industry. His dossier is compiled from 25 years of mountain rescue work, guiding, and 20 years of avalanche instructing. Mike suggests that you should always be ready to spend the night out, because no one plans their accidents, or can predict with 100 percent accuracy when a whiteout is going to occur. Being ready can make the difference between surviving or not. He also states that winter survival and dealing with winter accidents is difficult, thus preparation is vital.
The Essential 10
The gear these backcountry pros take along with them can be summed up by a list called, "The Essential Ten," a list that was created by The Mountaineers, a Seattle, Washington based group of outdoorsmen and climbers. The original list came out in the 1930s and was revised in 2003 to make the list a system, in which each of these 10 categories complements the other.
1. Navigation and communication: The most basic form of navigation, and the least susceptible to failure are a map and compass. Today GPS technology is relatively inexpensive and readily available in small packages. Today we also have the added ease of cell phones and even satellite phones. However, cell coverage can be spotty at best in the backcountry and satellite phones are expensive. Personal Locator Beacons (PLB) such as SPOT and DeLorme's inReach, offer the ability to send messages or even issue an SOS in an emergency. Mike Duffy highly encourages a PLB GPS/satellite communicator. Communication with the rest of the people in your group is important. Radios can save valuable riding time by finding separated riders and relaying information. A basic technology whistle can help locate a lost individual, and a small signal mirror can also help get someone's attention. Small flares can be used to signal SAR.
2. Sun protection: Although not as important as in the summertime because backcountry riders are usually bundled up, but sun protection needs to be considered. No backcountry pack would be complete without sunglasses or sunscreen. Light can be reflected from the snow, burning the skin from the snow and not just from the sun.
3. Insulation: An extra mid layer, spare gloves, spare face mask, beanie and pair of socks could be essential if you were stranded and had to spend the night. An emergency bivy is also important. These bivys claim that 90 percent of the users heat can be reflected back to the user. They can be used to help you survive the night or keep an injured person warm.
4. Illumination: It is good practice to carry a headlamp or flashlights with strobe feature. Today's LED flashlights are small, bright, and last a long time on fresh batteries. Mike says it's easier to be found if you have a light source. For night helicopter rescue, or simply as a marker, a chem light also known as a high-grade glow stick can be used. A reliable manufacturer of these is Cyalume.
5. First-aid supplies: This is a "must have." No one should ever head into the backcountry without at least a simple first-aid kit. Even the smallest kit can really make a big difference. Items such as latex gloves, gauze pads, antiseptic ointment, antiseptic towelette, wet wipes, band-aids, Advil, sling, and a lip balm make up the basics.
6. Fire: Or, at least the ability to start a fire is important. In an emergency situation a fire could be the emotional boost that someone needs to make it through the night. Items that can help start a fire are, matches, lighter, candles, fire starter stick (magnesium stick). An old snowmobile trick is to dip a tampon into the fuel tank, then carefully light it on fire. A little redundancy goes along way in this category because a Bic lighter may not light in sub-freezing temperatures. Cotton balls soaked in Vaseline makes a great fuel source to get kindling going.
7. Repair kit and tools: Most snowmobiles come with simple tools to accomplish basic tasks. It is relatively easy to supplement these tools with some others like, channel locks and a multi-tool or Swiss Army Knife. Duct Tape has infinite uses. Lyle says a few feet wrapped up is sufficient and it takes up less space. Lyle also states, spare batteries for PLB, flashlight and avalanche transceiver are essential. A small wood saw can also be important for various things, including getting your sled out of the trees. Lyle adds blue shop rags to the list, and says they are for more than just wiping your hands. He also says fingernail clippers, and zip-ties have multiple uses. Flagging or surveyor's tape can be used to mark searched areas, or the last seen point, and even to mark the route to an accident, for SAR to follow. A tow strap is also important and can be used in first aid as a sling.
8. Nutrition: Granola or protein bars, nuts, and jerky are great options. One option is to carry a package of Datrex emergency rations. A package contains individually wrapped bars with about 200 calories of energy. Such emergency rations can be purchased from emergency preparedness stores or online for approximately US$5. Extra food may be imperative if you have to stay overnight. The body needs food in order to have energy to keep warm.
9. Hydration: A dehydrated person can lose up to 75 percent of their muscle strength, thus it is important to carry enough fluids, and then a little extra, for someone else. A bottle of Gatorade may be useful to replenish electrolytes.
10. Emergency shelter: Virtually no snowmobilers pack an emergency shelter, however, all snowmobilers should know how to build an emergency shelter such as a snow cave, or snow shelter. A snowmobiler could survive a frigid night inside a snow shelter, wrapped in a bivy, with a lit candle for warmth.
Since "The Essential Ten" do not include avalanche gear, we will add an eleventh category.
11. Avalanche gear: Some snowmobilers do not believe they need avalanche gear, because they do not think they ride in avalanche areas. You may not think you're in an avalanche zone when in fact you frequently ride in avalanche areas, and may do not even know it.
This combination is a recipe for a very hazardous situation. This is Mike's area of expertise and he recommends an avalanche transceiver, specifically a BCA Tracker 3, because of its ease of use and features. Mike suggests BCA's D-2 Ext for a shovel because of the added hoe feature that allows you to move a lot of snow quickly, and BCA's Stealth 260 Carbon avalanche probe. Mike suggests that snowmobilers should carry two shovels: one in their pack and one in a tunnel bag. Riders should not take off their airbag pack if they are stuck; instead remove it from the tunnel bag. That way you don't lose the protection of the airbag in the event of a slide. Mike also likes the BCA Float Mountain Pro Vest, which combines a chest protector and an airbag into one device. Chest protectors can prevent many injuries.
Avalanche education is crucial. It's easy to avoid getting caught in an avalanche if you have the training and implement it. The skills learned and equipment carried will significantly increase the chance of a surviving a burial.
Even if you have all of this gear, it is essentially useless without knowing how to use it. You should encourage the people you ride with to have their own emergency gear and training. That way the group knows they can count on each other in an emergency. When purchasing this equipment think light, because if you don't count the ounces, you will be adding up the pounds.
This list is in no way inclusive, it is merely a suggested starting point, and each snowmobiler should evaluate the list, conduct some research, and build their own system. Seek out other sources, such as first-aid manuals, survival guides, and avalanche manuals. Experiment and have fun with your list, be creative, and encourage others to do likewise.
When heading into the backcountry, ride smart, ride safe, and ride prepared!