Rocky Mountain Power Teaches Winter Safety Skills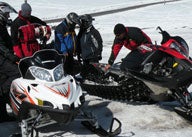 Learning to handle a snowmobile is a necessary part of the safety regimen
The Famous Chinese philosopher Confucius said, "What I hear, I forget. What I see, I remember. What I do, I understand."
The harsh winter months in Southeast Idaho make for a difficult work environment for the power line crews of Rock Mountain Power (RMP). Rocky Mountain Power Company provides services to over 85,000 customers with approximately 2000 miles of power lines for its linemen to maintain. With many power lines strung in mountainous areas and nearly impassable during winter, the only way to access them is with snow cats or snowmobiles.
When the need arises to fix or maintain a power line in a harsh winter environment, the linemen crews based in Rexburg, ID rely on over-snow vehicles to keep their customers in power. The linemen who sustain these lines are no strangers to proper training as it takes a minimum of three and a half years to complete a lineman apprenticeship, after which there's mandatory annual training.
Snowmobiles play an important part in maintaining the electrical network in rural areas. The employees of Rocky Mountain Power currently rely on a Bombardier Trooper snow cat powered by a Perkins four cylinder turbo charged diesel engine and two Arctic Cat M6 snowmobiles. Many customers and other employees ask why RMP does not use utility style sleds for this work. Tony Nielsen Operation's manager explains, "The topography of this area is very mountainous, which makes it difficult to reach these power lines. We have found that mountain sleds work the best. The main use of these sleds is to patrol the power lines looking for problems. After a problem is located, the lineman then calls in a crew with additional equipment, including the snow cat. However, if the problem is minor, material and climbing tools are hauled in on the snowmobiles and repairs are made."
Safety is always a concern for these men when they take out the snowmobiles. To reduce the risk of an accident, they travel in pairs. The linemen also log in with Salt Lake Dispatch before departing and document a planned destination route with return time. (Not a bad idea for any snowmobiler to log in with someone with the same information). Along with survival packs, two-way radios, cell phones, and avalanche beacons are used while operating snowmobiles; these are required personal protective equipment (PPE).
As part of their ongoing qualification and to further increase safety, all linemen from the Rexburg, ID office received training on avalanche awareness and safety, beacon use, and proper snow cat and snowmobile use. This year, Snowmobile.com was able to help with actual hands on training for snowmobiles. Besides being Snowmobile.com's mountain test rider, I'm also a 29-year employee and lineman for Rocky Mountain power. I saw the need for hands on training and said "I know all too well the remote and mountainous areas we operate our company sleds' in." After approval from Vaughn Rasmussen, area vice president for Rocky Mountain Power, the green light was given for the training exercise.
Tony Nielson, area operations manager, helped by setting up a schedule for the 24 workers, who were broken out into groups of three. These groups started first with a snow cat training session with Lance Carter, mechanic. He covered operation and maintenance of the Bombardier Trooper snow cat. The other groups began training on avalanche awareness, and hands-on use of BCA beacons taught by Tony Perkins, area engineer and backcountry skier. Following this, the group would get into the applicable winter wear for training on the snowmobiles, which I taught. We started by showing a short "training video" (loosely so) of my three-year old granddaughter Brynlee riding a 1999 Kitty Cat where I tied a rope on the Kitty Cat's skies to keep a tight leash on her. After the laughter and Ooohs and Ahhs about my granddaughter, I said to my fellow co-workers, "I will keep a tight leash on you as well!"
After a quick basic "how to" on snowmobile operation, hand warmers, kill switch, throttle, and brake (manufacturer guidance from the owner's manual), we set out on a three-hour ride to cover basic mountain riding skills, such as counter steering to initiate sidehilling and downhill U-turns, and proper hill climbing with return descents. After the basic training was complete, we took off for some "real world" riding so the groups could practice their newfound skills. After each group finished, we spent time listening to each other's comments to better understand what they experienced. Jim Westwood, line foreman, said he felt more confident to handle the sleds than before and recounted an experience where, he said, "If I had these skills, it would have saved me some hardship."
I also probed my co-workers about their riding impressions from Snowmobile.com's fleet of five mountain-specific snowmobiles. What I learned was no surprise: the Polaris RMK 700 and Arctic Cat M-8 seemed to get the most attention The M-1000 intimated the group at first, but after some time on it they all liked it as well. The 800 Dragon too was very popular. The different feel of the Yamaha Nytro four-stroke's power took some time for the group to get used to, but soon it was putting big smiles on their faces.
Dustin Chambers said. "I love the way the Yamaha accelerates, and I love the sound of its motor." After two days, all twenty-four linemen received their comprehensive backcountry training. It went very well. All those who participated in the training expressed a sincere thanks to Snowmobile.com, Arctic Cat, Polaris, and Yamaha for the use of their sleds.
Remember the quote from Confucius. "What I hear, I forget. What I see, I remember. What I do, I understand."
Related Reading 2010 Mountain Sled Report Card – Part One 2010 Mountain Sled Report Card – Part Two