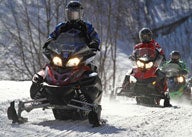 Snowmobile rental is an easy and affordable way to ride
One of the best ways to go snowmobiling in Ontario is to rent a sled. Each winter, more and more people ride a rental sled on trails operated by the Ontario Federation of Snowmobile Clubs. In fact, Ontario offers more than 30 rental fleets located throughout the snowbelt, in snowmobiling areas as diverse as Muskoka, Haliburton and Huronia. Most of these rental operations are within an easy drive north of the Highway 401 corridor. With some overlap, they fall into three primary categories – Sled and Gear Rentals, Rentals with Training and Guided Rides, and Rentals at Winter Resorts.
The most basic operations are those that simply rent a sled and gear, like Baysville Marine, Mountain Trout House Marina, Leatherdale Marine or Diverse Rentals. Often, they are associated with snowmobile dealerships or other similar winter businesses. Their appeal is primarily to people that have some previous riding experience. Typically, these folks want a convenient, turn key way to go snowmobiling a few times each winter, without the investment, complication and commitment of sled ownership.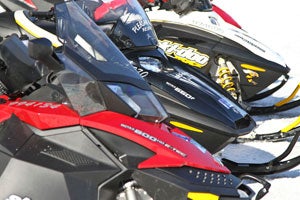 This option is perfect for city dwellers that are casual snowmobilers with no storage space at home and limited time for sledding. It's also a good way for a host to supplement his/her owned units with another sled or two to take multiple guests for a ride. And for winter visitors who are snowmobilers at home but choose not to transport their own sleds, it's a hassle-free way to try Ontario snowmobiling.
While most basic rental operations will ask about your previous experience on a sled, they may offer limited operating instructions and advice about where to ride. It's up to renters to make their own great riding experiences, and once departed from the rental site, you're pretty much on your own, much as you would be if riding on your own sled.
Snowmoile rentals with training and guided rides offer a more comprehensive product, one that's more focused on actively providing clients with a great riding experience. Good examples of these operations include Horseshow Riding Adventures, Ride on Rentals or Muskoka Sports & Recreation. Their client focus translates into ensuring that every sled operator is properly outfitted, receives basic training and then goes on a guided ride usually selected from a menu of various popular options. These "guided tour" rental operations specialize in delivering customized packages that suit the ability and experience level of every client. Like any other kind of guided tour, their guides know all the best trails, scenic places and great eating stops. Best of all, if anything goes wrong, help is always close at hand.
A few Ontario winter resorts, such as Pleasant Cove or Hastings Resort, have rental fleets available to guests as part of a snowmobiling or winter package. Other winter resorts have opted to partner with a reputable, reliable rental operator who offers training and guided tours. Popular locations include Deerhurst Resort, The Rosseau JW Marriott Resort or Horseshoe Valley Resort. By partnering, these resorts and many others avoid actually getting into the rental business, but still can offer guests a premium sled rental experience.
Perhaps Haliburton Forest and Wildlife Reserve is Ontario's most unique place to rent and ride. It's a private, 70,000-acre forest wilderness with its own snowmobile trail system.  Complete with its own restaurant, gas pumps and lodging, Haliburton Forest is a self-contained operation that offers a remarkable sledding adventure in a controlled natural setting.
Snowmobile Rental Tips
Sled rentals are usually more affordable on weekdays.
Reserve your sled long in advance for weekends, especially during any holidays like Christmas, Family Weekend or Spring Break.
Rent from an operator whose sleds are no more than three years old.
If you are a newbie, stick to a sled of 600cc or less.
Don't wear your own winter outerwear – rent purpose-made snowmobile gear along with the sled.
Don't be a know it all – take the training, listen to the guide and be careful.
Making an outing of it with family or friends to add to your enjoyment.
Rental operators require a substantial credit card security/damage deposit and that returning sleds be full of gas and oil just like when you rent a car.
Operating a snowmobile in Ontario is subject to the same laws and penalties as driving an automobile.
Whatever way you choose to rent a sled in Ontario, you'll be amazed at its incredible trail system, breathtaking winter scenery and warm, friendly hospitality. It's all part of a great Canadian tradition that started when J. Armand Bombardier invented and produced the first personal snow machine. And this winter, it's time to join the fun by renting one of your own to go ride Ontario!
Related Reading Rainbow Country Snowmobile Adventure [Video] Ontario's Northern Corridor: Incredible Spring Trail Riding Choosing an Ontario Snowmobiling Destination Elliot Lake is My Kinda Snowmobiling Town! Ontario's More Fun for Sledding