The State of the Sport is Doing Well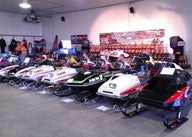 Riders getting younger. Sled options better. Snow still key.
You can only be a skeptic until the facts show that you need to accept change. That describes some of us weary old snowmobile writers, too. Having once upon a time published the leading snowmobile enthusiast magazine and being a too early proponent and creator of a snowmobile web site, we frequently sought knowledge in demographic surveys. Those are the tell-all tale of the tape that gives us solid information about readers, riders and the general snowmobiling public. We would explore the percentages that made up not just our readership, but also the overall state of the snowmobiling population.
At that time our surveys gave us in-depth information so that we "knew" that the snowmobiling universe was getting smaller. But we also knew that snowmobilers were getting older and that the readership was predominantly male, if you count 99 percent guys as being predominant! We knew that 43 percent trailered their sleds more than 100 miles, that 45 percent said that their typical sled trip accounted for three or more overnights, and that 55 percent had more than 15 years of sledding experience.
When the International Snowmobile Manufacturers Association (ISMA) claimed that the age of the average snowmobiler has been dropping, we remained skeptical. Hey, let's face it; ISMA is the paid proponent of making the sled makers and the sport into which they sell product look good. That's ISMA's job. So, we've filed that statistic away as we make our rounds of various snowmobile oriented events.
At snowmobiling's annual "season opener," the Hay Days event in Minnesota, we can confirm that ISMA is on to something. With our own eyes, we saw what we consider to be a much younger and, frankly, more vibrant crowd of snowmobilers milling around the Hay Days grounds. As we poked around that event, we could see for ourselves a younger dynamic. Actually, ISMA says the average is 41. We were seeing very interested "lookers" and buyers that skewed at least a decade south of that. Plus, when you overheard the questions this group asked of vendors, both aftermarket and sled manufacturers, you knew these folks know their sport and know what they want. This is a younger and more serious crowd of can-do snowmobilers than we've seen in years past.
We will admit that the Tucker Hibberts and Levi LaVallees of the snow world tire us out simply watching their exploits on the many "jumbo-sized" screens plastering the Hay Days "midway." But these racer, freestyle riders resonate with today's sled heads, who are looking for adventure. We were not able to effectively discern if the many young and comely girls that walked along with the guys were sledders or not. Based on today's world of motorcycling where biker females no longer simply occupy the bike's rear pillow, but buy and maneuver their own rides, we suspect that a good majority of the young female attendees at Hay Days ride their own sleds. We just don't have that demographic information. Our gut says times have changed in that category as well. Today's young ladies are doers. They earn their own way and they call their own shots – but didn't they always?
We saw proof at Hay Days that snowmobilers are getting younger. They have to. And we also came to the conclusion that our belief that the industry and the four sled makers need a low-priced entry-level model to attract growth is out dated. The used sled market satisfies that role, especially now when many pre-owned sleds have the key features of the newest units, cost less and have low miles thanks to too many low snow winters. What happens when the snows come and we all get many miles on our sleds? We suspect that pre-owned market will remain key.
Snowmobile dealers like pre-owned sales. While they have to battle other dealers for meager profit on a brand new sled, they can make reasonable margins on used sleds if they bought them right in the first place. One dealer we know used to buy entire fleets of sleds from Yellowstone rental operators. To overcome the buyer's fear that the sled might not be a mechanically good buy, this dealer offered a six-month limited store warranty. It helped him turn hundreds of used sleds every season and the warranty costs were negligible.
While we may see some new entry level products in the years ahead, we'll bet on consumers opting for the good, used models.
In addition to the Hay Days event, we changed gears and attended the annual "Reunion" held at the Eagle River (Wis.) Derby track. Simply stated, it's not as big as the Hay Days event. But it does bring together a good number of snowmobilers looking for sleds and parts at the swap meet. There are impressive rebuilt vintage sleds on hand. You can see classics that you may never have known existed. Some of the rebuilds have memories embedded in the paint. Fred Fabian of Brule, Wis., told us that the Polaris Sno-Traveler displayed had carried him and his siblings across Wisconsin winters when he was a lad. The sled remains in the family and carries the childhood memories of his dad and snowmobiling.
That same weekend we shared dinner with the newest International Snowmobile Hall of Fame inductees. These are folks a bit removed from the current ISMA age demographic, but they are the ones, like Kim Raap of South Dakota, who led us from no trails to trail networks, or Saskatchewan's Chris and Jeannie Brewer who gave of their time as volunteers to organize clubs and events. Russ Davis helped lead the snowmobile industry as an executive with both Scorpion snowmobiles and as one of the few US-born vice presidents with Ski-Doo. He helped shape the sleds that we rode over the trails that Kim Raap helped put in place for members of clubs that the Brewers helped organize. Yes, there is salt and pepper in the hair of these hall of famers, but they positioned the sport so that the new demographics of today's snowmobilers have a sport to enjoy. We can see the sport undergoing an evolution as the participants get younger and bring new enthusiasm to a sport that started more than 50 years ago. We celebrate that.
Related Reading A First Timer's Visit to Hay Days Snowmobile Sales on the Rise What is Snowmobiling's Next Big Thing? Snowmobile History: Big Money Players