Snowmobile Sales on the Rise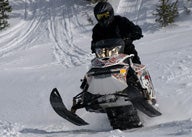 Tough sledding remains but the trend is growth
No one likes a naysayer. That's why we're delighted to see an upward tick in worldwide snowmobile sales this past season. We certainly want to be positive, but we have to be honest and say, that while a 10 percent increase in overall sled units sold last year is positive; it's still low when compared to historic numbers.
History shows sled sales were shockingly low in 1968, when a mere 85,000 units were reported as sold. The following year saw more than a quarter-million sleds being sold with the number peaking at 495,000 in 1971. That represented the end of unbridled optimism for the sled biz. When the oil crisis of the 1970s and an economic turndown intervened sled sales went as low as 195,000 units in 1977 before a rebound began.
This past season the International Snowmobile Manufacturers Association, the official voice of the snowmobile manufacturers, announced that 123,063 sleds were sold worldwide, up from 111,492.
ISMA reports that US sled sales hit 51,796 for the past season. Canada accounted for 40,878 sales with a total North American market of 92,674 units sold in snow country. While the current report indicates growth, those numbers are more than 10,000 units shy of the 1986-1987 North American low of 103,000 sleds sold.
The industry group reflected on how the overall number of registered snowmobiles rebounded as well. Now, last year's reported drop really bothered us because it was truly surprising. In our years in this business, that number has always been quite stable and a drop would be foreboding. Perhaps the change was simply people re-registering old sleds. After all, if you live in a "snow state" that hadn't gotten much rideable snow in recent years, why pay for a sled registration? But when snow came and trails were again rideable, how about registering the old ride? Could it be that simple?
We think it could be, but despite the hopeful rebounding of sales, we don't see a full return to snowmobile industry health just yet. There are both some good signs and a couple of troubling ones based on the IMSA numbers.
An example has to be seen in the state-by-state registration statistics. If the ISMA published numbers are correct, we see positives in Minnesota's 2011 registration number of 254,492 sleds, which is up a couple of thousand registrations. Next-door Wisconsin showed a rebound of nearly 20,000 registrations to 235,566. In fact, 13 of the key 25 snow states saw increased sled registrations from previous seasons. This is good because it means more money for snowmobile trail maintenance in areas where the state-collected fees are dedicated to trail programs.
But we saw areas of concern and don't know if these are real or simply a matter of timing. Sometimes states do not produce their snowmobile registrations in a timely manner and can skew the industry's reporting. We hope this is the case with Michigan.
For 2011 Michigan listed 242,546 registrations. In the previous registration survey, Michigan claimed 346,315 registered sleds. That's a serious drop off. If it was really at 346,000-plus. We question that number because in 1996 Michigan listed snowmobile registrations as 270,266 with just under 226,000 registrations listed in 1994. Interestingly, Minnesota's registrations have been stable as it reported 254,510 sleds registered in 1996, close to the current figure.
While numbers can be fun to play with, they don't indicate certain facts. The world is still in a dire economic time. Fuel prices are basically unpredictable but seriously impact household budgets, specifically relating to power toys. However, we do think we see a reflection of the basic fact that if it snows early and heavy, snowmobilers will ride.
That definitely plays a b-i-g role in how and what snowmobile manufacturers build. Before this past season's heavy snows buried the Snow Belt from the East Coast to the western mountain ranges, sled makers concentrated on making deep powder riders happiest. Witness the serious engineering and marketing work done by the four sled manufacturers. Polaris totally revamped its powder sleds and scored a huge success with its new RMK model. Ski-Doo spent a lot of time upgrading its Summit series, seeing it pay off in increased sales. Although Arctic Cat sat back waiting to introduce the 2012 mountain Cats, it had enjoyed sales success with the M-series. And Yamaha has tried to literally "blow" past its perceived weight issues with mountain riders and added factory-supported turbo and supercharger kits to increase its power-to-weight. Where there is snow, there are sales.
Snowmobiling is a big business. Polaris alone supported its snowmobile product with portions of its 2010 annual US$142.4 million plus sales and marketing budget. There was another US$84.9 million spent on research and development. Selling sleds and fun is serious business.
But even then, sled company executives can be off. Consider that Polaris missed its initial corporate forecast — on the good side. The company's annual report reflects the pluses of good marketing assisted by snow hitting at the right time:
"…Snowmobile sales increased five percent to $188.9 million for 2010 compared to 2009. This increase is primarily due to an increase in retail sales resulting from heavy amounts of early snowfall in many key riding areas in North America in the 2011 season-to-date period and the success of model year 2011 new product introductions.
"…While our 2010 predictions for the overall economy and the powersports industry were relatively accurate, we underestimated the market share gains and corresponding retail sales increase that were the primary sources of the year's performance."
Virtually all sled makers claimed market gains this past season. Smart marketing? Brilliant engineering? Snow? The latter is the key. And it's reflected in the overall industry numbers.
So, when we look at he numbers for this past season, we continue to see a struggle. Times are tough, but when it snows like it did last season, times can be quite a bit better for all of us. Numbers are just numbers. But snow is the lifeblood of this sport and last season proves it — by the numbers!
Related Reading Snowmobile sales increase in 2010-2011 season