Breaking Trail with the Snow Crest Riders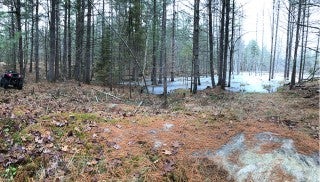 Okay, we weren't breaking trail, we were actually maintaining it, and the high water table/levels stopped us from getting as far as we wanted.  It was a great day, though.
It had been far too long, so thanks to my buddy Nunzio Iacobellis I was finally going to hit the Gravenhurst Snow Crest Riders sled trails to cut downed trees to get "ready" for winter.  Luckily, the trails were in great shape already.
"The Fun Bunch" at St. Onge Recreation were happy to lend me a fresh used trade before it went through the shop…it softly blew a belt 5km's down Winhara Road haha, but thanks Team St. Onge!  Northgate Power Equipment had lent Nunzio a little one-seater Polaris, so we couldn't double.  Nunzio traveled on to meet the group while I figured out my situation.  A few hours later I was back out, now on an XP1000, much more fitting lol.
Of course, much of the work was done by the time I arrived, but there wasn't much work this year.  In fact, the Club Members were really slowed down by the water table which has been very high since last year.  They even got the Argo stuck.  As you can see in the pictures, there is already ice in Muskoka!
So, what did I learn?  Well, it turns out there was a lot of new blood on the ride.  People are reaching out to clubs and getting involved.  During lunch, I got to hear many conversations about planning and passing down information from one generation to the next.  It was heartwarming.
Well, this means I need to get out for another work day and write a longer story!  Thanks to all that helped and welcomed me out that day.