Social Media Growth Series – Sledcore Mulisha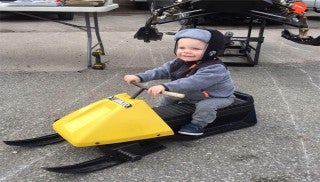 Moving forward Snowmobile.com would like to build a Social Media Growth Series, and today we're going to start with the Sledcore Mulisha Page.
Social Media is Growing new and existing snowmobile events because it has become an effective and cost-efficient way for many businesses to experience growth. Because today's society enjoys and prefers quick and easy places to follow specific genres they love, it gives businesses the ability to differentiate themselves and actually allows their market to target and follow them. Nowadays we snowmobilers don't have to compete against Home Depot, Coca-Cola, and Jared from Subway.
Recently our Managing Editor of Snowmobile.com, "Random" Ryan Tarrant, visited a snowmobile Show & Shine which was driven completely by social media.
The Sledcore Mulisha Facebook page was born to Derek Moffat. He is a lifetime snowmobiler thanks to his father Steve.  Even though Derek has a growing family and a busy day job repairing machinery at a water bottling facility, he continues to develop Sledcore Mulisha. It's this simple, he's that passionate about snowmobiling.
Along the way, he picked up some partners to pick up his slack. Many of you know that keeping viral marketers, poorly spoken people, and patrolling your page is a full-time job. Enter Seb Leroux and William King (hWhip). Seb is a hard-working man that owns a successful construction company. His passion for snowmobiling has led him to become a sponsored rider in the Ottawa/Quebec area.  hWhip is a successful long-haul truck driver and has dabbled in racing snocross in the CSRA. The three partners gel as a team and their physical distance from each other have not slowed them down.
We've watched these three grow their page from a small group of people looking for parts and bench racing one another, into a large group of passionate, well-communicated people. They now have 10,000+  "well-behaved" members. They have become a reliable source of information and believe in product reviews, used parts, and have even set up membership deals with dealerships and aftermarket suppliers for their members.
This year they took a big step, a chance really, and held their first event. They teamed up with South Simcoe Machine and held their first ever Snow & Shine. Joining the team were Fleury Powersports an Amsoil Dealer, Dayco Belts, Team K-OS, myself "Random" Ryan Tarrant, and a group of faithful snowmobilers.
The worries that attendance would be low we're quickly doused when many arrived early and a few burnouts ensued. Throughout the day everybody visited each other's snowmobiles, talked shop and parts, riding areas and stories, wraps, and even future builds. And as hosts, SSM's Ben, Matt and Russell Norman and staff were busy laser engraving custom pull cord handles all day.
At the end of the day prizes were given out, cheers, clapping and chirps ensued, and so did the plans for the 2018 Snow & Shine. If there was one person we felt sorry for there, it was Devin. Devin picked up his new 2018 850 Freeride 137″ in early September and the poor guy has been drooling over it ever since.
Moving forward we at Snowmobile.com look forward to attending more events and races, new or existing, which have quickly become successful and well attended because of effective use of social media platforms. We hope to speak to people about their Digital Media Marketing successes, tell their stories, and share their passion and wealth of information. What new or existing snowmobile events have you seen grow, specifically because of social media? We'd really appreciate your answer!