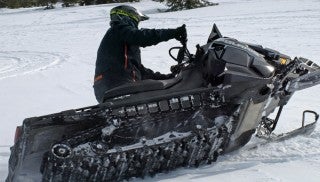 It's a big step up from the 200s
We don't pretend to know how the sled makers think and how they plan to boost sales in a shrinking marketplace, which has seen worldwide sled sales shrink nearly 25% since 2014 when the world market accounted for sales of 157,106 sleds. Compare that to the industry's latest worldwide sales results of 118,657 units sold.
Sales in the US fell by more than 5,000 units versus the previous season. Interestingly, sales in the "true north" of Canada, which gathers snow storms on a more consistent basis, saw sales off by a mere 270 units. Europe, Scandinavia and Russia, which reportedly had sales of 23,837 sleds this past season, saw their market drop by nearly 2,700 units.
If we were a sled maker, we'd closely exam the sales figures for Canada as the number of snowmobiles sold had a marginal drop. Like the northern tier of US snow states such as Michigan, Wisconsin, Minnesota, New York, New Hampshire and Maine, Canada counts on its winter-biased enthusiasts to sustain snowmobiling as an active lifestyle. So, what's going on? Not all of those 40,000-plus sleds sold in Canada were deep snow long track mountain machines. Surely some would cross over for adventure riding, but imagine that with Ontario's 21,000-plus miles of trails and another 20,000 more miles of groomed trails in Quebec, more riders would travel with sport or touring-oriented models. So, what's that mean? Probably not much more than snowmobilers who know they can count on snowy winters tend to buy. And use up their sleds.
This uncertainty of snowfall in key markets, like the Midwest and East Coast, tends to make sled makers concentrate on manufacturing models that sell in volume, such as deep powder sleds like Ski-Doo's Summits and Polaris' RMKs. There is, of course, an effort by the snowmobile manufacturing community, to find new and "hot" niches. Polaris put a great deal of effort into its new Titan series of ultimate crossovers, but we suspect that sled's gestation came when Russia actually sold more sleds than the US. That was a brief phenomenon, not seen since. We suspect the Titan will sell better in Scandinavia than in North America.
Ski-Doo put great effort into its fourth generation REV platform and the second coming of the Rotax E-TEC. While there are plenty of trail-oriented GEN4 models, you needn't be an engineering genius to see that the big beneficiary of the new designs were long-tracked Ski-Doos. And those Yamaha/Cat turbocharged models generated a boost for Yamaha sales and allowed Cat to continue claiming its self-imposed title as being most powerful and fastest.
Obviously, power and deep snow ability have become extremely important in the world of snowmobile sales. That breed of sleds appeal to existing performance-oriented riders, but what of the other riders who want to explore winter but not at 100 miles per hour or in three-foot deep powder?
This season we have seen yet another attempt to bridge the gap between high performance and newbie-riders with a pair of 200cc snow machines, the Yamaha SnoScoot and Cat's ZR 200. These are cleverly designed and said to elicit trail speeds of up to about 35 mph (going downhill?) from a 9.1-horsepower four-stroke single cylinder motor. We suggest real speeds will be in the mid to upper 20s, faster than a ZR120 and good enough to help transition new riders to something more powerful.
But this is the problem. At this moment in time there isn't anything between nine horsepower and the basic 50-ish horsepower of most budget or value sport sleds. Plus, price has to be a consideration as more powerful adult-sized sleds feature price tags nearer to $7,000 and $9,000 than the less than $4000 of the 200s. So, where is that bridge?
The snowmobile companies have tried to generate enthusiasm for lower-priced, lower powered models. Yamaha's original SnoScoot failed when it appeared, but is a sought after model commanding near new prices. Ski-Doo tried to engage the X games audience with a 300cc Freestyle model. It failed. Back in its halcyon Indy days, Polaris created the Indy Lite with both a 250cc single and a 340cc twin. It stayed around until the need for total refurbishment caused Polaris to jettison the model. Where does that leave us?
Never without an opinion, we suggest that the 200 category of sleds is only a partial bridge, that there needs to be another model or two. When you visit a vintage snowmobile event, notice how most "back-in-the-day" manufacturers adroitly used one model to cover multiple niches of power and pricing. You could opt for a 250 or 340 that looked like the top of the line 440 or 500 models. This allowed the sled maker to sell more units and allowed the buyer to easily transition from starter sleds to performance ones.
Back then there were more engine options for similar sled types. Today adult-sized sleds generally come with a choice of a 100-plus horsepower 600cc or a 150-plus 800cc version. That's a big jump from 9 horses. And weight-wise, the big sleds dwarf the kid-sized ones, intimidating them.
Let's look back a bit and reimagine how to bridge the power and price gap while still retaining a serious fun quotient. Why not, we ask, borrow a page from the vintage sled world? Those old models frequently used a common tunnel of stamped aluminum that allowed engine placement in front of the rider. These mid-engined sleds had their faults, of course. They could be tippy and ski bite might be minimized.
But, with today's engineering and manufacturing expertise, couldn't simple spell success? A simple straight tunnel with a fuel-injected single cylinder engine of 15-25 horsepower and basic CVT clutching would net eye-watering trail speeds that would be quite exciting on a narrow and lightweight sled. Suspensions such as a basic Polaris IGX design or similar parallel rail combined with a 110 to 120-inch track length would offer simplicity and the opportunity to hold costs. Now, then, why does the front end have to be an A-arm or trailing arm set up? Leaf sprung skis worked for decades. But we'd favor a set of lightweight struts similar to those used by Ski-Doo/Lynx and Yamaha on its VK540.
We'd also rethink the rider's seating area; move the seat closer to the front and upward for good knee response over rough trail sections as with the original REV design. Modernize the ride of those old straight tunnel designs.
Our idea approximates a next generation Ski-Doo Olympique or Arctic Cat Puma, but fitted with modern materials like plastic skis, Ripsaw track, easily adjusted QS3 suspension shocks, and lightweight ATV-style plastic componentry. The engine could be a pre-existing basic four-stroke or, now that the EPA mandate has notched back, you could even revisit the power of a small 250cc two-stroke like one used on Yamaha's now-extinct Bravo or from a 244cc gas-powered golf cart. Weight, handling and attention to power-to-weight could make the new "bridge sled" a fun to ride model that would teach the basics for transitioning to adult-sized fare.
If this idea doesn't do it for you, how about a new electric sled? Kidding… sort of. Maybe that's an idea for the future?