State of Snowmobiling in 2013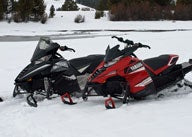 Euro and Russian market growth makes up for a dip in US snowmobile sales
We got very suspicious about the importance of snowmobile sales outside of North America as soon as we saw what Polaris announced for model year 2014. The fan-cooled Indy seemed to be too popular for the US and Canada. And, let's not forget how Ski-Doo introduced its Expedition hybrid of part touring and part utility sled. Something had to be up in the snowmobile marketplace because the MBA-educated executives at those companies don't arbitrarily come out with new products unless they are quite convinced that they can sell them – somewhere!
Well, those in-the-know snowmo-executives spotted and followed a trend that told them people outside of North America were purchasing more and  more new sleds. Over the past four snow seasons, sales of snowmobiles into Russia and northern Europe climbed from about 22 percent of worldwide sales to 36 percent for the just ended season. In fact, the International Snowmobile Manufacturers Association (ISMA) announced in early June that sled sales outside of North America totaled more than 52,000 units – more than the United States or Canada. For the first time, non-North American sales accounted for the largest market share of sleds.
VIEW: Read about our thoughts on the state of snowmobiling from last year
Estimated Snowmobile Sales
Region
2012-2013 Sleds Sold (estimated)
2011-2012 Sleds Sold (estimated)
2010-2011 Sleds Sold (estimated)
2009-2010 Sleds Sold (estimated)
USA
48,536 (34%)
48,689 (38%)
51,796 (42%)
49,200 (44%)
Canada
44,022 (30%)
40,165 (31%)
40,878 (33%)
37,600 (34%)
Europe & Russia
52,043 (36%)
40,233 (31%)
30,389 (25%)
24,300 (22%)
Total
144,601
129,087
123,063
111,100
That explains the influx of sleds that seem incongruous to us flatland and powder riders here in the US and Canada. These new growth markets don't enjoy the well-groomed snow-highways that we do. They frequently need to break trails and work in remote areas where flotation, utility, durability and reliability are critical. That explains the Indy 144, the Indy Voyager and more Skandic and Expedition type sleds from Ski-Doo, which has its Lynx snowmobile facility in Finland.
The good news for all snowmobilers is that sled sales were up overall from an annual total of just under 130,000 units sold last year to 144,600 sleds sold this past season. In the United Sates, sales were softer than the previous year. There were about 150 fewer sleds sold this past season than in 2011-2012. Snow did come, but it came late. We would expect that despite the relaxed amount of sleds sold, that this coming season should be sound and we would anticipate good, even, stronger sales than the past two seasons, especially if cold temperatures and an early snowfall or two would happen!
VIEW: Read about the Yamaha and Arctic Cat Collaboration
Interestingly, US sled sales have slipped these past two snow seasons from a high of almost 52,000 units sold in 2010-2011. What's interesting to us is that the industry's worldwide number was more than 20,000 less than this year. It reinforces the positive impact of sales outside of North America!
Canada saw about a 4,000 sled sales boost from year to year, with 44,000 units moved this past season versus just over 41,000 the year before. If you look at percentage of sales, Canadian buyers dropped four percentage points since 2009-2010. While the increase in Canadian sled sales is real, the country's influence represents 30 percent of this year's total. A good portion of those sales came from strength in the western provinces where oil exploration and creation of new jobs added to snowmobile demand.
As we look to ISMA statistics, we see North American sales as stagnant at approximately 90,000 units. The growth outside of the North American snow belt really picks up the snowmobile economy and is exactly why all snowmobile makers are getting very serious about the model mix of snowmobile products it offers. We are no longer the kings of our snowy domain. Northern Europe and Russia have made an impact by retailing 3,500 sleds more than the US – and 8,000 more units than Canada!
Take away the Euro/Russia influence and North America's total would be 92,558. That would be up from the previous year's total of 88,854 North American sales, but comparable to two seasons back.
As for total snowmobile registrations, there is not an actual handle on Euro/Russia numbers, but the industry suggests upwards of 700,000 sleds. Here again the US and Canada seem to have a bit of a blip as total registrations appear to have been tracking downward somewhat. Who knows why, but perhaps inconsistent snow seasons kept people from re-registering their older models?
Estimated Snowmobile Registrations
Region
2012-2013 Sleds Registered (estimated)
2011-2012 Sleds Registered (estimated)
2010-2011 Sleds Registered (estimated)
2009-2010 Sleds Registered (estimated)
USA
1,392,043
1,401,300
1,550,150
1,500,000
Canada
590,677
593,248
602,902
582,134
Europe & Russia
NA
700,000
530,000
NA
We'd be concerned about that except that the International Snowmobile Manufacturers Association (ISMA) claims that the average user-age is dipping into the early 40s after peaking in the mid-40s range in past years. Plus, industry statistics and our own eyes frequently indicate even more youthful interest in the sport. At a late season snowmobile show we were very encouraged by the crowds that came to see, touch and feel the various model year 2014s on display. There were dads with kids; moms and girlfriends, too! When we talk with aftermarket apparel suppliers we note that they are creating styles and garments with more youthful and active lifestyle appeal. So, the future looks very promising for the sport.
VIEW: Read our review of the Polaris 550 Indy Adventure
Coming off a very snowy – albeit, late snow – season bodes well for future sales in North America. Will US sled sales return to a 44 percent share of market from its current 34 percent market share? Or, is that 10 percent drop over the past four seasons the new reality? Can growth outside of the North American market sustain itself, where industry observers note a percentage climb in market share from 22 percent to 36 percent in just four seasons? That growth is offsetting the US market decline. The best scenario is (1) for the US market to rebound, which, frankly we think it will, based on last season's happy and snowy ending; (2) for the Euro/Russia markets to continue growing; (3) for continued consistency in Canadian sales. If all of that happens, things will be better for all snowmobilers. We riders will get newer technologies in new sleds. Sled makers will gain more profitability and can afford more development programs. And we'll see the sport rebounding once again. It's all good!