Test Riders Pick Their Favorite Snowmobiles from the 2018 Model Year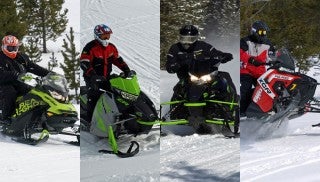 Our experienced testers feed their own sled preferences
Frequently when we're on location at a test riding photo session, other snowmobilers know why we're where we are and seek us out to ask, "What's the best sled?" Truthfully there isn't any one singular "best sled." There are some we prefer over others, but this comes from personal bias and experience. But a "best" sled? No.
In the earliest days of my sled reviewing, the question of best sled would have been a bit different in that there were some truly awful ones. Sled makers in the 1970s might bring cobbled-up prototypes to a ride session. They could be finished for styling with a painted red block of wood for the stop light. In a few cases final specifications were never determined as the sled brand disappeared before the first snows of the next season. Seats that would have multi-layers of comforting foam in production models might have only an "appearance" layer at test sessions. While most of these not-so-great sleds came from now defunct sled manufacturers such as Alouette, Columbia, Northway and others of the past, even the Big Four of today (Arctic Cat, Polaris, Ski-Doo and Yamaha) on occasion have brought less than ready for prime-time riding versions of their new models.
Experience comes from recognizing, and trusting, that the sled maker keeps its word and makes these rough prototypes right by the time the new model comes down the production line. And they do. When we see, ride, evaluate and photograph the next season's models it may be late February or early March and the various sled manufacturers' may still have last minute calibrations to settle or find solutions for last minute issues that showed up in late testing. So, it's not uncommon for sled makers to have engineering crews chasing snow across North America to zero in on final specs, especially if there is an all-new sled, chassis, engine, drive or such.
So, when asked by a fellow snowmobiler at such a ride preview as to which sled is best, we hedge our answer. Occasionally what we ride in late winter may be changed as production rolls out the final version. Not often, but it does happen. We can only answer based on our experience with what we rode, with what we like and with what our personal riding style may be. Yes, in truth, we end up having some new sleds that we'd like to have in our garage for the coming winter. Then again, we get to ride virtually all the key new models, allowing us to come to those conclusions. Choosing a few outright favorites really comes down to personal opinion as every season the new snowmobiles essentially all do the same things very, very well. A six-foot rider may favor the riding positon on one sled over another simply based on how that model's ergonomics felt. A more diminutive rider would judge differently. A real go-fast test rider won't see the trail riding experience the same way a high mile rider might, and so on.
What's the best sled for model year 2018? Don't really have a clue, but our test riding crew of experienced, veteran snowmobile athletes can tell you that after riding all of the upcoming key models for 2018, we all had some personal favorites, runners-up and most honorable mentions.
In a case of full disclosure, we will tell you that our test riding duo of brothers both own Polaris snowmobiles. The professional publication types along for these evaluations have experience with all of the Big Four products. This writer does own a 2006 Ski-Doo REV 550 that usually manages about 100 miles of use per season only because we have access to newer test sleds.
If you ask us which of the model year 2018 sleds we prefer, these would be our answers. Since all of the 2018s are really good, we might not stick with these answers 100% if water-boarded or given a craft beer!
Our Choices – Test Rider RD
Of the brother duo, RD picked out three models that captured his fancy. From first place to third place they were:
1 – Polaris XCR Switchback 800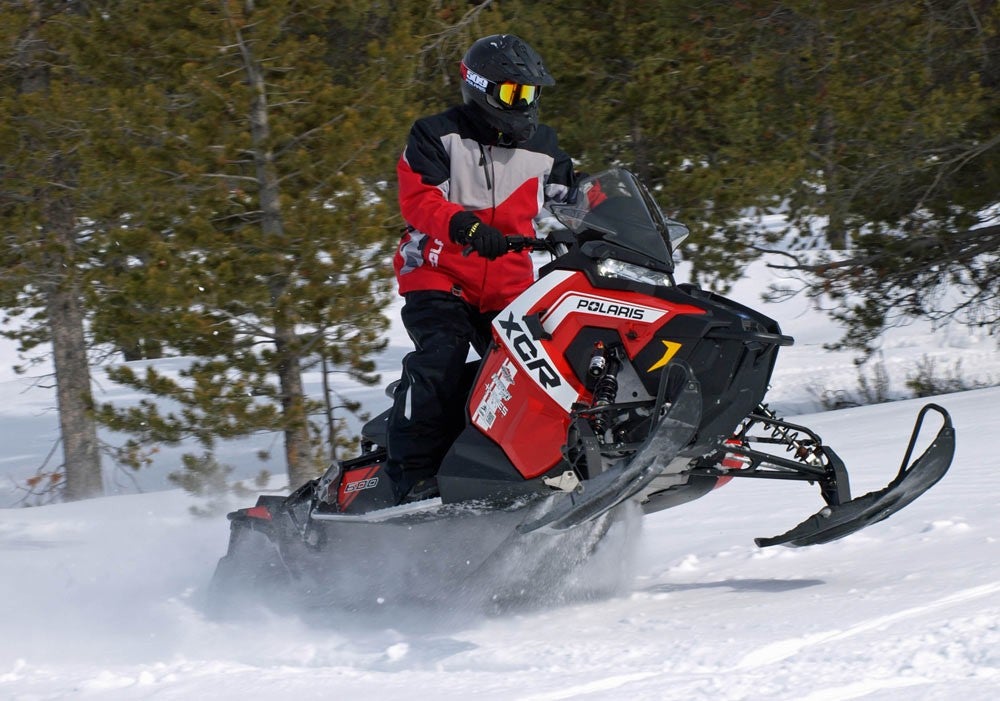 There is some obvious bias here as I own a late model Polaris. Still, though, I think Polaris has figured out the best seating position with the AXYS chassis.
I like how the set-up works keeping the sled flat through the corners and like how the 1.35-inch lug track is trail friendly.
The XCR handles both the stutter bumps and the big whoops well. (Really well!)
Its handlebar is taller than the PRO S and works for standing up and generally fits me better.
The Polaris Cleanfire 800 motor has been around but it works, giving a seat of the pants feel with at least as much zip as Ski-Doo's 850. The Interactive display is awesome. (Once you take the time to learn to use it). The LED headlights are "cool."
On the negative side is that essentially ineffective low windshield and the lack of storage. As a guy who likes to go out all day, I like to carry a couple of bottles of water, a dry pair of gloves and an extra base layer…good Luck with that!
2 – Ski-Doo Renegade X-RS 850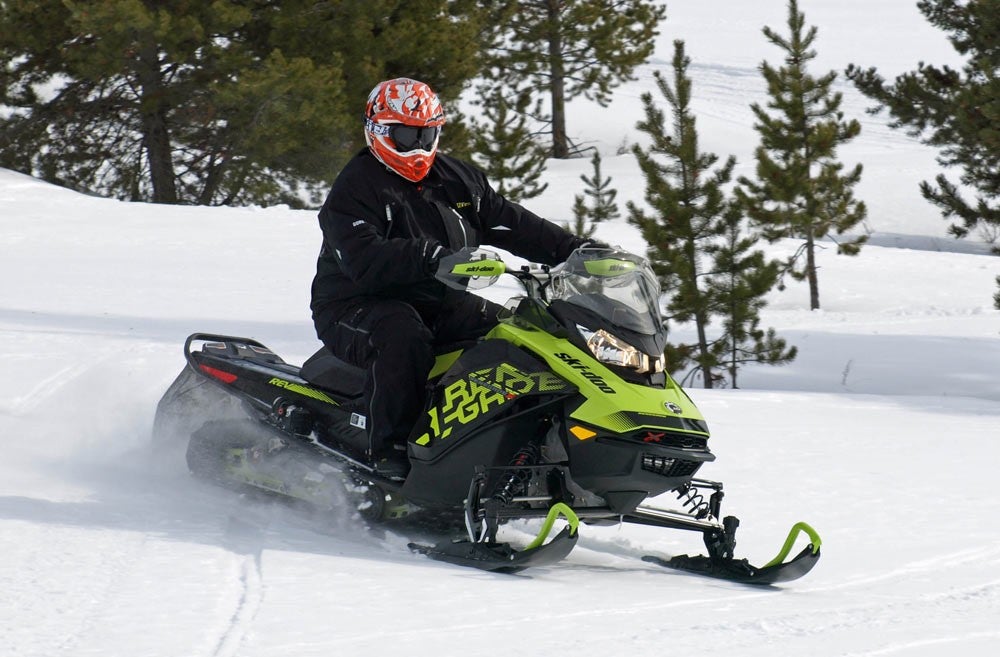 Another sled with strong fun factor is Ski-Doo's Renegade X-RS. That new 850cc E-Tec motor runs really smooth with strong power. I like the solid feel of the new RAS3 front suspension, which for me inspires a lot of confidence.
Other things I like about this sled: I Love the wide flat running boards and the instrument pod works great.
That said, I hate the foot wells and that low windshield does no good.
3 – Arctic Cat ZR 8000 RR
This sled has been a favorite of mine since we started as test riders for Snowmobile.com. This Cat is not normally the sled I would think I'd like, but the "fun factor" is huge! It's quick and nimble, the suspension works and it is just plain fun to ride.
As a rider who tends to put on big miles, this is probably not the sled I would purchase, but it is sure fun to take out for a spin!
My honorable mention goes to the Arctic Cat ZR9000 Thunder Cat. It is just too much, but it's a true rush to go that fast that quickly.
Our Choices — Test Rider SD
The older brother of our test riding brother pairing, SD is a bit more succinct in his reasoning.
1 (Tie) – Arctic Cat ZR 8000 RR
The Cat RR feels and rides like what I think a snowmobile should. Every component from the engine, clutching, shock package, track, skis, and chassis work in synergy to make an impressive sled. Cat's new 800 C-TEC2 rocks.
1 (Tie) – Ski-Doo Renegade X-RS 850
Yep, it's a tie for #1 for me. Ski-Doo's top of the line Renegade XRS 850 has extremely well-balanced suspensions front and rear. This Renegade handles a wide range of conditions with amazing smoothness from the big ditch banging whoops to the small but repetitive trail chatter. To me, that new Rotax 850 engine is best in class. Of course, this sled would even be better with a real windshield.
3 – Polaris XCR Switchback 800
This the "racer" version of the Polaris AXYS line and as such I found that it handles better than the Pro S or the Pro X. It will take the bumps when you want, but it's very smooth on trails, too. Plus, it looks cool. The XCR definitely scratches my racer wanna-be itch.
Our Choices – Test Rider J
Our other veteran writer/test rider has seen some true junk over his many test riding years, and that's why he states, "There are so many A++ sleds available and not really any junk sleds for MY2018."
I'm going with performance here for my top overall favorite.
1 – Arctic Cat ZR 8000 Limited 137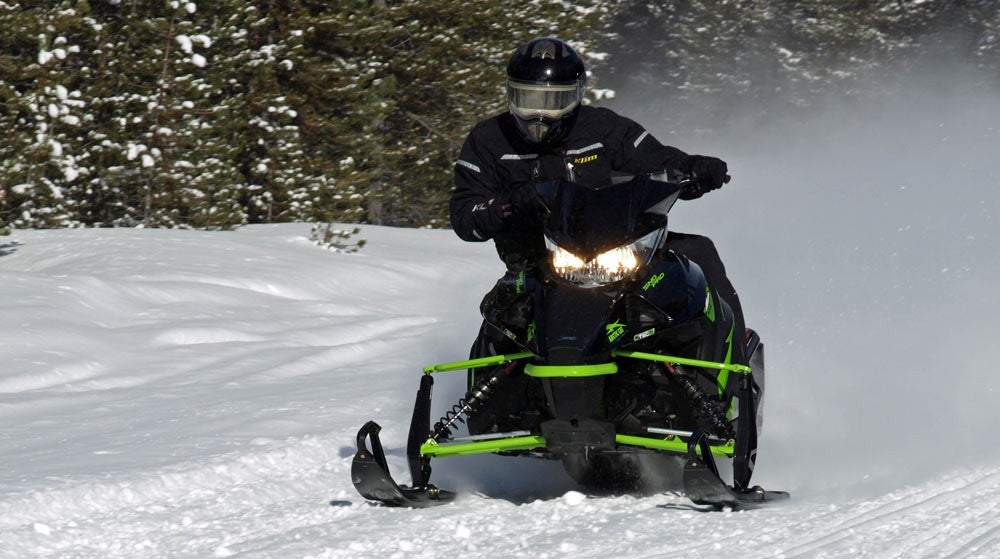 My reasons why focus on its best features: 800 C-TEC2 that totally rocks; awesome Team clutching; easy adjust Fox QS3 shocks for quick on-trail tuning; its excellent suspension/handling. That all-new Next Gen Body gives the sled better fit and more handsome styling. Plus, I prefer the 137-inch track for on and off trail. The sled works for me, fits me. Of course, I like Ski-Doo's Gen 4 Renegade XRS packages for similar reasons.
Runner-up – Polaris Titan Extreme
This all-new Polaris is truly unique in that it's a multi-purpose crossover/touring/utility sled with unexpected power and handling. The Cleanfire 800 provides ample power to drive its 153-inch long, 20-inch wide track for cruising and towing. The Extreme has the more "off-trail" front end and skis, but can be fitted with the two-up option and tons of accessory packages. This new Polaris provides comfort, ride and long distance onboard fuel capacity.
Honorable Mention – Yamaha SnoScoot & Arctic Cat ZR 200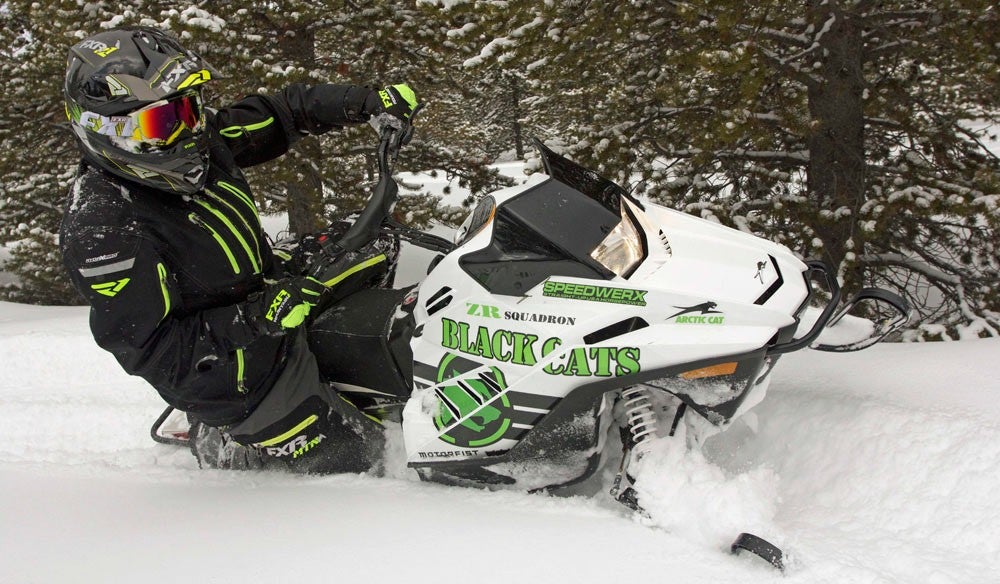 These two similar (but "different) models offer a fix for that gap beyond a Kitty Cat or SRX 125. Yamaha and Cat finally fill the youth gap between the 120cc and big boy sleds with an "in-betweener" that offers new grown-up clutching on a new-to-snowmobiling Yamaha 200cc four-cycle single. It has real front and rear suspension versus the 125cc models. Plus, it looks stylish and offers quality for a price less than US$4,000.
Our Choices – Test Rider J2
My personal choices differ somewhat from the rest of the test crew, but maybe because I'm more seasoned and have put my fast days behind me. Comfort and trail agility matter more than sheer speed, but as RD noted, squeezing the throttle on a Yamaha turbo offers a quick thrill.
1 – Polaris Titan SP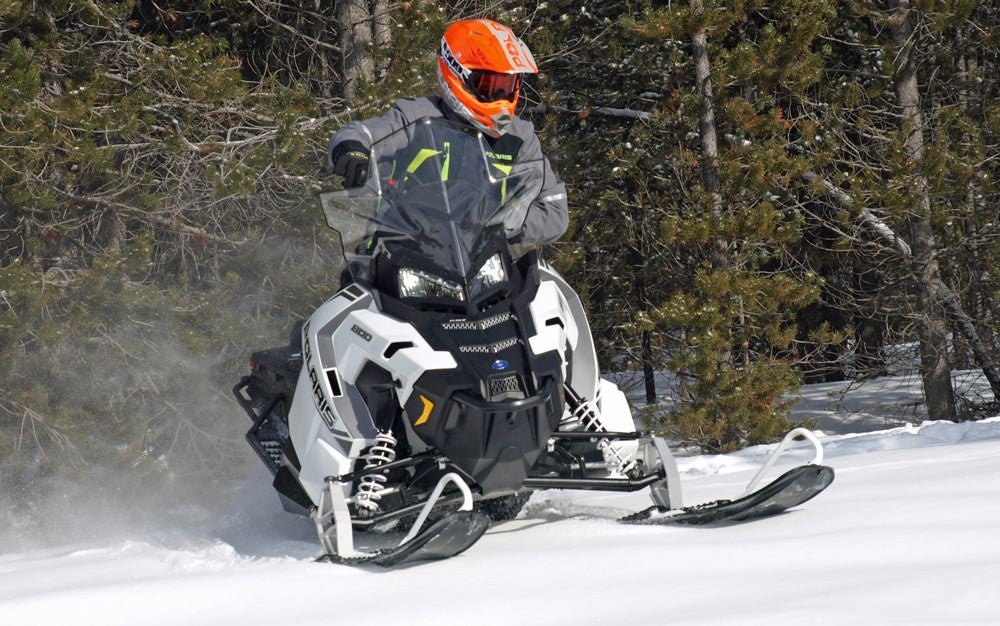 The "base" model of the three new for 2018 Polaris iterations, the Titan SP differs in approach. It shares the track length and width, the new high-low range gearbox and 800cc Cleanfire twin with the Titan Extreme and Titan Adventure. Liking this sled came as a total surprise. It's not small at 129 inches in overall length nor is it light at more than 600 pounds dry weight. But it sure is fun to ride. Off the line the drive jerks the skis into the air and gets the sled through the eighth mile as quick as any Polaris 800cc trail racer. It gives you great confidence riding off trail, but if you do a great deal of that in remote places, you might add the optional winch system. And that's the thing, the Titan SP is a blank canvas that can be whatever you want to dress it out as with a wide assortment of options and accessories. The Titan SP proved way more fun to ride than we'd ever expected. It's tipped up rails give it shorter track on-trail agility but retain deeper snow maneuverability.
Perhaps it's an unlikely first choice, but after many decades of test riding, this sled's versatility combined with straightaway performance made a seriously positive impression on this seasoned and jaded sno-mudgeon. The Titan's a winner.
2 – Ski-Doo MXZ X-RS 850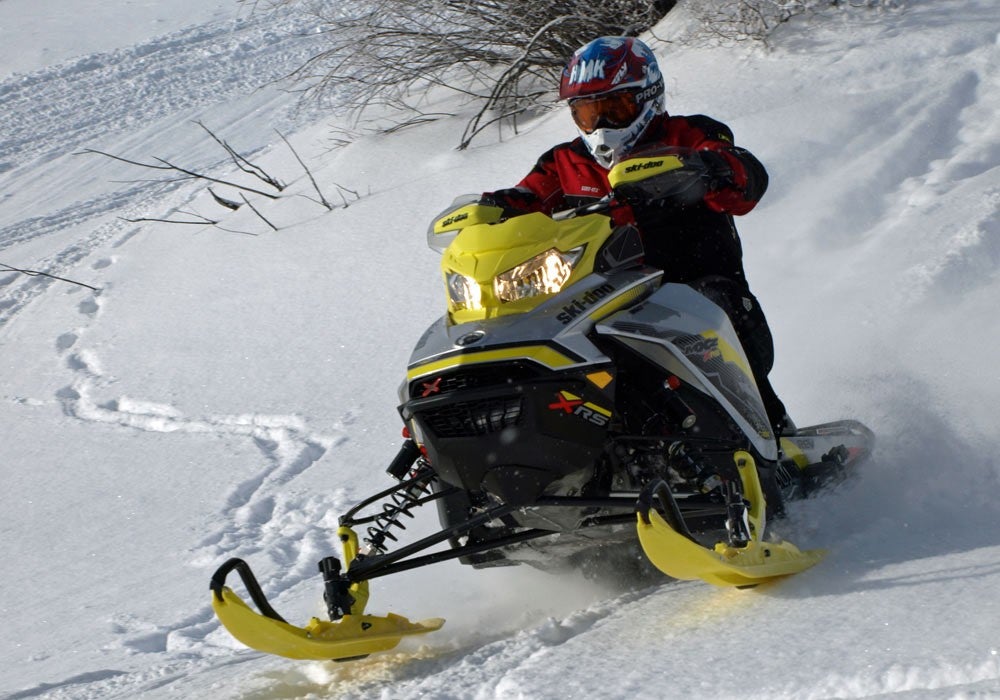 All of us test reviewers like our performance sleds, this reviewer liked the Ski-Doo MXZ X-RS 850 best of all such models. In the past, such models like the X-RS would be nearly unrideable with overly harsh shocks and suspension. Not the case here. Frankly if you can't find a nearly perfect ride setting on a 2018 Ski-Doo X-RS 850 you aren't trying.
The RAS3 and rMotion suspensions can be easily and quickly tuned, usually via an easily accessible lever or dial. Even the handlebar can be set quickly to multiple positions. And, like RD, we aren't fond of the open toe well, but that can be "optionized" for a good fit that instills cornering confidence. That's the ultimate key to the X-RS 850; it makes you a better rider thanks to its on-trail handling prowess, bump-absorbing rider and very strong low end to top end power.
3 – Yamaha Sidewinder L-TX LE 50th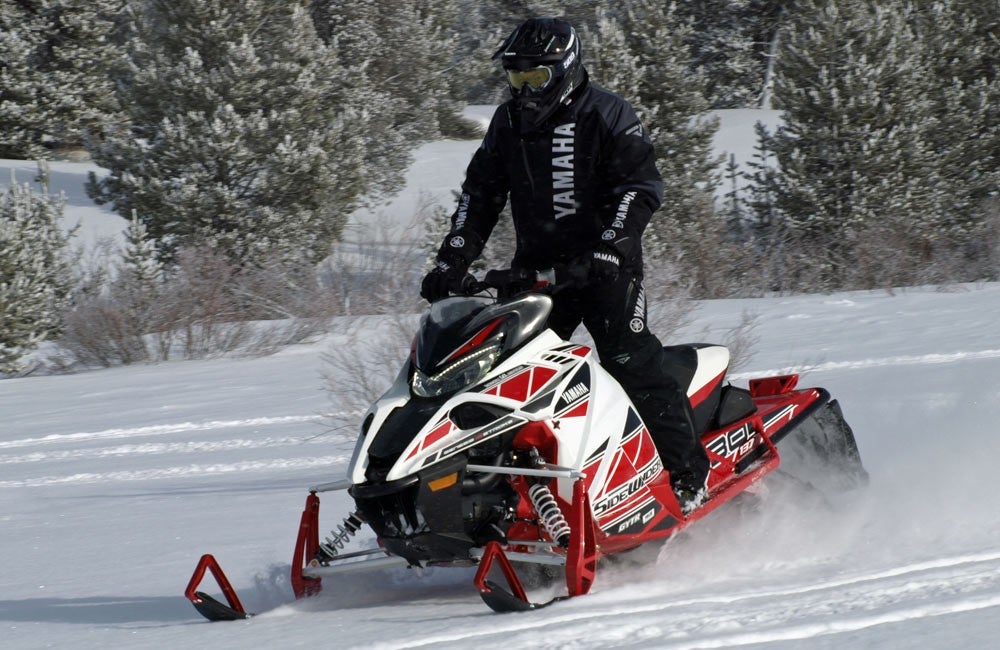 You'll get no apologies here. The appeal of the Sidewinder has everything to do with its turbocharged 998cc triple. The 137-inch track length is a plus to absorb track spin when the full 200-plus horsepower makes it to the snow. This sled, fitted out in 50th anniversary red and black trim, celebrates Yamaha's 50 years in the sled business, but its body and suspension by Arctic Cat assure its on-trail legitimacy. There is no pretension here. Yes, the Sidewinder turbo can run sweep on a weekend club run, but its full-on wind out is why you want it. Let's not pretend. It's a handsome sled with crazy power.
Honorable Mention – Polaris 550 Indy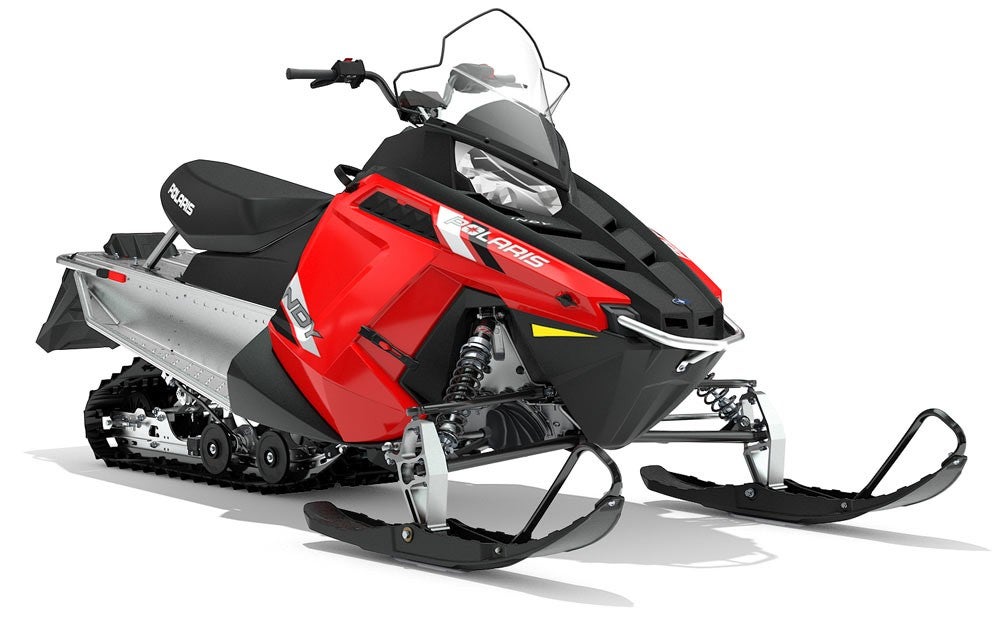 As the owner of a 550cc fan-cooled trail sportster, we'd be remiss not to honor one of the best overall trail sports values in the industry. The 550cc two-stroke fan-cooled twin is neither very clean nor fuel-efficient, but it does symbolize snowmobiling's past with modern day attributes – and a price of less than US$7,000. For the value conscious snowmobiler, this Polaris provides it, making it an honorable mention and quite possibly the next step in the riding evolution beyond the new 200cc models.
As you can see, there is no singular "best" sled, but ones we prefer or would want to own. All of the 2018 models are very good. But, then, we don't have to choose just one.