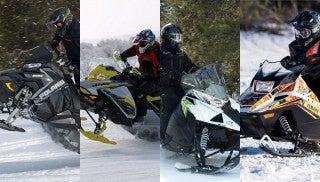 Not as much as you'd want
With the expiration of Polaris' product information embargo of its new 2018 products, we can look back at the four snowmobile "sneak peeks" and the recently completed week-long photo shoot and ask, "What is new for 2018?"
Really, we're not trying to be snide and curmudgeonly, but what is new for model year 2018? As we left the annual new sled introduction in West Yellowstone, one retired longtime veteran industry observer noted with a slight bit of confusion in his voice, "It doesn't seem like there was all that much really new this year, or, perhaps, it's a pause as the industry reloads for the future."
His statement caused us to pause. This person has seen new sleds and brands come and go over his decades of industry involvement. For him to be left underwhelmed seemed a bit disconcerting. But, in truth, he was correct in his assessment. Or, not, depending on what brand you represented.
If you promoted the BRP/Ski-Doo brand, you'd say quite a bit a was new. As expected the company greatly expanded its GEN4 platform and along with it, the 850cc two-stroke Rotax twin that was co-created to fit the new chassis structure. After a year of limited availability in select 2017 models, the 2018 GEN4/850 extensions seem much improved. Not so much improved, perhaps, but certainly much more refined and rider-friendly. The big twin still has its surge of power from midrange on up, but it felt better modulated, easier to control when simply riding the trails and not scorching them, though it does that!
You'll find many expressions of the GEN4/850 throughout the Ski-Doo line up. A particular favorite of ours was the 2018 Ski-Doo Renegade XRS, a race replica with exceptionally compliant trail manners for the marginal racer wannabes like us. It comes complete with premium shocks, the top of the line "dagger" ski and virtually every other performance feature you can imagine. If you can't dial in a personal and favorite ride setting on this sled, you'll never be able to do it. Our test XRS proved exceptional in power delivery, smooth and consistent. The shock and feature packages like the multi-adjustable handlebar offered excellent tune-ability.  The XRS was a favorite just as our deep snow test riders found the latest long tracked Summits and their expanded models suiting them.
Ski-Doo put great energies into making the powder rider's life easier with its new SHOT starting system, essentially a quasi-electric start system that weighs about 18-pounds less than a conventional electric start system and features a readily accessible push button that can be reached when the sled is stopped and you're up to your waist in deep snow. Our guys raved about it, but more on that soon as we bring you reviews of the newest Summits with STOP.
There will be a fleet of new GEN4/850 taking over Ski-Doo showrooms, but there will be no GEN4 platforms with ACE four-strokes, 600cc E-TEC twins or air-shock suspension systems. That'll have to wait as the GEN4 platform was designed to accommodate the 850 only – at this point. So, that means business as usual – except for some bold new graphic treatments – on sleds like the Grand Touring, Expedition, Renegade Enduro and such.
Maybe our veteran friend is right. As we looked at Arctic Cat for what was new for 2018, we found more turbocharged Yamaha power in various models, essentially mimicking what Yamaha will offer this coming season, and Cat's new cleaner emission and "greener" dual injection 800cc two-stroke, which officially replaces the "dirtier" Suzuki. Cat also added more of its own 600cc C-TEC2 twins to its 2018 line of sleds, including a value-added Pantera 6000 among other "new-for" models. One such specific model is a new Norseman, a long-tracked utility sled with appeal to foreign markets.
Of course, that's what's new for now. But who knows how that changes as Textron takes over the Arctic Cat brand sometime soon. The Cat snow bike SVX 450 was on hand for test rides, but don't look for them to appear snowbelt-wide as less than 100 units reportedly have been built and distributed to select racers and dealerships.
Arctic Cat personnel seemed extremely and genuinely excited about the Textron move and welcomed that company's enthusiasm for the sport.
Yamaha probably awaits news of Textron's next moves, too, as it seems to have put a major portion of its future snowmobile marketing in with Cat. Yamaha greatly expanded its line of Cat-manufactured Sidewinder turbo models, while cutting back slightly on its Viper presence. Yamaha added a fleet of mountain-specific MTX Sidewinders, betting that its turbocharged 998cc triple's ability to retain power at elevation gives them an overall power-to-weight advantage.
Yamaha announced that this would be the last year for the Apex, the only four-cylinder high performance sled in the industry. Yamaha feels that the Sidewinder fills the needs of Apex customers, but even so, Yamaha added a unique reactive front suspension to the Apex, making it virtually an instant collector's sled. We suspect that the YRSS front suspension seen on the final year Apex will make an appearance on future Cat-built models.
As for the alliance with Cat, Yamaha adds a co-produced model, the born-again SnoScoot. This 200cc Yamaha-powered youth-sized sled appears in the Arctic Cat line up as the ZR200, the step up for those riders who have outgrown the ZR120. Yamaha's SnoScoot employs a 9.1-horsepower single-cylinder engine to power the sled to a maximum speed said to be north of 30 miles per hour. The SnoScoot is an SSCC-certified model that is approved for trail use and meets the same criteria as any other Yamaha trail model.
Yamaha hopes that the 2018 SnoScoot brings new people into Yamaha dealerships and that the diminutive model will ignite renewed enthusiasm for family-oriented snowmobiling. To help garner interest in the sled, which will be priced at less than US$4,000, Yamaha will expand marketing efforts to social media "micro sites" and create demo ride opportunities across the snowbelt.
We expect that Polaris may take a similar tactic in introducing its all-new Titan series of sport/versatility sleds. Powered by Polaris' 800cc Cleanfire twin and directing that fuel injected performance though a brand new, smooth shifting Alpha hi/lo with reverse gearbox, the Titans belie their high flotation 20-inch wide by 155-inch long track in providing a new level of accomplishment for a sled with an extended track. The initial acceleration of the Titans match just about any other high performance Polaris model, including the 800 Assault or 800 RUSH.
There will be three Titan models for 2018, a base SP, the XC with upgraded Fox QS3 shocks and an Adventure touring version. In addition to the Titans, Polaris did the expected by adding an XCR version to the Switchback line, similar to the RUSH XCR seen last season. There is also a 146-inch track length on the SKS.
Otherwise, Polaris settled in as the other sled makers seem to have done this season, bringing some new shock packages and colorful graphics to a line of RMK, Assault, Voyageur, Switchback, RUSH and Indy models.
To answer our veteran industry observer, we don't know if this new season's sled offerings mark a high point in snowmobiles where we'll see fewer all-new models from season to season or whether it's a pause where the industry resets itself for a new phase. It was an interesting observation by someone who has seen at least three decades of sled evolution to this point.
With three snow poor seasons, the snowmobile industry may well be pausing to see how things shape up in the near future. Right now, with this year's sled sales down single digits from last year (which was also down), the sled makers have every reason to be cautious in a market that will see less than 130,00 units sold worldwide. That's not all that many when you consider that once upon a time, Ski-Doo alone manufactured more than 200,000 sleds per year! And Arctic Cat accounted for another 100,000-plus all on its own!