New 2015 Snowmobiles Impress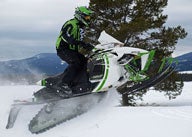 Promises kept mean a good year for snowmobilers
After following this new model snowmobile business for a few decades, we can state that this was one of the most enjoyable product sessions we've ever attended. The 2015 model sleds were as promised, some a bit more, but none less than promised. The snowmobile manufacturers were as happy as they can be. Two "real" winters and good seasonal sales will do that. Plus it builds enthusiasm for the upcoming season.
When we attended the various official previews of 2015 models back in January, most snowmobile executives already had previewed sales numbers for the winter of 2013-2014. A few weeks later at the annual test ride/photo session in West Yellowstone, the same executives were as giddy as a dental patient on laughing gas. According to unofficial Ski-Doo sources, the company accounted for about 45 percent of the industry's annual sales and there was an expectation that the year would see a bump of about 15 to maybe 18 percent growth over the previous season. North American sales rebounded to lead this international market. Russian sales remained stout and accounted for strong growth overall. Industry experts claimed that current dealer inventories were healthy. Ski-Doo claimed it was "sold-out" of product before season's end. The used sled market had been good and some experts expected that it should stay that way, as new sled buyers would trade in their older sleds on new ones, keeping a viable used market alive.
Read our 2015 Ski-Doo Lineup Preview
As for the hype that usually surrounds new model introductions, we were pleased with virtually all of the hype as it tended to be based on fact. Ski-Doo's new RAS2 front suspension does work as stated – and better than we expected. The limited production Summit 174 with T3 package will sell as many as Ski-Doo chooses to produce this season. After a year's worth of fine-tuning, the company's ACE 900 four-stroke lives up to our expectations for a moderate, 90 horsepower engine – fortunately, because it will be everywhere in the 2015 Ski-Doo line up.
Polaris may have a home run on its hands with its AXYS-based Rush and Switchback models. The new "rider-centric" chassis works as promised and Polaris delivers two distinctive packages in a Pro-S trail handling model and a truly serious terrain slamming Pro-X version. To top it off, there's a new truly ferocious 800cc two-stroke that takes full advantage of the more than 30 pounds of weight savings in the new AXYS models.
To keep sales moving in the international marketplace, Polaris brings new longer tracked Indy "adventure" models to the Scandinavian and Russian frontiers. There are 155-inch long tracked Indys with racks, two-up seating and wide flotation skis for travel to out of the way places. While the RMK models remain inert for 2015, you can choose from among 20,000 customization choices to create a unique-to-you sled. But, if you look closely inside the engine bay of the new AXYS series and note the unique motor mounts on the new 800cc twin, you can fast forward to the 2016 RMK, which most likely will get the more powerful 800 by then.
Read our 2015 Polaris Snowmobile Lineup Preview
Yamaha seemed okay with its Arctic Cat deal as it added a mountainside of new Vipers, especially long tracked MTX models accepting of a dealer-installed, Yamaha supported turbo kit. The partnership seems to be working out for Yamaha, but somewhere back at Yamaha in Japan there have to be quality control engineers cringing and wondering how they can improve the Viper's fit and finish standards. We truly like and appreciate what Yamaha has done with its line of Vipers, but they have too many manufacturing variances that you don't expect to see on a Yamaha. Still, the Viper series sells well as it is the only "new" model to be offered in the Yamaha line in some time. It rides and handles well, has good power and makes a profit for Yamaha dealers. Why wouldn't Yamaha be happy with it?
Read our 2015 Yamaha Snowmobile Lineup Preview
While Arctic Cat says that Yamaha is helping it learn better methods to improve fit and finish, Arctic Cat is showing Yamaha ways to respond to the market more quickly. The Thief River Falls, MN company continues to do well with its new tall spindle models, recently revealing an all-new 2015 Pantera. This segment-leading two-up touring model may well be the basis for a new Bearcat series.
We couldn't help but notice an expansion of RR (Race Replica) models, which leads us to believe that it will be Cat's new premium series. Cat also returns to its roots as it designated its old "value" models with the Lynx name. Pantera. El Tigre. Lynx. Arctic Cat has a history that sells sleds.
Maybe the most understated heritage mark to date has to be the low-key approach Polaris chooses to take with its 60th anniversary as a snowmobile manufacturer. There will be "anniversary" editions of various models, but other than that not a lot of hoopla. Merely to have survived six decades and be one of only four snowmobile manufacturers is cause for jubilation in itself. Congratulations.
Read our 2015 Arctic Cat Snowmobile Lineup Preview
And, of course, we have questions. Will the weight saved in creating the new Summit T3 work for or against it? That sled lives in a rugged and unforgiving environment where rugged dependability literally can be a matter of life or death.
Will Polaris' new AXYS models with the new 800cc twin get recognized as being all-new, or will buyers see them as updated models – which they definitely are not. The redesign reminds us of how Yamaha redid its Apex a few seasons back. The "new" Apex looked almost identical to the old one, even though few pieces fit the redesign. Sales were flat as consumers passed on buying a new sled that looked the same as the old one they already owned.
How will Yamaha's Viper MTX models sell? At our test ride session all MTX models were turbos. They had the power of the Arctic Cat M9000, but it comes at a premium. Maybe a select marketing approach would position base non-turbo MTX models as being perfect for the deep snow areas of the Midwest, such a Michigan's Upper Peninsula or the high plains areas surrounding the Black Hills. We're just saying.
But, overall, the annual photo and test ride session showcased an industry happy with its sales and looking forward to another good sales year. The product we rode and photographed was very good. After riding a fleet of pre-production and prototype sleds in less than a week, we had to admire the work that the manufacturers' mechanics and technicians did on our behalf to make their sleds perform at their best. These folks never get enough credit for their hard work, so we're giving it to them. Without their attention to detail and their labors, the entire event would be a total flop. Instead, we can sit back in a cozy office and report that this was one of the most enjoyable product sessions we've ever attended.