Snowmobiling 101: Parts and Terminology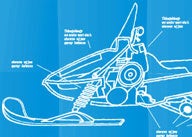 A little knowledge goes a long way
Snowmobile.com has teamed up with SnowmobileCourse.com to give prospective snowmobile enthusiasts the tools they need to get started.
This is the first article in a five-part series that we hope will teach potential sledders the basics about their machines and how to ride safely on and off the trails.
Parts and Terminology
Before you even turn a key on your snowmobile you should already be familiar with your machine. Much like a car, specific terms are used to describe the various parts of the snowmobile. Knowing the names of these parts and their functions will be useful in any number of ways.
Everything from talking about the sport to fellow snowmobilers to isolating mechanical problems will be a whole lot easier once you know the proper terminology. It only takes a little work to gain a lot of knowledge in a short amount of time.
We've compiled a list of 20 basic terms every snowmobiler would be wise know.
20 Snowmobile Terms You Should Know
Throttle
Squeezing the throttle lever feeds more fuel to the engine which in turn powers the driveshaft and rubber track moving you forward (or backwards on snowmobiles equipped with reverse).
Engine Stop Switch
A way to stop the engine quickly. To activate it you must push the switch down.
Throttle
Squeezing the throttle lever feeds more fuel to the engine which in turn powers the driveshaft and rubber track moving you forward (or backwards on snowmobiles equipped with reverse).
Handlebars
Main steering mechanism.
Windshield
Protects you from the wind and wind chill. Also deflects any debris, ice or snow that may fly up during operation.
Headlight(s)
Illuminate the path in front of your snowmobile and alert other riders to your presence. They are to be used during both daylight hours and evenings. Most snowmobile headlights have high and low beam settings.
Hood or Cowl
Protects and covers the engine and other mechanical components. Always check the engine before any trip.
Engine
Snowmobile engines are generally two stroke except for newer models that use four stroke engines. Repair and troubleshooting is similar to any other vehicle. Always remember to maintain your vehicle properly and, when possible, have it serviced by a qualified technician.
Hull or Tub
Also known as a belly pan, it is meant to aid in floatation in deep snow and also to protect the undercarriage from rocks, ice and other hard debris.
Front and Rear Bumpers
Help to protect against minor collisions with trees, rocks, and other snowmobiles. Always drive with care and at a safe speed.
Ski Tip Handle
Handy for pulling, moving, and lifting the vehicle.
Skis
Including wear bars and carbides, the skis glide along the surface of the snow and steer the vehicle through the snow. Most ski blades have stabilizers that run along the bottom of the blade to decrease side-to-side motion.
Ski Spindle
Connects the ski to both the suspension and the steering sytems.
Shock Absorber
Using either springs, hydraulics, or both, "shocks" will help give you a comfortable and smooth ride over bumpy terrain.
Track
Made from reinforced rubber, the "track" is wrapped around the rear suspension system of the snowmobile and is driven by the engine.
Rear Suspension
Suspends the track as it digs into the snow which helps maintain contact between the snowmobile and the snow. Also supports the rear of the snowmobile by absorbing bumps allowing for a smooth ride.
Running Board
Also referred to as the tunnel it is located on both sides of the snowmobile and used to rest the feet on while the snowmobile is in motion.
Tail Lights
Always make sure that your rear lights and brake lights are in proper working order. Always carry spare bulbs in the toolkit under your seat.
Passenger Strap
Make sure your passenger has a solid, safe strap on which to hold. Only carry a passenger if the snowmobile is designed for it.
Vehicle Identification Number
This number is a unique identifier assigned to the snowmobile. Federal law prohibits the removal of this number from the vehicle.
Instrument Panel
Gives you information about your snowmobile such as speed. Also includes warning lights and the tachometer. The tachometer indicates the rotation speed of the driveshaft in RPMs (revolutions per minute). Review your owner's manual so you are aware of all warning lights and their meaning.
About SnowmobileCourse.com
SnowmobileCourse.com offers online courses approved by many state agencies responsible for snowmobile safety education. SnowmobileCourse.com also offers a certification exam. Upon passing the certification exam, you will receive your state snowmobile safety certificate or snowmobile license.
Related Reading Snowmobiling 101: Snowmobile Maintenance Snowmobiling 101: Riding Positions Snowmobiling 101: Riding Hills Snowmobiling 101: Riding Safety and Trail Etiquette