Snowmobiling 101: Snowmobile Maintenance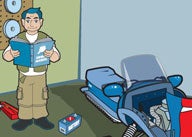 Take care of your investment
Snowmobile.com has teamed up with SnowmobileCourse.com to give prospective snowmobile enthusiasts the tools they need to get started.
This is the second article in a five-part series that we hope will teach potential sledders the basics about their machine and how to ride safely on and off the trails.
Pre-Season Checkup
A fun-filled winter of snowmobiling is great for you, but your machine can take a beating. If you take proper care to maintain your snowmobile it will reward you with years of good service.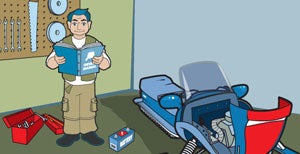 If your snowmobile has been sitting around all summer and fall, you can't simply jump on and ride as soon as the snow falls.  While it may seem like everything is in proper working order, a pre-season tune-up before you hit the trails can save you some major headaches down the road.
The best place to start is with your owner's manual, which should provide detailed instructions and diagrams explaining what will need to be done at the start of each season. When it comes to simple maintenance and tune-ups, your owner's manual is your best friend.
We've compiled a basic list of things you should check out before your riding season gets underway. Be sure to check for wear and ensure everything is lubricated or adjusted as necessary.
Pre-Season Maintenance
* Filter
* Spark Plugs
* Headlights and tail lights
* Brakes
* Skis
* Track
* Steering and throttle
Regular Maintenance and Proper Care
Of course, proper maintenance doesn't end after the pre-season tune-up. If you want minimize mechanical problems and have your sled last as long as possible a little regular maintenance during the season is key. Additionally, a well-cared-for snowmobile is more likely to have a lower environmental impact and generally results in better fuel economy.
In-Season Maintenance
* Follow the manufacturer's fuel and oil recommendations.
* Regularly check the spark plugs (as mentioned, it's always a good idea to change them at the start of each season).
* Keep the engine properly tuned and maintain fluid levels.
* Avoid making any aftermarket alterations to your exhaust system. Not only can it result in louder noise emissions, it can also void your warranty and make your exhaust illegal.
* Follow Owner's Manual for regular maintenance tips.
* Check the skis & carbides.
* Check the track.
* Check the drive belt for wear.
About SnowmobileCourse.com
SnowmobileCourse.com offers online courses approved by many state agencies responsible for snowmobile safety education. SnowmobileCourse.com also offers a certification exam. Upon passing the certification exam, you will receive your state snowmobile safety certificate or snowmobile license.
Related Reading Snowmobiling 101: Parts and Terminology Snowmobiling 101: Riding Positions Snowmobiling 101: Riding Hills Snowmobiling 101: Riding Safety and Trail Etiquette