Snowmobiling 101: Riding Safety and Trail Etiquette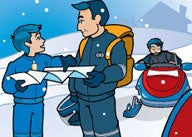 Stay safe and play nice
Snowmobile.com has teamed up with SnowmobileCourse.com to give prospective snowmobile enthusiasts the tools they need to get started.
This is the fifth article in a five-part series that we hope will teach potential sledders the basics about their machine and how to ride safely on and off the trails.
Make Safety a Top Priority
We could go on and on about snowmobile safety, but we'll focus on a couple of things that will hopefully help you get home safe and sound.
We should all know by now that you shouldn't mix snowmobiling with drugs or alcohol so we won't harp on this issue too much. However, one seemingly obvious safety tip that many ignore is that you should avoid riding alone. Even if you only plan on heading out for a quick ride, at relatively high speeds it does not take long to travel a long way from your starting point. Riding with another snowmobiler provides the security needed in case of accident, mechanical problems, poor weather conditions or a medical emergency.
If you do go out alone you'd be wise to carry a fully charged cellular phone. However, since there is not always cell phone coverage on many trails a SPOT satellite GPS messenger can come in handy. This device permits people at home to track your whereabouts and allows you to send SOS messages if you find yourself in an emergency and need rescue. Also, always let someone know where you are going and when you expect to be back.
Safety should also be a priority for short trips. Just because you plan on a short ride doesn't mean no risks are involved. If you plan properly and take the necessary safety measures, the potential for risk can be minimized on any trip.
Trail Etiquette
Snowmobiling is very much a community activity. Snowmobile clubs, which are almost always volunteer driven, are the main reason we have so many fantastic trail systems to ride. If you want these trails to be available for years to come there are some rules that need to be followed. As a snowmobiler you have a responsibility to ride in a manner that is both legal and respectful towards your fellow riders and the environment.
Always
* Keep to the right side of the trail.
* Operate in a safe and courteous manner.
* Give trail groomers the right of way.
* Reduce your speed when there is oncoming traffic.
* Give uphill riders right of way when you are traveling downhill.
* Slow down and give the right of way to any skiers, hikers, persons on snowshoes or dogsleds you might encounter.
* Always report illegal operation out on the trails.
* Slow down when passing a parked snowmobile on the trail.
Never
* Ignore the posted speed limits for an area, as well as all other trail signs.
* Pull over on a turn or curve. If you need to stop along a trail, pull over to the right side of the trail and only do so on straight stretches.
* Leave your engine running if you need to stop for any length.
* Ride on private property without permission.
About SnowmobileCourse.com
SnowmobileCourse.com offers online courses approved by many state agencies responsible for snowmobile safety education. SnowmobileCourse.com also offers a certification exam. Upon passing the certification exam, you will receive your state snowmobile safety certificate or snowmobile license.
Related Reading Snowmobiling 101: Parts and Terminology Snowmobiling 101: Snowmobile Maintenance Snowmobiling 101: Riding Positions Snowmobiling 101: Riding Hills