Start a Fixer-Upper Project This Summer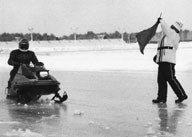 Some ideas and places to get started on that summer project
At the risk of infuriating every "significant other" in snowmobile-dom, we offer up an excuse to thwart those weekly "honey-do" lists around the house. Why not plan and implement a special snowmobile project? Let's get started.
With the growing interest in old snowmobiles, how about spending some muscle power and not a lot of money securing a fixer-upper to have around the yard as a fun sled to ride at vintage events? There are a growing number of events dedicated to having fun with old snowmobiles. They range from the quite serious ones where folks showcase their full restoration sleds to more casual "drive in" events sponsored by local snowmobile clubs and on-trail restaurants and taverns. Some of these events can draw thousands of folks while others feel successful if 30 sleds show up for a wiener roast ride-in.
Depending on what you want to accomplish, such a summer project can range from taking up a weekend or two to lasting a year or more. We would offer that if you want to have the most fun, get a friend to join you and make the time and work go by quick and easy over a cold beverage. It is summer after all!
We'd also suggest that you if you don't already have a project sled to work on, you might find one at a local snowmobile swap meet or alongside the road as you head up to the lake cabin. We're always amazed at the things we see for sale alongside a rural road. This past week we found an old "beater" Chaparral snowmobile for sale alongside a couple of beaten up motorcycles. That's not at all unusual when roaming the countryside.
If you are a motorcyclist and need an excuse for an afternoon ride, head off to the hinterlands and see what's sitting out in front of those old farmhouses along the back roads. You might be amazed at what you can scrounge up.
Of course, if you're like us, you might have a "future" project or two already stashed away. Make this summer the time to start that fix-up project on that old Ski-Doo, Arctic Cat, John Deere or Kawasaki.
To help you get started, we're listing a handful of places that cater to snowmobile fixer-uppers. One thing we've found with vintage and collector snowmobilers, they tend to have knowledge that they'll share. So, if one of these places can't help you with a specific part or service, don't be shy about asking where you should look next.
Image Enterprises
One of the tried and true spots to find parts and expertise related to Mercury, Kawasaki, John Deere and the truly obscure Skiroule snowmobiles is Image Enterprises in Eagle River, Wis. This company has been helping Mercury Snow-Twister enthusiasts since 1974. Image Enterprises is the "go-to" place for Merc and Twister parts because the company purchased Mercury Marine's Twister inventory in the late 1970s and continues to supply the country "…with all parts to keep those classic Twisters running."
Over the years Image Enterprises branched out a bit and now it also caters to Kawasaki, John Deere and Skiroule collectors. It stocks most all parts for 1979-1984 John Deere Trailfires, Sportfires, Liquifires, Spitfires, Snowfires, and Sprintfires. You can also find some parts for the 1976-78 Cyclones and Liquifires as well as some earlier John Deere models.
You can get parts for 1978-82 Kawasaki Invaders, Intruders, LTDs and the 550 Interceptors, including some Interceptor rolling stock. There are some parts available for the 1979-81 Drifters.
While the Mercury, Deere and Kawasaki brands were most popular, there are folks looking to fix up the older Skiroule snowmobiles, which ended up as a part of the Coleman stove empire. Image Enterprises carries parts for the 1973 to 1976 Skiroule RTX, RT and Lasers. They have some parts for earlier Skiroule models.
If you have an older snowmobile, you can call on Image Enterprises for engine rebuilding as well as cylinder replating and resleeving. The Wisconsin company also offers CDI box rebuilding.
For more specific information, you should visit the website or contact the company at: Image Enterprises 2162 Vista View Dr. Eagle River, WI 54521 Telephone: (715) 479-7427
SnowMoYard
Another site to visit for hard-to-find and easier to find parts is also located in north central Wisconsin's snowmobile playground. SnowMoYard doesn't have the decades long background of Image Enterprises, but the company claims to specialize in offering snowmobilers both used and new snowmobile parts and accessories primarily for the existing four brands — Arctic Cat, Polaris, Ski-Doo and Yamaha — and vintage brands.
The company's website recently listed a used Ski-Doo fuel tank cap with gauge from a 2002 MXZ for US$15. A used complete chain case from a 1988 Polaris Indy 400 was listed for US$30.
Obviously the listing of used snowmobile parts changes frequently, but if you are looking for a specific part SnowMoYard will try to locate it for you.
For those fixer-up projects, SnowMoYard offers a special catalog which last year featured thousands of snowmobile items. For more information about this service–oriented web site, visit http://www.snowmoyard.com/ or contact: SnowMoYard 6648 Sylvan Shore Rd. Hazelhurst, WI 54531
Hendershot's Snowmobile
Located in Vining, Minn., Hendershot's Snowmobile has offered parts service to snowmobilers for more than three decades. The outfit stocks thousands of new and used parts for vintage and newer sleds as well as offering a full line of service work.
Owner Lloyd Hendershot raced snowmobiles in the late 1960s and retired as a racer in 1972, when he established his snowmobile salvage and parts business.
Currently Hendershot's Snowmobile carries "…a large inventory of used snowmobile parts for Arctic Cat, Yamaha, Ski-Doo, Polaris and many more." The company handles all makes and models of snowmobiles, saying: "You need the parts we got it!"
For more information or to search for a specific part, visit the website or contact: Hendershot's Snowmobile 46367 State Hwy 210 Vining, MN 56588 Telephone: 218-769-4498 
These three parts and accessories vendors should help you get a start on your own "to-do" list for that summer sled project. If you do get a sled fixed up this summer, why not send us an image of it later this winter showing us how it looks on the snow.
Related Reading Choosing A Vintage Racer Track Studding the Right Way How to Install an Aftermarket Track How to Install Custom Handlebars How to Store Your Sled in the Off-Season