Track Studding the Right Way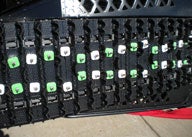 This fairly easy do-it-yourself project has to be done the right way
Most people are running too many studs in their tracks. While studs provide traction, the traction they provide is threefold – traction for acceleration, traction for turning and traction for braking. While more studs can provide more traction, they also add weight to the track and affect a sled's top speed.
With how well studs and tracks are made these days, unless you're an ice racer you probably don't need more than 144 studs no matter what sled you're riding. The key is to know where and how you ride, what you're riding and to install the studs correctly. Read on as we put 104 of Stud Boy's finest in our Arctic Cat Sno Pro 500 cross-country racer.
We picked up our stud package from http://www.studboytraction.com/. Here's a list of the tools you'll need for this project: * Tape Measure * Paint Marker * Track Cutting Tool * Hex/Allen Bits * Cordless Drill * Socket Set
Shop For Snowmoible Track Studs
While this story might seem like it's overanalyzing, how you stud your track can really make a difference in how both it and your sled perform. Studding a track is simple work, but sometimes even simple work takes a little thought to do it right. How good a job did I do? This sled has over 1,000 miles on it with almost 600 of those miles logged in cross-country racing (500-some from the USCC Red Lake I-500) and all the studs are still there. Races are won because the racers paid attention to the details. Maybe you should too?
We are committed to finding, researching, and recommending the best products. We earn commissions from purchases you make using the retail links in our product reviews. Learn more about how this works.
Related Reading How to Install Custom Handlebars How to Install an Aftermarket Track