What is Replacement Cost Coverage?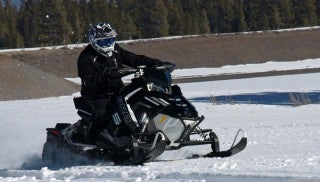 Coverage provides full replacement cost of a new snowmobile
There are lots of advantages to buying a newer snowmobile over an older model. But one big bummer is that they lose their value, and they lose it fast. Depreciation is just one of the facts of new snowmobile ownership, but there is a way to recoup your money if you ever get into an accident and write it off or it's stolen. Just get Replacement Cost coverage added onto your snowmobile insurance policy.
Replacement Cost coverage can be applied to snowmobiles up to three years old. This is usually considered a speciality type of coverage, so if you want it as part of your snowmobile insurance policy, you have to ask for it. In some cases, this type of coverage comes standard with a brand new snowmobile, for the first year you own it.
Why Do I Need Replacement Cost Coverage?
With other types of coverage, if your snowmobile is unusable or stolen, you may not get enough money to buy a replacement. But with Replacement Cost coverage, your payout is based on what it costs to replace your vehicle with a new one of the same make and model, at current market prices, if that model is still available. You can also choose to just take the cash and put it toward another snowmobile (or something else). Replacement Cost coverage is pretty flexible that way!
Based on the make, model and year of your snowmobile, as well as where you live, how much Replacement Cost coverage will cost you will vary. A new snowmobile is a big investment, so you want to be sure that you won't lose out on your toy if someone steals it or you have a serious accident. Because Replacement Cost coverage isn't usually a part of the typical snowmobile insurance policy, be sure to ask your insurance agent of powersport broker if it's right for you.