2017 Arctic Cat XF 7000 CrossTour Review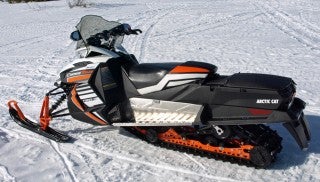 Cat's ultimate sport touring sled
What better way to create a full-fledged sport touring sled designed for the long haul than modifying one of the sport's best all-around two-up touring models? That's pretty much what Arctic Cat has done with the 2017 XF 7000 CrossTour.
Fast Facts
Engine: 1049cc Horizontal Inline Triple
Power: 130 hp
Track: 15 x 146 x 1.25 Camso RipSaw
MSRP: US$13,699/C$15,999
View Full Spec
Where most modern solo cruisers tend to have been adapted from sports models and turned into "adventure" models with onboard storage bags and comfort cruising attributes, the CrossTour starts out as a touring model, based on Cat's newest ProTour chassis. Created to underpin the two-up Pantera and provide a firm foundation for the utilitarian bigger displacement Bearcats, the ProTour chassis combines a lightweight, rigid design with comfort features like a flatter floorboard for improved on trail livability.
The CrossTour fills out a niche in Cat's line of versatile solo on and off-trail models. For the flatlander living in serious lake effect snow country there are the CrossTrek or Cross Country and for backcountry bashing, the High Country fills that need. The CrossTour offers Pantera-like ride and handling combined with crossover styling for the rider preferring high mileage outings. The CrossTour chassis and ergonomics will manage virtually any snow and trail conditions. Whether your day starts out on smooth freshly groomed trails before turning to blown in ruts while fighting through an afternoon squall, the ProTour chassis blends in just the right amount of touring and sport combination.
This chassis has been designed to work amenably with a 146-inch "Quiet" track length that features Cat's patented Quiet Track Technology of raised moldings on the inside of the track to reduce vibration and sound. It grips with 1.25-inch tall lugs offering an ability to churn through unplowed forest roads or handle long stretches of smooth and groomed corridor trails. The sled's length affords added comfort as the 146-inch CrossTour's Slide-Action suspension bridges nattering mini-bumps.
We recognize that the CrossTour's rear suspension doesn't have the marketing hype credited to the competition that features unique external shocks and runningboard-mounted adjusters, but our experience has proven that the Slide-Action design is top notch and as good as any in the business. Cat's unique setup centers around a front suspension arm that features a U-shaped slot that fits over a fixed shaft (attached through the tunnel) permitting a half-inch of sliding movement. So, whenever the rear suspension component compresses, the "non-fixed-front-arm-location" won't automatically force the front arm to collapse. What the slide-action provides is the full benefit of rear coupling – controlled (or eliminated) ski lift during acceleration – but with consistent use of the front arm's travel for small bump compliance, reduced track tension through the full range of compression and reduced ski lift at acceleration.
Deeper moguls in off-trail excursions won't be a big deal as this suspension offers up to 13.5 inches of gas shock controlled action. Arctic Cat engineers specified Cat's own IFP 1.5 shocks front and rear. The tall A-arm front suspension provides 10 inches of travel and helps the six-inch wide ProCross skis maintain grip for turns.
As you'd expect from a solo sport touring sled built around one of the top two-up touring models, the CrossTour comes loaded for on-trail comfort. It shares a solo version of the Pantera's ample foam-filled ProTour saddle and, of course, it's heated. The windshield at 11 inches in height sits quite bit lower than the 17-inch tall version used on the two-up Pantera, but it, too, offers standard rearview mirrors.
The adjustable handlebar comes with a riser that sits up at 5.5 inches. As you travel you'll come to appreciate the curved shape that makes the Cat handlebar set one of the most comfortable in the industry. New for 2017, Cat altered the bar's construction, utilizing a new alloy steel that pulls a half-pound off the sled's weight total. The grip material has changed from primarily plastic to increased use of rubber that improves grip thanks to the softer tactile feel and a reduced diameter.
All the switches for handlebar and throttle thumb heaters are easily adjusted on the fly. The deluxe digital gauge provides all the key information and more that you'll need.
While the base fuel tank accepts 10.7 US gallons, the XF 7000 CrossTour enjoys the addition of a standard auxiliary 4.3-gallon tank. This 15-gallon fuel total means you'll be able to easily pull serious daily trail mileage. Keeping in mind that the CrossTour's Yamaha 1049cc four-stroke engine is one of the most fuel efficient on the trail means fewer mandatory fuel stops. This 7000 series power train includes Cat-tuned electronic fuel injection and a side-exiting three-into-one exhaust. Power delivery comes via TEAM clutching that is tuned to maximize the Yamaha triple's renowned midrange performance, which is key to high mileage touring.
With the added fuel capacity comes added onboard storage in the rear-mounted compartment. If you want to add some trail features there is always the option of bags and even a heated goggle holder that uses under hood heat to keep them warm and clear. Standard 12-volt accessory plugs can accommodate such things as heated visors, GPS systems and other accessories.
If you ever considered a Pantera but weren't committed to two-up touring, the CrossTour provides a great option for supreme solo trail riding. This sled is a serious long haul runner. There's its proven steady and torque-laden Yamaha triple running through TEAM clutching. That 15 gallons of onboard fuel assures maximum distance with minimal stops. Plus, add in the Pantera-like ride quality of its long travel suspensions and ProTour comfort highlighted by a heated seat, 11-inch tall windshield and plentiful storage.
Based on the top of the line Pantera, the XF 7000 CrossTour caters to experienced solo touring riders who want nothing but the best from ski tip to snow flap. The CrossTour offers all of that.