2019 Arctic Cat Mountain Cat, M8000 Sno Pro and Hardcore Review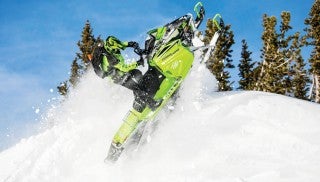 While the new Alpha One is getting most of the attention, the 2019 Arctic Cat Mountain Cat, M8000 Sno Pro and Hardcore fill complete an outstanding deep powder lineup.
The 2019 Arctic Cat Mountain Cat and M8000 Sno Pro offer superb handling and powder mastery. Snowmobilers should not pass over these two mountain sleds from Arctic Cat because these are not an "Alpha One."
Hillclimbers shout out your praise, the hill climb racer is back. Not as "HCR," but as "Hardcore." It too is in the M8000 family.
Let's Revisit
Last season the 2018 Arctic Cat Mountain Cat (153 and 162) was our Mountain Snowmobile of the Year. The 2018 Mountain Cat was a dang good mountain snowmobile – lively, light through the bars, aggressive at climbing and simple to maneuver. For 2019, the Mountain Cat continues as it was in 2018, except for some dazzling colors and some nice improvements; we'll bring these up later. These improvements help elevate the Alpha One to a higher status, but Cat made these standard on the Mountain Cat, the M8000 Sno Pro and Hardcore.
But, as sweet as the 2019 Arctic Cat Mountain Cat is, and was from 2018, and as heart stopping as the 2019 Alpha One is, the quiet surprise for us is the 2019 M8000 Sno Pro. Take the Alpha One out of the equation, and ask us which "M" we would take, it would be the M8000 Sno Pro. Not that the Mountain Cat went backwards for model year 2019, it did not. But the M8000 Sno Pro changed so much.
The difference between the 2019 Arctic Cat Mountain Cat and M8000 Sno Pro lies in shocks.
This past winter season we had many conversations with Arctic Cat's mountain team lead, Andy Beavis, who told us several times, "When at Sno Shoot, don't forget the M8000 Sno Pro." He said he understood the Alpha One would be the darling from Arctic Cat, but at Arctic Cat's Sneak Peek, we focused so much attention on the Alpha One, the M8000 Sno Pro became a, "Ya, we'll get to it," snowmobile.
But, something kept nagging us, something Beavis said, "Todd Tupper (shock and suspension master for Cat, and its lead for the Island Park, Idaho test facility) spent much time with Fox and engineering to make the Sno Pro perfect." Beavis said, the "Sno Pro" name is Cat's heritage, its legacy, and the company wanted to elevate the Sno Pro back up to its namesake.
If Tupper dialed in the M8000 Sno Pro, then we should darn well test its claws off.
This past February in West Yellowstone, Mont. we spent four days riding the 2019 Arctic Cat M8000 Sno Pro and it surprised us. This sled is all grown up.
Cat surprised us all with its Early Release 2018 M8000 Sno Pro, its 2018 Mountain Cat; and equally, its 2019 Alpha One and its 2019 M8000 Sno Pro.
But, we can't forget the Mountain Cat. This Cat from 2018 set the platform for the 2019 Alpha One Mountain Cat. With that, the 2019 Arctic Cat Mountain Cat remains a premium mountain snowmobile from Arctic Cat.
Specifically Speaking
Now, we know what you may be thinking; the M8000 Sno Pro and the Mountain Cat are twin rail snowmobiles. Meaning, they use Cat's twin rail Float Action rear suspension.
Just because Arctic Cat has a single beam Alpha One rear suspension, does not mean the twin rail Float Action is outdated. It is not. The other manufacturers depend on twin rails. The Alpha One is almost surreal, but as with all suspensions, there are minor compromises. Arctic Cat's Alpha One does not render a twin rail suspension obsolete. There remains a need for a twin rail, especially when sidehilling across an icy-hard packed steep slope (30-degrees at least) where the icy-hillside is covered with fluffy new snow. This is when the inside rail from a twin rail bites into the crust and locks down the track.
Here are some mechanical specifics and differences. The 2019 Arctic Cat Mountain Cat and M8000 Sno Pro use the same 794cc two-stroke twin cylinder motor. Each use the same Team clutches which make up the Arctic Mountain Drive System. Electric start is an option for the two. Both use a Power Claw track that is either 153 inches long or 162 inches long.
The sibling mountain snowmobiles ride on the same front suspension – the Arctic Mountain Suspension (AMS). The AMS has a 27-degree spindle caster angle that delivers "optimal ski camber for off-trail cornering and more predictable counter-steering, especially when side hilling." This is true, from our experience.
The Sno Pro can be equipped with either a 2.6-inch Power Claw or 3.0-inch Power Claw; these are track lug height dimensions. The Mountain Cat's track lug height is only available in a 3.0-inch variant. All tracks are 15 inches wide, skis are the ProClimb 7 G2 and ski-stance is an adjustable 35.5-37.5 inches.
Other commons are:
Updated more modern, handlebar-mounted controls
Stealth brake master cylinder with short-throw brake lever
Magnetic tether switch
10-inch rear idler wheels
Ceramic coated muffler
G2 ProClimb-7 skis
Artic Cat builds these two mountain sleds on its narrow Ascender chassis with cinched-in panels that are smoothed-over where sharp edges are rolled and tucked in.
The M8000 Sno Pro's shock package includes Fox Float 3s on the Arctic Mountain Suspension, an Arctic Cat IFP 1.5 as the front rail shock on the Float Action rear suspension, and a Fox Float 3 as the rear rail shock for the Float Action.
The Mountain Cat's front shock is a Fox Float 3 with QS3 – Quick Switch 3 (three positions – soft, medium and stiff). The front rail shock is like the front suspension shock, a Fox Float 3 QS3. The rear rail shock is the same as on the Alpha One, a Fox Float 3 QSL – Quick Switch Lockout. Users can lock out the rear shock's stroke to keep the front end down on steep climbs. But, if a hard hit smacks the shock, a bypass valve will open and let the suspension travel up into the tunnel to prevent harming the rails.
Both have a premium digital gauge, the same lightweight mountain seat and the same cockpit, including handlebars with a vertical steering post, 4.5-inch riser and mountain grab bar. Again, shock package only separates the two, but the Sno Pro has two track choices, the 2.6-inch Power Claw and 3.0-inch Power Claw.
The 2019 Arctic Cat Mountain Cat is a fabulous mountain snowmobile. But, it may be overshadowed by its Alpha One newcomer brother. Yet as a premium twin rail Float Action snowmobile, it is a mountain ruler. We attest to this.
The 2019 M8000 Sno Pro with either the 2.6-inch Power Claw or 3.0-inch Power Claw is the amazement-on-the-snow for this model season. Its well-tuned Fox Float 3 shocks give a controlled ride.  If riding a Sno Pro with a 2.6-inch track, don't be wary; this track is all about getting business done, and in some conditions, it can out-perform the three incher.
Hardcore
The Hill Climb Racer returns as Hardcore. This Ascender chassis Hardcore is every bit like a Mountain Cat, but with a different shock package. The Hardcore has all the 2019 upgrades and refinements mentioned above.
Its ski shocks are Fox 1.5 Zero QS3s, its Float Action front rail shock is also a Fox 1.5 Zero QS3, whereas the rear rail shock is Fox 1.5 Zero QSL. Basically, Fox 1.5s at all points, which are stiff, robust shocks meant to take hard hits from a rocky hillclimb course. Professional hillclimbers often bust shocks, suspensions and bend tunnels. The Hardcore's shocks, are meant to take the hits, and with the rear QSL, it will fly up a hill with its nose down. Nice.
Arctic Cat reports, "Fox 1.5 Zero QS3 shocks feature three compression settings that correspond to soft, medium and firm shock calibration. A dial mounted on the remote reservoir can easily and quickly be turned to customize the compression calibration for riding conditions and intensity. They utilize a remote reservoir for fade-free performance, while coil-over springs offer a plush ride in stutter bumps."
Not to end there, Arctic Cat reinforced the rails on the Hardcore's Float Action rear suspension to take the hits – not to bend.
The Hardcore comes in two track lengths, 153 and 162; its track pitch is the same as the Mountain Cat and Sno Pro, three inches. Skis are identical, the ProClimb 7 G2. Ski-stance is an adjustable 35.5-37.5 inches, just as the Mountain Cat and Sno Pro. The Hardcore is just as much at home in the backcountry as it is on the uphill racecourse.
Final Thoughts, the Motor
Both Ski-Doo and Polaris boast 850-class two-stroke engines. Arctic Cat mountain snowmobiles rely on a 794cc two-stroke as its premium motor.
The 8000 C-TEC2 engine is a 160 horsepower motor, which is not a sleepy motor.  The C-TEC 800 uses Cat's Dual Stage Injection (DSI) where at low engine speeds, fuel is injected directly into the combustion chamber. As motor RPM climb, a fuel-oil mixture injects into the crankcase via the motor's transfer ports; this gives added lubrication to essential motor components.
This motor is not fearful of the 850s. Asked often of us, will it run with the 850s? Yes, it will.
What helps the motor work so well is how the ADS harnesses motor torque and throws it to the ground. The ADS consists of a Team Rapid Response II driven clutch and a Team Drive clutch. The drive clutch is a roller drive clutch whereas when the belt drops into the lowest position it rests on a roller. Belt creep and squawk is non-existent. Belt life is high on the Cats and belt heat is relatively low.
The purpose of the idler bearing in the new Arctic/ Team Drive clutch is to remove the need for belt deflection adjustments, lower effective starting ratio, and improved drive system response and consistency. It does this by running the belt tight at idle. The driven clutch requires no shimming for deflection and continues to shift the belt as far out as needed as the belt breaks in and wears.
To assist in clutch performance and in lowering belt temperatures, is the Torque Control Link (TCL), which is an aluminum plate that connects the driven shaft to the engine to maintain clutch center-to-center distance for optimum clutch performance and consistency. Lower belt temps mean a non-sticky gooey belt, which robs motor power.
The 10-inch rear idler wheels also help free up the track, allowing it to roll with lower resistance, thus not robbing more motor power.
So, back to the motor. The 8000 C-TEC2 has some 30 to 40 less cubic centimeters than the G4 Summit X and the new 2019 Patriot-powered Pro-RMKs from Polaris. But, this high output 800 hits hard, as hard as an 850. Furthermore, the Power Claw track, maybe the best 15-inch wide track currently, makes small work of big hills. The 800 uses all its length, width and height.
In closing, be it a Mountain Cat, an M8000 Sno Pro or a Hardcore, Arctic Cat has three mountain snowmobiles outside the Alpha One  that are highly-capable powder players. Sure, these are not an Alpha, but no embarrassment should cross your face if on one.
Mountain Cat – Awesome and former Mountain Snowmobile of the Year for 2018 and our King of the Mountain in our 2018 Mountain Snowmobile Shootout.
M8000 Sno Pro – Almost a Mountain Cat, that it's shocking.
Hardcore – Ready Set Go. And welcome back hill climb racer.