2017 Polaris 800 Rush Pro-X Review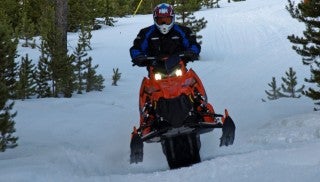 The big bump king of the 2017 Rush models
Performance trail junkies rejoice. Polaris gives you three options in model year 2017. The corner carving crowd gets an updated Rush Pro-S with a choice of two-stroke power options, Polaris' 600cc or 800cc twins. If you like your ride precise, but with a racer-like edge, the all-new 2017 Rush XCR fills the need and is also available with either Polaris twin. And, then, for the serious stand-up guys and gals who want to pound the big bruiser bumps, there is the 2017 edition of the terrain dominating Rush Pro-X, available only with the 800.
Fast Facts
Engine: 795cc twin
Power: 155+ horsepower
Track: 15 x 120 x 1.75 Backcountry
MSRP: US$13,199
View Full Spec
This threesome of Polaris Rush models may be snowmobiling's version of the three bears fable where one selection was too soft, one was too firm and one was just right. For the long-haul rider who makes miles on mostly well groomed trails, the Pro-S is a charmer. For some it's too soft. If you ride trails but prefer to find the rougher sections and like to test your mettle at fuller degrees of throttle, the racer-heritage Rush XCR may be your preference. For many this will prove just right. But if too firm is your preference, the Pro-X is your ride.
The Pro-X comes ready for the big bumps. Offered as a Snow Check sled last spring, the X came with a long list of build-it-yourself options that included a choice of shocks, tracks, colors, gauges, windshields and risers. If you knew what you liked, you could order the 2017 Pro-X virtually customized to your riding style.
Under all those choices, though, is Polaris' most serious big bump sled. When first offered, the Pro-X version of the Rush seemed a bit misunderstood. It had Rush Pro-S pieces and styling, but a taller ride height and more serious basic shock package, firmer anti-roll bar and a focus more on straight ahead bump flight gave the X quite a different personality. Where you wanted to edge up on the Pro-S and put body weight into a corner, it was a necessity with the X as it stood taller with more outward roll action. That's a key difference. The S if extremely smooth getting you into and out of a corner with maximum control. The X not so good. It sits higher, but that makes it an excellent bump sled.
If you like grabbing big air, the X is the sled. The Pro-X gives you more front suspension travel than the Pro-S and XCR to better absorb and spring off the blow when hitting a sharp and hardened bump. The rear suspension travel of the parallel rail Pro-XC is the same as the Pro-S and XCR, but you had a choice of shock packages with the Snow Check option. Our test sled came with multi-adjustable Walker Evans shocks and a coil-over spring on the shock tube. The rear set up was also a Walker Evans package that was set for a bump calibration, not something that will endear the X to Pro-S riders. In addition, Polaris big bump engineers fit the Pro-X with a much firmer anti-roll bar to help the sled fly controlled off launch and remain controlled on the landing. This is all part of the "too firm" feeling that non-big bump riders will complain about. Interestingly, the new XCR sway bar favors the Pro-S for front end control, making it a nicely compromised option between flat cornering capability and bump compliance.
There is little compromise in the X as Polaris designed it for serious bump riders who spend their big bump hunting miles in a stand-up position. The foot boards suit these riders well, offering a wide and flat platform for working a series of moguls. The curved handlebar with the end hooks may be best suited for the Pro-S or XCR and the need for cornering, but the choice of riser heights offered during the Snow Check period gave the X rider custom positioning for upright riding. The AXYS performance seat works great for all riders on whichever Rush "Pro" version you would choose. The tapering to the front and the wide, flat rear portion offer ample comfort whether you are traversing a bombed out rough section or cruising on groomed trails.
The AXYS chassis with its attention to rider placement provides insight into Polaris engineering thought. Yes, the Pro-XC rear suspension is unique with its external rear shock, but the overall concept of making the rider an integral part of the handling without excessive mechanical add-ons is genius. The Polaris chassis encourages rider control, or as Polaris calls it, Rider Balanced Control.
Polaris studied how snowmobilers actually ride and established a center point for the rider to actively effect ride and balance. With the vehicle's mass neatly centered and the suspension optimized to react to rider input, the engineers allow the rider to directly affect the handling. Move forward past the center point for added ski bite or slip rearward for less ski pressure during acceleration. To make all of this seem "normal" for the rider, Polaris got the rider's reach moved 4.5 inches forward, his feet positioned two-inches forward, the knees forward by 4.5 inches and the seat moved forward by that same amount. The result is a riding position that feels normal but allows you to "work" the sled's handling for attacking bumps or corners.
This is common to all Rush designs. Yet, where the Pro-S and XCR offer two power options, the Pro-X provides one, the Polaris designed and built Cleanfire 795cc two-stroke twin. This new Rush chassis and the 800-class twin were designed concurrently, much as Ski-Doo's GEN-4 chassis was developed simultaneously with the all-new Rotax 850 twin. Polaris wanted an engine/sled package that functioned together with the engine able to take advantage of a new platform's engine bay and body work that flowed air more intelligently to pass cool air for the engine to breath and cool components. Developing the engine and body package enabled Polaris engineers to better center the power train, direct or divert air for cooling and removal of heated underhood air. Creating a more efficient air way for the engine allowed the Cleanfire twin to breath better, feeding more air to maximize power. The use of a three-stage electronically controlled exhaust valve system enhanced available power from low end to midrange and on to wide open throttle. Cutting crankshaft weight by 2.5 pounds improved throttle response and, along with it, acceleration. Exactly what big bump riders need for maneuvering in deep moguls.
One thing we have noticed with all Polaris Rush and similar models is vastly improved attention to fit and finish. If you've been snowmobiling for 15 years or more, you have seen overall quality improve. Polaris has stepped up its game with components that fit, surfaces that are both functional and stylish and add-ons that integrate with the sled as though it was an original piece.
We won't pretend that the 2017 Polaris Rush Pro-X would be our first choice of the 2017 Rush models. After banging our body on all kinds of sleds and trails for more decades than we care to announce, we're not into the big bump lifestyle. But if you are, the Polaris Pro-X is an excellent option due to its versatile 800cc power package, big bump Pro-XC suspension with its variety of shock options and its overall big bump capabilities. For big bump action, the Pro-X is just right!