2016 Polaris 800 Rush Pro-S Night Lightning LE Review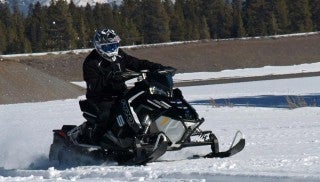 Stylishly elegant Rush with premium pieces for rapid trail transit
Polaris makes Limited Editions like few in the powersport business. When ATVs were a tough sell, Polaris dressed them up, offering limited editions with special graphics, blacked out or chrome pieces, and included nice-to-have accessories from the parts catalog. It worked. And so did creating special versions of its Side-by-Sides, Victory and Indian motorcycles, as well as select snowmobiles.
Fast Facts
Engine Type:Horizontal In-line
Cylinders:2
Engine Stroke:2-Stroke
Valve Configuration:Reed Valve
Displacement:795 / 42.7
Starter:Electric / Pull
Turbocharged:No
View Full Spec
The latest and, perhaps, the best Polaris snowmobile effort starts out as a 2016 800 Rush Pro-S. But this is no ordinary Rush. It's the 2016 800 Rush Pro-S Night Lightning LE and it may be the best Rush ever.
For all around trail play, Polaris' Rush Pro-S offers subtleties missing in the stiffer Pro-X series. That is Polaris' definitive short-track big-banger. It sits higher, rides harsher and takes more effort to carve tight turns. For straight ahead berm-blasting and deep, pitted out moguls, make the Pro-X your ride. For real life, every day life on all manner of trails, the Pro-S makes more sense. In our view, the 800 Rush Pro-S Night Lightning LE makes the most sense. At US$14,499 the Night Lightning edition retails for US$1900 more than the "base" 800 Rush Pro-S and US$1500 more than the big bump 800 Rush Pro-X. But it's worth it to ride what we think is an instant "classic."
Many special editions conform to Sarah Palin's claim of putting lipstick on a pig. Dress up a basic model, make it look good and charge more. Regardless of sled manufacturer, those days appear to be behind us. Now you get added value when you opt for a special or limited edition. Real value like improved shock packages and, perhaps, standard storage and such. As we said, Polaris definitely seems to "get" this added value concept – and charges for it.
COMPARISON: Read our review of the 2015 Polaris 800 Rush Pro-S + Video
When we first checked out the Night Lightning Limited Edition at our annual West Yellowstone new sled session, we didn't fully appreciate it. Understand that during these sessions we have four days to photograph, video, ride and evaluate more than 110 different models. Some are similar, but still different. In addition to the Night Lightning we had a standard white and red Pro-S, an 800 Pro-S with a Cobra track and one with a 1.25-inch lug, plus an orange one and two separate Pro-X versions. On first blush the Night Lightning merely seemed like a more stylish Pro-S. It is that, but it's also much more than that.
On looks alone, the Night Lightning scores major style points. But, this isn't just another pretty face. It is the best of the Polaris AXYS Rush Pro-S line. The underpinnings make this a trail all-star as the AXYS concept brings together a little rock and roll action for aggressive riding. You rock forward on the AXYS Performance saddle to initiate more bite in the corners. Roll back in the saddle for the weight transfer you want at wide open throttle launch.
Throttle action happens quickly as last year's Rush owners learned. Introduced last season, the 800cc twin-cylinder Polaris Cleanfire took full advantage of the AXYS chassis' 30-pound weight loss. The engine was developed jointly with the AXYS chassis and is integrated into the sled's overall design as witnessed by the freer flowing air ducting to the engine and engine placement. The engine spins more quickly than the previous 800cc twin thanks to its lighter crankshaft, higher efficiency intake and three-stage electronically controlled exhaust valves. Pistons, an electronic oil pump and new V-Force intake reeds all work to make this Polaris-engineered 800cc two-stroke a trail beast that features the stalwart Polaris P85 drive clutch matched to a TEAM lightweight driven. The end result is a potent performer that quickly can get to speeding ticket territory in less than 800 feet.
Fortunately, the sled comes ready to handle the power and performance. Up front is the latest iteration of the Polaris AXYS double A-arm suspension. And, what makes the Rush unique is its now familiar Pro-XC rear suspension with its externally mounted main suspension shock. This is where some of that upcharge for the Night Lightning comes into play. Where the "base" Pro-S features compression adjustable Walker Evans piggyback shocks, the Night Lightning specifies Walker Evans piggyback shocks with high-lo speed compression adjustment to manage the sled's 9.3 inches of travel range.
COMPARISON: Read our review of the 2016 Polaris 800 Rush Pro-X 1.75
The Pro-XC rear suspension provides 13.6 inches of travel action, all controlled via Walker Evans piggyback shocks that offer highly tunable high-lo speed compression adjustments. This evolved version of the original Pro-Ride design works better as the shock positioning has become flatter to react more quickly and allow better use of shock stroke. With the added benefit of the more sophisticated Walker Evans shock, you gain increased shock volume from the piggyback feature and greater clicker dial adjustability.
Over the past few winters, we have become fans of the Walker Evans shock, especially on the Pro-Ride, er… we mean Pro-XC rear suspension. The main rear shock on the Night Lightning will be easily available for a quick tweak, as are the front suspension shocks. What we've liked about this set up is how, truly, you can pull off to the side of the trail and make a "click" to get just the right ride response. Because the rear shock sits protected under the seat, it shouldn't get packed with snow and ice.
If we were to pick a nit, we'd suggest that Polaris look to the future and consider replacing the standard 120-inch track with a 129-inch one. Wisely the Night Lightning gives you the added grip of a Cobra track pattern and 1.35-inch lug versus the standard RipSaw II track with 1.25-inch lugs. Arctic Cat and its Cat-built progeny, the Yamaha Viper, plus the new Ski-Doo Blizzard have added 129-inch tracks. We expect that the 129-inch track will become the new standard on "short" track trail sleds of the very near future. We expect this to be a replay of when trail sleds went from standard track lengths of 114-116 inch lengths to 120 and longer in the 1980s. With the horsepower and efficiencies of the new drive systems, a 129-inch track length offers benefits in control as well as ride.
COMPARISON: Read our review of the 2016 Ski-Doo MXZ Blizzard 800
With all of its basic Pro-S refinement built in, the Night Lightning LE goes further. For the added money you pay to get it, the Night Lightning edition doesn't disappoint. Now, unless you are from the ruby red reflector mudflap and dashboard hula girl era, this sled is incredibly handsome, especially on the snow. If you are a remnant of the ruby red reflector era, you'll appreciate the Night Lightning for its "Reflector" graphics package, which integrates 3M reflective materials into its overall black styling. This sled lights up at night, making it especially beneficial at nighttime road crossings.
The graphics package includes: a painted black tunnel, black suspension skid rails, blacked out low windscreen, black handguards and black front and rear bumpers.
While the stylish exterior stri
kes a pose on the snow, its overall design deflects wind and cold thanks to the clever use of integrated ducts that direct cooling air under the hood, but away from the rider. You'll find storage integrated into the Night Lightning behind the windscreen and fitment for a Pro-Fit rear seat bag. The ROX adjustable handlebar riser comes standard, as does an aluminum handlebar.
As stated, this is not a matter of adding lipstick. It is a statement of how a serious sport play sled should be outfitted. It should have power, which the 800cc Cleanfire twin provides. It should have ride and handling, which the AXYS chassis and its Pro-XC suspensions offer. Plus, it should be ergonomically designed to become one with its rider. We think it does that, but you'll have to decide. And, it helps immensely if it should be stylistically handsome. Which it is. For us the 2016 Polaris Rush Pro-S Night Lightning LE is an instant classic.
2016 Polaris 800 Rush Pro-S Night Lightning Specs
Engine
Polaris Liberty 795cc twin cylinder 2-stroke; liquid-cooled; Polaris 2-injector Cleanfire; electronic fuel injection; two-into-one exhaust with 3-stage variable exhaust valve; CD ignition
Horsepower
150+ (estimate)
Drive
Polaris P85 drive with Team LWT driven clutch
Front Suspension
AXYS dual A-arm with Walker Evans Hi-Lo speed compression adjustable piggyback shocks; 9.3-inches of travel; Pro Steer skis
Rear Suspension
Pro-XC parallel rail slide suspension with Walker Evans Hi-Lo speed compression adjustable piggyback shock on front suspension control arm with Walker Evans Hi-Lo speed compression adjustable piggyback shock at rear; 13.6-inches of travel
Length
114.0 in
Width
47.0 in
Height
46.0 in
Ski Stance
42.5
Track
15 x 120 x 1.35 Cobra
Weight
431 (claimed)
Brake
Polaris AXYS radial disc system
Features
STANDARD: Limited Edition Night Lightning graphics package; Pro-Steer skis; electronic reverse; ROX adjustable handlebar riser; AXYS performance seat; Polaris interactive display; electric start, Lock & Ride storage options; security system optional
Fuel Capacity
12.0 US Gal
MSRP
US$14,499 – C$15,799