2015 Polaris 800 Rush Pro-X Review + Video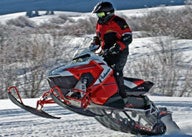 Polaris designs a serious big bump sled for hardcore trail pounders
We're not trying to be insulting, but the 2015 Polaris 800 Rush Pro-X is not for everyone. Polaris offers this model as a "Spring Only" purchase to control supply and probably disappointment. As a big bump all-conquering terrain-swallowing snowmobile, few will match this 2015 model. It's a serious and somewhat severe riding sled that was created for one thing – attack the biggest, nastiest moguls.
The majority of snowmobilers will find the trail handling of the 800 Rush Pro-S more to their liking. But ego will compel some to desire the Pro-X. If you seek out the rough troughs of roadside ditches, enjoy high-flying over driveway berms, prefer the end of the weekend rutted out trails or fancy yourself as the second coming of Levi Lavalle, the Pro-X works. It's a terrific sled for its design purpose. But, be advised, the Pro-X is a serious sled for serious terrain riders.
You really have to look under the plastic body panels of the new-for-2015 Polaris Rush to appreciate what Polaris engineers have done. From our viewpoint, Polaris did the new Rush a disservice. It looks a bit too much like the older model, but rest assured, the 2015 version is 93 percent all new, only the Rush name and various nuts, bolts and fittings carryover.
This Rush comes with an all-new AXYS platform and engine bulkhead. Finally, though we had expected to see it earlier, the engine bay borrows a version of the Pro-RMK's carbon fiber over structure. We say version, because the new 800cc two-stroke twin assigned to the 800 Rush will not fit the 2015 powder sleds. For this season anyway, it is AXYS specific. What matters in all of this is that the new Rush goes from being ride-forward biased to axis neutral – hence the "AXYS" designation. If you think of an old-fashioned kid's seesaw, imagine being centered on it. That's the thinking here. You move forward or rearward to effect balance. Polaris' AXYS platform does this by moving the rider's hands and knees 4.5 inches forward and the feet two inches ahead. The new AXYS performance seat moves ahead by 4.5 inches as well.
COMPARISON: Read our review of the 2014 Polaris 800 RUSH Pro-R
When we rode the new Pro-X and Pro-S models, we got a totally different "feel" from the previous generation Rush and, for that matter, Ski-Doo's best selling MXZ. Without doing any fine-tuning of handlebar sweep or ride controls, we just felt, well, more centered. And that's exactly what Polaris designers were working toward.
Everything seemed to fit, to be exactly where it should be. There's a mastery in this design that is oh, so subtle. The Rev MXZ has been one of our favorites right along. It fits well enough, but not quite like the new AXYS models. Some of this comes from the re-jiggered sit-on dimensions that get you into a new balance position. Some of it comes from the new seat. The front of this saddle is narrower than before. There's a new seat foam that is firmer, but not tiring. The seat also features a new "grippier" material. It's a good blend between the overly tacky grip of some Ski-Doo models and the slicker Indy seat.
The end result of this rider centricity is simple – control. You just feel more in control. However, especially with the Pro-X, we sensed a taller riding position in this new AXYS line. It's quite real with the Pro-X, which sits 2.5 inches higher in ride height versus the Pro-S.
COMPARISON: Read our review of the 2014 Ski-Doo MXZ X-RS
The new Pro-XC external shock rear suspension on the Pro-X was designed to sit 2.5 inches taller as a result of its competition-quality Walker Evans adjustable piggyback shocks. These gas shocks are bigger with oversized springs to better control travel in the most challenging terrain. The Pro-X's premium billet aluminum Walker Evans shocks can be rebuilt and revalved as necessary.
The front suspension shocks of the Pro-X extend 1.5-inches longer to give this terrain model more travel, up to 9.9 inches overall versus the 9.3 inches available with the Pro-S. When you look at the specifications of the Pro-X and Pro-S, don't be fooled. While both models come standard with Walker Evans premium shocks, the ones on the Pro-X are set up with higher spring rates and valving determined to work best in big bump territory. If you are not by definition a full time big bump rider, you may find the ride too severe. Let the taller five-inch handlebar riser serve as a clue to how and where Polaris thinks Pro-X riders will go. Chances are you'll be tall in the saddle, so tall that you'll be standing more than sitting and looking to take full advantage of the new Pro-XC suspension and the aggressive 120-inch Backcountry X track spinning around it. Expect plenty of bite with its 1.75-inch lug profile.
However, as any responsible Polaris dealer will explain, the Pro-X is big bump specific. It will not handle the curves and sweepers as well as the lower-slung Pro-S, which is designed and tuned to be a superior trail sled. That's your choice, or perhaps your dilemma.
What's not a dilemma will be the new sled's power. Uh-uh… the all-new Liberty Cleanfire injection 800 two-stroke is wicked powerful. Redesigned around the base architecture of the old 800, the new version displaces 795cc with a bore and stroke of 85mm x 70mm. The 2015 twin spins and ramps up performance more quickly thanks to a new and lighter crankshaft. Based on Polaris' 2014 race engine, the new crankshaft weighs 2.5 pounds less than before and offers noticeably improved throttle response. Not all of that added zip comes from the lighter weight crank. Polaris replaced the gear-driven oil pump with an electronic one that reduces throttle pull by a claimed 35 percent, plus delivers more accurate and consistent oil flow. Another improvement stems from a new and more precise three-stage electronically controlled exhaust valve. The Cleanfire throttle bodies are lighter and overall airflow benefits from a less restrictive air intake made possible with the reworked AXYS chassis and engine bay.
COMPARISON: Read our review of the 2014 Arctic Cat ZR 8000 RR
We were impressed with the new Liberty 800 in West Yellowstone and can only imagine how much more of a screamer it will be at Midwest elevation. Polaris definitely upped the ante with the new twin, getting weight out so it will rev up quicker and create an undetermined horsepower gain – perhaps as much as 10 or 15 percent depending on which Polaris source you chat with.
With upwards of 38 pounds shed from the AXYS versus previous Rush models, Polaris engineers suggest a power-to-weight performance gain akin to adding 20 horsepower. We can't vouch for that, but we can state that this new AXYS series comes with way more performance than we expected. Now whether you're rider enough for the 800 Rush Pro-X is up to you. But if you are and you want one, act quickly as April 15th will be the last day you can order one.
2015 Polaris 800 Rush Pro-X Specs
Engine
NEW for 2015 — Polaris Liberty 795cc twin cylinder 2-stroke; liquid-cooled; Polaris Cleanfire electronic fuel injection; two-into-one exhaust with 3-stage variable exhaust valve; CD ignition
Horsepower
160+ (estimate)
Drive
Polaris P85 drive with Team LWT driven clutch
Front Suspension
AXYS dual A-arm with Walker Evans adjustable piggyback competition-type shocks; 9.9-inches of travel
Rear Suspension
Pro-XC parallel rail slide suspension with external Walker Evans adjustable piggyback competition-type shock on rear, front suspension control arm with Walker Evans adjustable piggyback competition-type shock; 13.6-inches of travel
Length
114.0 in
Width
47.0 in
Height
48.0 in
Width
51.0 in
Ski Stance
42.5
Track
15 x 120 x 1.75 Backcountry X
Weight
435 (claimed)
Brake
Polaris AXYS radial disc system
Features
STANDARD: Pro-Steer skis; electronic reverse; AXYS performance seat; multifunction gauge/display;
OPTION: electric start, Lock & Ride storage
Fuel Capacity
12.0 US Gal
MSRP
$12,699 (Spring Only Purchase)