2017 Polaris AXYS 800 Pro-RMK 155 and 163 Review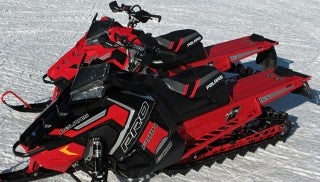 The lightest mountain sleds available
Polaris was busy this past season, sneaking into its Pro-RMK mix a new 174 Pro. We've covered the 174 LE and now shift our view to the 155 and 163.
Fast Facts
Engine Type:Horizontal In-line
Cylinders:2
Engine Stroke:2-Stroke
Valve Configuration:Reed Valve
Displacement:795 / 48.5
Starter:Pull
Turbocharged:No
View Full Spec
There was a time when a long track snowmobile – a really long track snowmobile – was a 150-something climber. Then came the 160-something length, and now 174s from Polaris and Ski-Doo. The AXYS Pro-RMK 163 was, until 2017, Polaris' super long track snowmobile. There was a time in Polaris' history when it built a 900 RMK 166, this on the Fusion chassis. We have a little bit of history here.
The ever popular 155 Pro-RMK is Polaris' best-selling snowmobile and in a long tradition with Polaris – and the industry as a whole – the 155 was North America's most often purchased snowmobile for model year 2016. It is fairly common for a mountain snowmobile, a snowmobile from a small market-share demographic, to be highest selling new snowmobile; the Pro-RMK, be it yesteryear's Pro Ride or current AXYS Pro-RMK, has worn such a crown several times.
The AXYS 800 Pro-RMK 155 and 163 have fine sports car appeal, especially the Spring-buy LE – Limited Edition – models in the Titanium Appearance Package – Lime Squeeze or Orange Burst. These Snow Check Specials have fine seat stitching and differing color seat panels.
For all Pro-RMK models, little things like the hood latches, lightweight hood and side panels, and wide open runningboards are not afterthoughts; the 800 Pro-RMK 155 and 163 are built with deep-powder purchase. At the time of this writing, we looked at Polaris' other two-wheeled product lines, Victory and Indian. These bikes are beautiful and are purpose-driven motorcycles. The Pro-RMK is a recipient of Polaris' purpose-built product vision that is bolted, stitched, laced, welded and bonded with quality.
Another sweet Pro-RMK product is the GPS-equipped Interactive Digital Display instrument pod. This pod, which sits under the windshield and rests at an angle proper for viewing while standing, gives engine stats, temperature, elevation, time and location with ease, and is Bluetooth capable; meaning, the rider and his or her phone can sync up to receive and display text messages, GPS coordinates and show which song your smartphone (or MP3 player) is rolling on.
Back to the more-technical.
The Pro Ride Pro-RMK from 2015 had a dry weight of 417 pounds. In 2016, and the same for 2017, the standard 155 comes in at 408 pounds – a nine-pound difference from 2015. The standard 163 Pro-RMK has a dry weight of 413 pounds. Now these weights are for the non-Spring buy Pro-RMKs which are not fully-loaded and accessorized with rear tunnel bags, handlebar bags, Series 7 three-inch paddle track with chaincase, sled wrap kit and front bumper. Regardless, if you choose to load up your 155 or 163 Pro-RMK with Polaris' long list of bling, including electric start, your Pro will remain light, lighter than an Arctic Cat M8000 and near that of Ski-Doo's Gen 4 REV Summit X 850. Think about this for a moment. Power-to-weight is king, and this is why Polaris is king.
In the belly is a beast, which is Polaris' CleanFire 800 H.O. (high output) two cylinder two stroke fuel injected motor. Horsepower for the Pro-RMK – as declared by independent testers – is between 164 and 168. (Isn't that similar to horsepower claims for Ski-Doo's 850?). This means the 155 and 163 Pro will move along with ease.
The motor is stealthy fast. After a full season on a 2016 Pro-RMK 163 with Series 7 track (three-inch paddles) and SKS Pro 155 with Series 6 track (2.6-inch paddles) we've come to depend on the motor's dependability. The motor idles quietly and then when lit up, it throws the AXYS chassis forward where the RPM quickly climbs to its optimum ceiling of 8100 RPM and holds, keeping the chassis flat and zippy. This H.O. motor, after a year's worth of experience, is not a peaky motor, where motor speed climbs, spikes, and falls off. The drive and driven clutches, properly calibrated for elevation, provide confident and reliable upshift and downshift.
The AXYS Pro-RMK comes with forged aluminum A-arms which, as we reported last year, are lighter than the previous Pro's bonded A-arms (year 2015). These A-arms are strong, and when a hard impact occurs, the A-arms will absorb the impact energy at designed-in crumple points, rather than transferring the energy to the bulkhead and tunnel, mostly the tunnel; tunnel wrinkling, is reduced with these forged A-arms.
Like the front suspension having a lightweight purpose, the rear suspension hyfax rails were designed to be stronger and lighter – to resist bending when encountering hard impacts. The laser-cut rails, with a support pattern like an expansion bridge, are open and are iron-strong.
All AXYS Pro-RMK models with Series 5 track (2.4-inch paddles) and Series 6 track (2.6-inch paddles) are built with Polaris' exclusive Low Inertia Quick Drive belt drive system; a drive system only found on Polaris RMKs. No other OEM has ventured into the lightweight benefits of a belt drive system. Our opinion: Arctic Cat should consider such a drive system for its M8000 line – it is light.
The front suspension is the AXYS RMK Adjustable, whereas the rear suspension is the AXYS RMK. Shock package for the front and rear is dependent on model, be it standard, LE or three-inch (for three inch, Series 7 paddle track). Shock choices generally are for the Pro-RMK, the Walker Evans Impact-Extruded Monotube shock, and for the LE and three-inch, a combination Walker Evans Compression Adjustable Piggyback shocks and Walker Evans Impact-Extruded Monotube shock.
For those who purchased a 155 or 163 Pro-RMK with Series 7 3.0-inch paddle track, then it will have a reliable chaincase drive system; the same as the AXYS RMK Assault and AXYS SKS. With the Series 7 paddle track, the 155 weighs 421, and 163 weight is claimed at 426. The taller lugs and chaincase adds some weight, but nothing to freak out about.
Polaris' narrow AXYS Pro-RMK allows a driver to stick it hard into a steep slope without its side panels pushing out the snowmobile and track; a truism called "paneling out." In defining this truism, the AXYS Pro-RMK's ski's outer edge and the track stay in contact with the snow, when the chassis is set on edge. The open and narrow PowderTrac running boards contribute to the RMK's gravity-defying attitude.
The AXYS Pro-RMK's rear suspension is locked down, side movement is non-existent. Polaris believes its RMK operators want complete control over a sled's movement. Polaris feels its customers do not want their input energy being transferred to a rear suspension that swings. For us, we understand their opinion. However, we also understand Ski-Doo's thoughts behind the T3. It is you that will need to work this out. The lightweight rigid rear suspension is built to control pitch, thus improving weight transfer. According to Polaris, "The rigid suspension delivers power directly to the snow."
Final Thoughts
Polaris' Pro-RMK is the lightest mountain snowmobile on the market. As mentioned, less-is-more, and with the Pro's lightweight, powerful motor, stellar power-to-weight, it is the lightweight king.
The AXYS Pro-RMK is a dominant mountain machine. The 800 Cleanfire H.O. performs well and is a noticeable improvement from the earlier 800cc engines from Polaris. The bottom- and mid-range pull is strong.
The chassis is light and does indeed get up on top of the snow. In powder, the raised RMK chassis goes through the deep snow with ease. The high center-of-gravity makes rolling the sled on edge easy and it has a wide sweet-spot when sidehilling, which makes it stable and predictable. The AXYS chassis handles with ease many varied hillside snow conditions. We take note of this especially when sidehilling across a previously trenched-out mountainside; its handlebars stay positive in the hands of its operator.
Speaking of handlebars, we implore riders to choose the lowest post for their Pro-RMK, as it makes tree running much sweeter. After multiple visits to extreme backcountry rider clinics, low posts make boondocking less taxing. We understand riders are not all 5'10", some taller, some not, but if you can make a run with the lowest post, your tree running and boondocking game will jack up a bit more.
With our experiences on a 2016 Pro-RMK 163 with the three-inch Series 7 paddle track, and our SKS Pro 155 with the Series 6 paddle track with 2.6 paddles, we favor the Series 6 track; it is the best all-around track from Polaris and performs almost – almost – as equally well as the Series 7. The Series 7 is an excellent track for neck deep powder, but if there are choppy hard conditions, the tall paddles seem to fold, thus chopping away at flotation, lift and forward momentum.
The overall quality – fit and finish and styling – is eye catching. The Series 7 three-inch paddle track is impressive; but then so is the Series 7 2.6.
For us on the Mountain Team, we found and find the 800 AXYS Pro-RMK 155 and 163 to be pleasant, simple, and as Polaris states, "flickable."