Inside Arctic Cat's 2017 M8000 Offerings: Part 2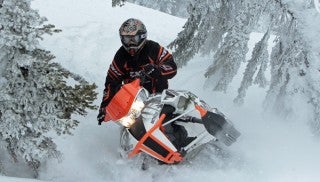 Differences show up when riding Arctic Cat's three new M8000 sleds
Hopefully, you've read the tech-speak on the Limited, Sno Pro and SE/ES in Part I. If not, take a moment to do so to understand why we have pushed ourselves in a certain direction for each M8000 model. Also, at an earlier date, we wrote about the Mountain Cat, also an M8000, which is Arctic Cat's 2017 super premium mountain snowmobile.
Fast Facts
Engine Type:Horizontal In-line
Cylinders:2
Engine Stroke:2-Stroke
Valve Configuration:Reed Valve
Displacement:794 / 48.4
Starter:Pull
Turbocharged:No
View Full Spec
Let's get to it.
The three M8000s mentioned here are powered by the 160-horsepower, 794cc, two-stroke, electronic fuel injected (EFI) motor that is Arctic Cat-designed and Suzuki-built. This H.O. (high output) motor has been around for almost 10 years and remains solid in durability and reliability. It may not be a super hottie EPA-clean motor, but it is gorilla strong.
Starting with the Limited, we were a little upside down as to why Arctic Cat opted to build the Limited with the 2.6-inch PowerClaw rather than the three-inch PowerClaw. In Part I, we reported that on Cat's website the Limited comes with the three-inch track, but in two introductions with six days combined riding, the Limited came with the 2.6-inch PowerClaw and Cat was clear that the 2.6 is the factory-installed track for it.
Given that, except for some minor changes to shock valving and fuel mapping, the Limited remains unchanged from the 2016 Limited.
The Limited does not have the Mountain Cat's narrowed-in lower side panels, runningboards, dropped and rolled chaincase, and opened-up toe wells, though we wish it did. In fact, every dang M8000 should be this way, especially for the Limited and Sno Pro.
Anyway, the rear skidframe ­­­– the Float Action rear suspension ­­­­– provides comfort and excellent weight transfer control; in fact, not only for the Limited, but for the Sno Pro and SE/ES as well.
For the three M8000 variants, the Team Industries clutches, Rapid and Boss, keep the belts running cool, as to previous years when the M8000 did not rely on Team clutches. The Team clutches deliver quick track response when the throttle is slammed against the right side bar. As you fine tune these clutches, you will learn how robust they are.
The M8000 Limited is a premium mountain sled, minus the Mountain Cat skinny jeans. It has a proven track, premium Team Industries clutching, front and rear suspensions with premium shocks that make the most ardent mountain rider weak at the knees.
A question we're often asked is what's the difference between the Limited and Sno Pro. There are differences, but they are subtle. Conversely, when comparing the M8000 SE/ES to the M8000 Sno Pro, these two are separated more in differences than the Sno Pro is to the Limited.
The M8000 Sno Pro is as near that of an M8000 Limited, minus ProClimb bumper, storage and Fox EVOL shocks.
The Standard Edition M8000 line – SE/ES – is more than a beginner's mountain sled, it is all ProClimb M8000 with standard electric start and a PowerClaw track that has 2.25-inch lugs
The M8000 SE comes in two track lengths only: 153 and 162. Last year, it was 141 and 153 only. How moods change models is remarkable.
The Sno Pro, regardless of length, 141, 153 and 162 uses the 2.6-inch PowerClaw track. The M8000 Sno Pro 141 is as nimble as a snowmobile can get. The shorty M8000 Sno Pro 141, with bite from the 2.6-inch PowerClaw, is rock concert fun. Of the mountain team riders, I must confess, 140-something deep-powder crossover snowmobiles, such as Arctic Cat XF 8000 High Country 141, are snowmobiles that make me feel like I wear a younger man's clothes. The 141 M8000 Sno Pro, though it may not float in the deep powder or run the steep-and-deep gauntlet like a 153 or 162, can be the ghost to catch in the trees.
The SE does not look like a rental company's rental M8000. Its graphics, seat, telescopic handlebars, runningboards, skis, front and rear suspension give it the serious mountain snowmobile look. And guess what, it is a serious mountain snowmobile. Sure its track lugs are shorter and its shocks are not as upper class as the Limited or Sno Pro, but all-in-all, it is a ProClimb M8000.
Would we dare to wallop a mountain's nose and ear on a Limited, Sno Pro and SE/ES, leaving the Mountain Cat home? Without hesitation, yes. The SE/ES with its shorter lugged 2.25-inch PowerClaw track is not our first choice, but we can make it work. The 2.6-inch PowerClaw on the Limited and Sno Pro is all business and much in aligned for deep powder play. The 141-inch Sno Pro M8000 is a playful Cat and can deliver some nice crossover action as well.
Lastly, the Limited, Sno Pro and SE/ES are mountain snowmobiles designed for different folk, but folk who want to play in the steep-and-deep. The Arctic Cat M8000 Sno Pro closely aligns to the M8000 Limited. The M8000 Sno Pro 141 also aligns close to the XF 8000 High Country Sno Pro. The SE/ES, Sno Pro and Limited M8000s are mountain snowmobiles separated mostly by track lug height and shock type. Regardless, the Limited, Sno Pro and SE/ES are M8000s designed to play on the mountains.
Now, some weighty matters. We all know the M8000s are the heaviest of the two-stroke twin-cylinder mountain snowmobiles. Competitors Polaris and Ski-Doo have lighter snowmobiles, with Polaris' AXYS RMK Pro being the lightest, by much. Arctic Cat knows its M8000s, including the Mountain Cat, are heavy compared to the AXYS RMK Pro 800 and Summit 850, and quite frankly, they are mad at themselves for losing so much market share in the lightweight game.
However, the M8000s, especially the Limited and Sno Pro, are so well-balanced and well-behaved, these feel lighter through the handlebars than their lighter competitors. The M8000s, with their light and airy feel through the bars, and powered by a strong motor, feel ahead of its time. But, we live in a world where less is more – less weight equals more sales.
Cat can do well by giving the M8000 a lighter hood, and a scaled down and lighter muffler canister.
Last year after we tore down mountain after mountain in Idaho, Utah, Montana and Wyoming, we would pile into our truck, begin the drive home and nag each other with this question: "How is it the heaviest two-stroke mountain snowmobile in most conditions feels the most nimble and is often the easiest to handle?" Now, we are not writing here that the M8000s are so far ahead of the RMK Pro and Summit as to relinquish these to loser status. Heck, we have them all during the winter and know each quite well. What we are saying is that this six-year-old ProClimb chassis has, over the years, become so refined it feels new, but only by a few 1/100ths.
Besides the weight, the ProClimb M8000 looks much the same as it has for years. Folk like you and me want new and refreshing. This, too, hurts sales.
That said, here is what else the ProClimb has going for it. The PowerClaw tracks, the 2.6-inch and 3.0-inch versions, are phenomenal and well-suited for most, if not all, conditions. The front and rear suspensions are tough, give a pleasant ride and contribute well to the mighty M8000's agility.
The M8000, in all variants, can sidehill with ease, allows stress-free wrong-foot forward riding and can stay almost snow- and ice-clean. The M8000s are king at deflecting snow and ice flash freeze; they gain minimal weight as the day wears on. The vertical steering post, narrow fuel tank and toe wells keep a rider properly positioned for tree running. The more we learn from masters like Bret Rasmussen, Dan Adams and others, the more we want a shorter height and shorter length mountain seat. We bump the seat on swing overs, as we also do on the RMK and Summit.
We have come to like the new tapered mountain ski, but after riding Yamaha's new mountain ski on the Viper and Sidewinder MT-X, we like the Yamaha ski better. As you know, Yamaha, purchases from Arctic Cat its ProClimb chassis to construct its M-TX line – Viper and Sidewinder. It appears to us; the Yamaha ski can directly mount to the M8000.
This writer has heard numerous times from Arctic Cat that I am their biggest pain in the rear; their ProClimb rear. I do this because I believe in Arctic Cat. Maybe we hit Cat when they are down. But, they sure can take a hit.
In closing, do not, we repeat, do not be afraid to climb every mountain on a M8000 Limited, Sno Pro and SE/ES. Understand each M8000 and its limitations (all mountain snowmobiles have limitations), and your own limitations. Furthermore, if you want a mountain snowmobile that does not break down, then the M8000 is your purchase.