2018 Polaris Snowmobile Lineup Preview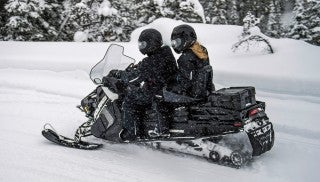 Making big changes in sport/versatility and adding XCR and SKS models
We can only guess at what new sleds each manufacturer will drop on us each season. The 2018 Polaris snowmobile lineup introduction proved b-i-g. Headlining the unexpected from this pioneer snowmobile manufacturer is an all-new sled in what Polaris considers an all-new category of extreme crossover. The Titan, a truly unique entry, belies its 20-inch wide by 155-inch long track with 800cc performance you'd expect from an RMK or Assault. The new for 2018 600 and 800 Switchback XCR models are what you'd expect after the success of last season's Rush-based versions. And the new 800 SKS 146 brings the IGX 146 skid rail to serious powder and crossover riders.
Polaris continues its practice of offering Snow Check Select customization for those who make an early purchase. This customization is a three-part process of choosing your sled from among eligible RMK, RUSH and Switchback models; picking a color combination of chassis, suspension, body and trim; and then adding options such as windshield, track, instrumentation and shock package. The early season program begins March 6 and expires on April 15.
Even though much of the Polaris 2018 lineup features minimal changes, with the customization plan, Polaris buyers can assure themselves a unique sled to fit their needs and style.
You'll find that the famed RMK line remains solid in its continued leadership role as Polaris' Number One selling series. With its sales leading 800 Pro-RMK, Polaris owns the powder snow market thanks to the RMK's many features that give it nearly instant lift to get up on the snow, rider balanced control and quick response from its Polaris-built 800cc electronic fuel injected two-stroke twin.
As for new additions in the powder segment of the 2018 Polaris snowmobile lineup, look to the 800 SKS 146, which blends Pro-RMK power with a trail-friendly makeup. Designed to conquer powder liked an RMK, the SKS 146 provides confident on-trail handling from an Ideal Geometry Crossover rear suspension that manages the needs of the 146-inch Peak track with its 2.25-inch profile lugs.
The IGX146 parallel rail skid frame's front torque arm extends longer to better control pitch and its greater travel distance reduces bottoming. This new rear suspension design continues Polaris' use of tipped rail design to give the SKS 146 more nimble trail handling without sacrificing powder snow efficiency.
This new SKS 146 comes fitted with Walker Evans piggyback clicker shocks, Pro-Steer skis, forged aluminum A-arms, the AXYS design body combined with the AXYS chassis. Under seat storage is standard as are Powder-Trac hybrid running boards and Polaris' MessageCenter gauge.
New in the performance crossover series, the 2018 800 and 600 Switchback XCR models mimic the features of last season's RUSH-based XCR, but now with an extended track length to the race-ready trail performer. In early season test riding, we found the Pro-XC 137 reinforced rail suspension offered a more confident ride with excellent handling from the Walker Evans high/low compression shock package that comes on this sled. Power is a choice of the Polaris 600cc or 800cc twin.
Again, you'll find changes in the Switchback, Assault, and RUSH series limited to minimal updates in shock options, graphics changes and accessory options. There are Pro-S, Pro-X and XCR versions of the RUSH as last season.
The Indy and Voyageur lines rely on either the Polaris 600cc liquid-cooled twin or the multi-purpose fan-cooled 550cc twin. The Indy continues with a selection of sport and utility models. The Voyageur comes with a choice of the 144 or 155 track length.
While the bulk of the 2018 Polaris snowmobile lineup is updates of existing models, the Titan is all new and represents a brand-new category of snowmobile – the extreme crossover. Sitting on a high flotation, big grip 20-inch by 155-inch length track and suspension, the Polaris Titan delivers performance unlike any "big" sled in the industry. It's proven 800cc Polaris EFI twin powers through a Polaris engineered and smooth shifting three-speed gearbox of high/low/reverse with neutral. Top speed on this sled blows away any previous Polaris wide track design. In fact, the new Titan has a better the hole shot than the company's 800cc sport sleds.
The 2018 Titan measures big but rides smaller. It is an AXYS design, which means it offers rider balanced control on the trail and is deep snow capable like an RMK. Honest! The Titan does so many things that you can't think of it as a utility model, but a versatility model. Want to ride the trails with the boys on the weekend? No problem with its 800-class power. Need to haul an icehouse out to a lake? No problem as the high/low tranny equipped Titan can haul 1,200 pounds. Want to take a significant other out for a weekend trail tour? The fully featured Titan Adventure is ready with two-up seating and add-on storage options.
Polaris spent the past four years getting the Titan ready for primetime by giving it top of the line 800cc Polaris power, an articulated rear suspension to help you keep going in reverse over obstacles. Keeping this sled running cool in low snow conditions is a combined system of aluminum extrusions and robust front-mounted radiator.
The Alpha Transmission is all new and designed specifically for the Titan to be both smooth and reliable in operation. It has High, Low, Reverse, Neutral drive ranges that should suit the most extreme conditions and situations even when hauling loads up to its 1,200-pound capacity.
While the Alpha transmission gives the Titan its go power, there's a newly developed braking system to complement the sled's high-performance engine. Positioned in the path of cooling airflow, the brake delivers consistent performance in all conditions. Like the rest of the Titan, the brake was developed with high-durability components to withstand both aggressive riding and punishing winter conditions. The Titan disc brake features a four-piston caliper and radial master cylinder.
For 2018, there are three Titan models. The Titan SP 155 could be considered a base unit with its 1.375-inch lug Ripsaw track, tall 20-inch windscreen, monotube shocks and new versa storage platform that will accommodate a catalog's worth of quick-attaching accessories.
The Titan XC 155 adds a bit of sport flair with a taller 1.8-inch lug Cobra track, FOX QS3 compression-adjustable clicker shocks, mid-height 13-inch windshield, and the narrower RMK-style Gripper instead of Pro-Float skis.
The Titan Adventure 155 brings the Adventure accoutrements to this new design with two-up seating, 24-inch tall windshield, extreme front bumper, rearview mirrors, Versa storage platform and rack, plus a Cobra track with 1.555-inch lug height. The Adventure upgrades the message center to Polaris' interactive digital display.
All Titan models share the a generous 14-gallon fuel tank, AXYS comfort seat (touring seat on Adventure model), standard J-hook rear hitch, PowderTrac running boards and a large list of accessories.
To understand the benefits of the versatile Titan, you must ride it. Looking at a specifications sheet doesn't help you as your eyes will almost immediately start to roll back in your head when you see that 20-inch by 155-inch track statistic. Find a dealer or show where you can test ride the Titan and then you may understand just how versatile this sled is. It's unlike any wide tracker you've ever encountered. And that will be Polaris' challenge, defining the Titan.
All the other 2018 Polaris models fit nicely in their niches like the best-selling RMK, the new SKS 146 and Switchback XCR, and Indys. But the all-new Titan, Polaris' biggest sled launch for 2018 is unique compared to other Polaris models for 2018. Check out the new for 2018 Polaris line at your dealership and, if you want something truly your own, consider a Snow Check Select early buy. Remember that option ends April 15th.
Polaris/Timbersled
In addition to new sleds, Polaris unveiled a brand new ARO platform for its Timbersled Snow Bike. The new ARO system platform that is 11 lbs lighter changes the game in ease of installation.
Polaris notes it features an all-new aluminum chassis, rear suspension, track, and ski that combine to give riders industry-leading handling and the easiest convertibility.
"ARO Platform's outstanding performance," Polaris explains, "is the industry-exclusive 1:1 Ski/Track Ratio. This unique ski-to-track relationship creates a breakthrough in handling by enabling riders to hold more precise lines with less effort – even when crossing snow bike tracks or railing on hard pack. The all-new ARO Chassis provides snow bikers with the same responsive, nimble handling they experience when riding on dirt. The chassis is 1.5 inches narrower, more agile and more fun. It's lighter weight also enhances handling and minimizes rider fatigue."
There are six Timbersled kit designs for 2018:
ARO 120 featuring the all-new ARO Platform, for quick and easy installation
ARO 120 LE, a limited-edition version with upgraded shocks
ARO 137 that delivers the flotation, traction and acceleration deep snow riders need to ride higher and go deeper into the backcountry
ARO 137 is a limited-edition version with upgraded shocks
ST 120 RAW, the industry's best snow value
ST 90 RIPPER, designed for 110cc dirt bikes with its low ride height