2019 Polaris 850 Indy XC 129 Review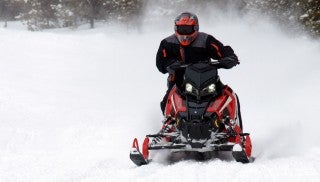 The 2019 Polaris 850 Indy XC harkens back to when the Indy made Polaris number one in industry sales.
Fast Facts
MSRP - US$13,199
Engine - Patriot 840cc twin
Horsepower - 165+ (not confirmed)
Track - 15 x 129 (Snow Check options)
View Full Spec
Too often companies look far ahead into modern times, forgetting what made them great, forgetting their legacy. Scratch Polaris off that list. Welcome a brand new 2019 Indy that reignites Polaris history with an all-new 850cc twin cylinder two-stroke that welcomes modern technology wrapped in a heritage namesake of powerful trail value.
This hasn't always been the case at Polaris, which a decade ago was all too eager to dump its trailing arm Indy series in favor of its less than successful Fusion 900. And, as dedicated Polaris enthusiasts know, back in the 1980s Polaris executives of the day favored the not-so-popular but less expensive to manufacture direct-drive Cutlass over the Indy that was becoming a big hit with snowmobilers. The costlier to produce Indy and its popularity won out as riders wanted the trailing arm suspension and its race-winning engineering. For more than a decade, the Indy helped Polaris lead the industry in market share.
With the Fusion and its A-arm front suspension, the Indy all but disappeared until returning a few seasons ago as Polaris' "value" brand, with a fleet of models powered mostly by the faithful Fuji-built 550c fan-cooled two-stroke twin. There had been an 800cc sport model and 600cc powered versions as well as the 550 base model. But containing costs and maintaining a "value" image meant the 550 would be the power of choice for various short and long tracked Indys in Adventure and two-up guise.
That all changes now as Polaris ramps up Indy performance with an all-new Indy 129 series that includes the Polaris 850 Indy XC 129. Still a great value, the 2019 Indy series regains its performance heritage in a big and powerful way on a new AXYS chassis that houses an all-new Pro-CC rear suspension and the brand new 850cc Patriot twin. This isn't your uncle's Indy. At 460 pounds and with 160-plus horsepower, the 2019 Polaris 850 Indy XC 129 has trail credibility not seen since the race-dominating Indys of past decades.
At US$13,199, the 850 Indy XC retails for nearly double the list price of a 550 Indy (US$7,499). About the only thing staying the same in the new world of Indy performance is the Indy name. The 850 Indy XC 129 is a next evolution of Indy, meaning that it gets a rider balanced AXYS chassis that fits a more aggressive 129-inch track length. Track options for this Snow Check early season sled range from a familiar Ripsaw II with 1.25-inch lug height to Cobra with 1.35-inch profile or a Camso Storm with taller 1.5-inch lug profile. You would choose the track when you put your money down for the Snow Check purchase options.
You would also commit to the new 850 Patriot engine as your first choice. It is the choice to make as this all-new Polaris developed and manufactured two-stroke twin will be a strong challenger to Ski-Doo's 850. Polaris marketers remain coy about head-to-head specifics between the two 850 designs, but suffice it to say that Polaris fully expects the engine to give whatever chassis its slipped into the industry's leading power-to-weight advantage. Maybe Polaris isn't being so coy after all.
This is the most powerful snowmobile engine Polaris has ever built. To ward off any possible bad Fusion 900 karma, the company offers a four-year warranty standard. You will note that the Patriot comes with new pistons, a lightweight crankshaft, new cylinder and head design for maximum rigidity and cooling, a new three-stage electronically controlled variable exhaust valve, more powerful regulator, faster processing ECU and a new throttle body and throttle position sensor. Also note that this engine is not direct injected, a concept Polaris explored but backed away from due to cost as much as potential negatives, such as carbon build up more common to DI set ups. The Polaris throttle body design in its simplicity offers proven effective performance that will offer riders a reliable and consistent performance.
Also new is the Indy's Pro-CC rear suspension, which is designed to complement the AXYS dual A-arm front suspension. The front section of the Pro-CC is essentially the same as other Polaris designs with the front torque arm calibrated to curtail bottoming. The rear portion reflects a coupled design with new geometry to control pitch and a rear torque link that optimizes Polaris' Rider "Balanced Control" position. Polaris claims this next generation Pro-CC Rear Suspension produces the industry's best acceleration and handling with a consistently smooth ride.
As you'd expect, the Indy XC comes standard with race-proven Walker Evans shocks. This season's shocks feature easier adjustability thanks to improved clicker accessibility. Front suspension uses reservoir-style Piggyback Needle shocks to control its 9.3 inches of travel. At the rear the new Pro-CC suspension houses a 2-inch diameter piggyback front track shock for durability and an improved ride. A softer spring rate assures improved performance and ride. The rear arm shock is a Velocity Needle shock with improved oil flow to reduce harshness at top end clicker settings.
The 2019 Polaris 850 Indy XC 129 proved a very pleasant surprise. We anticipated this Indy being a bit of a handful with all that power added. But we had failed to appreciate how the engine was simply the most obvious component in a totally new breed of Indy. Polaris didn't simply drop its new 850 Patriot into a 550 Indy model. This is new. The chassis is more Switchback Assault but fitted with a 129-inch length track in lieu of the Assault's 144. The 850 demanded its own mounting placement in the Indy AXYS engine compartment and it required a performance update of the Polaris P85 drive that's partnered with a Team LWT driven.
The end result is a sled that we found rider-centric for screaming on groomed trails and more than capable of busting off trail moves at the push of the throttle lever. It's particularly fun to ride as its power accentuates Polaris' rider-balanced concept of teeter-totter light and bite performance. Slip back on the Performance saddle to carry the skis when accelerating or pull forward to maximize the Pro-Steer skis cornering bite. Simply stated the sled is a blast to ride. We can see it having great appeal to performance riders and a serious challenger to Ski-Doo GEN-4 850 owners.
From an ergonomic viewpoint, the Polaris 850 Indy XC offers excellent ride positioning and a fair amount of standard onboard storage thanks to an integrated under seat tunnel bag. The left-hand control may not be as nifty as the latest design from Cat and Yamaha with their multi-adjustable hand and thumb warmers, but we like the simplicity of the three-position high-off-low rocker switch Polaris retains for warmer control. It's a quick touch that doesn't require taking your eyes off the trail to check a dash-mounted gauge. Simple and effective.
That wraps up this all-new Indy. Simple and effective. It's potent with the Patriot 850 two-stroke twin. Rides well thanks to the new Pro-CC suspension. The born-again all-American 2019 Polaris 850 Indy XC provides very good value in a "heritage" manner that harkens back to the best Indy traditions when the Indy made Polaris number one in industry sales.