2021 Polaris Snowmobile Lineup Preview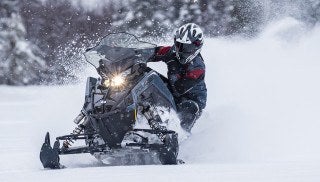 QuickDrive2 drive system and 650 Patriot engine among highlights
The 2021 Polaris snowmobile lineup has been unveiled it there are some exciting changes and innovations for the new model year.
We will get into more detail below, but the key changes for the 2021 Polaris snowmobile lineup are a new QuckDrive2 (QD2) lightweight drive system for the RMK line of mountain sleds, a brand new Patriot 650 engine with more power and more torque than the Liberty 600, and a new Indy VR1 trail sled and Switchback Assault 146 crossover model.
2021 Polaris RMK with QuickDrive2 Drive System
Spring buyers can take advantage of the all-new SnowCheck-exclusive QuickDrive2 lightweight drive system on the RMK series of mountain snowmobiles. Polaris
"QuickDrive2 features a low-inertia design and 10% gearing reduction—resulting in reduced rider effort, an even quicker response and instantaneous lift," Polaris says in a release.
Polaris also unveiled a new Series 8 track in 155" and 165" lengths to work with the QuickDrive2. The new Series 8 tracks feature a flex-optimized design and offer improved lug stiffness. Polaris says this track "delivers instantaneous lift, superior traction and optimum flotation for all types of mountain riding."
Polaris wanted to offer a new sled to go along with the new QuickDrive2 technology and delivered with the SnowCheck-exclusive 2021 Polaris RMK Khaos 163, which features a Series 7 track with 3" lugs.
The 2021 Polaris Pro-RMK is also available with the low-inertia QuickDrive2 drive system in both 2.75" and 3" lug configurations with track lengths up to 174". Finally, the 850 Patriot engine is available in more models for 2021.
New 650 Patriot Engine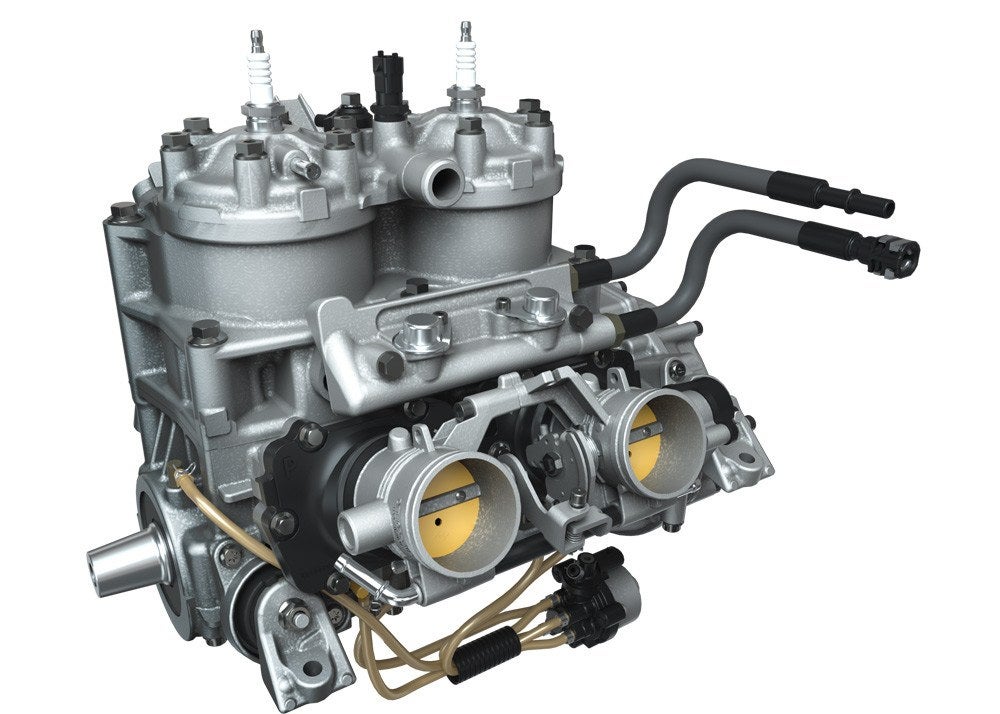 Riding on the success of the 850 Patriot engine, Polaris offers an all-new powerplant for 2021 with the 650 Patriot.
"Purpose-built to provide unparalleled durability, the new 650 Patriot delivers up to 60% improved fuel efficiency, 10% more power and 14% more torque when compared to the Liberty 600," says Polaris. "This powerful combination has the new 650 Patriot destined to become the undisputed king of the 600-class."
Other features of the new 650 Patriot engine include optimized airflow, increased throttle response, new V-Force reeds for the first time on a 600-class sled and new throttle body adapter. Durability was also top of mind, as this engine uses the same crank, rods and bearings as the 850 Patriot.
Starting the 650 Patriot is also improved. According to Polaris, a "new software strategy allows for improved starting with less fuel, providing less smoke and mitigates plug fouling.
2021 Polaris Indy VR1 and Switchback Assault 146
Also new for this model year are the 2021 Polaris Indy VR1 and Switchback Assault 146. These sleds are built around the SnowCheck-exclusive Matryx platform.
"The dominating trail performance of Indy VR1 combines ferocious acceleration, effortless control and intelligent technology," says Polaris. "The Switchback Assault 146 is the ultimate 50/50 crossover delivering pure dominance on-trail and off."
Another brand new feature on both the Indy VR1 and Switchback Assault 146 are SmartWarmers – thermostatically controlled hand and thumb warmers.
"SmartWarmers utilizes temperature sensing technology to ensure a consistent, customized flow of heat regardless of ambient temperature," says Polaris.
Other features include NightBlade projector beam LED headlight with automotive intensity and new Lock & Ride accessory integration.
If you miss out on the SnowCheck promotion, you can still get your hands on an exciting new sled with the 2021 Polaris Indy XC Launch Edition. This sled will be available in limited quantities during the season and comes standard with the Polaris Message Center gauge package. You can power this snowmobile with either the 850 Patriot or 650 Patriot engines.
7S Display with Ride Command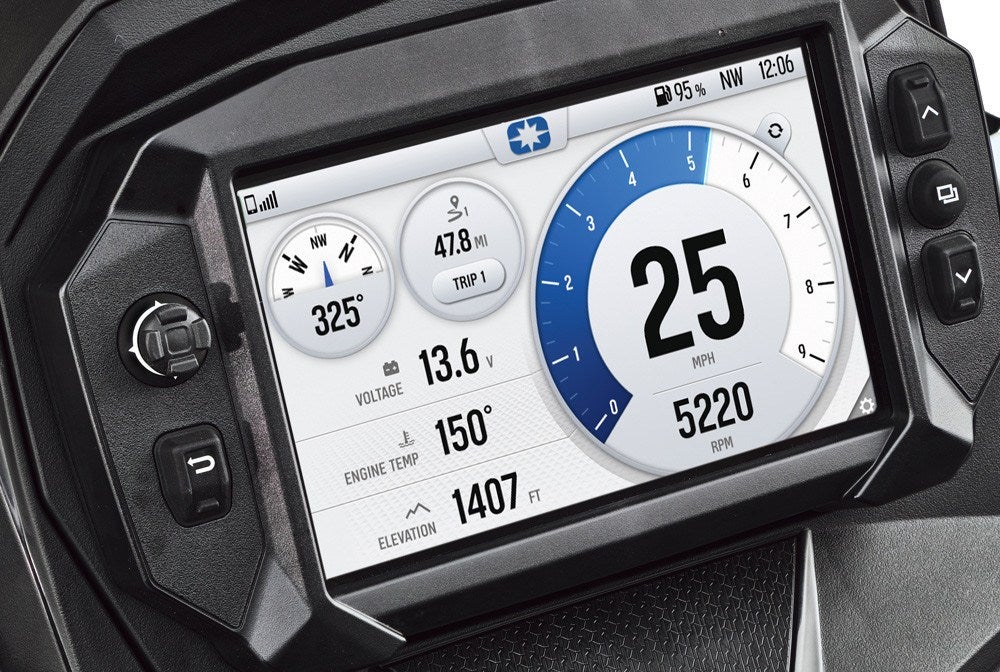 Available in both the new Indyh VR1 and Switchback Assault 146 is the brand new 7S display.  This 7" interactive, touch-screen display, features the exclusive Polaris Ride Command technology. This display gives riders access to Ride Command mapping, Group Ride tracking and offers Bluetooth connectivity.
The touchscreen works even with gloved hands and offers dedicated day and night mode styling and adjusts automatically based on ambient light levels. Integrated handlebar controls allow you to explore maps, switch gauges and control phone calls and media.
The gauges are completely configurable, allowing you to view speed and RPM, along with fuel, engine temperature, battery voltage, odometer/trip meters, elevation, compass and engine hours.
You also get full map coverage even if you don't have a cell signal. So you can use the Group Ride feature to see and follow your group at all times. Every ride is auto recorded to the display and can be transferred via USB.
Navigation features also includes trail maps, as well as a full set of gas, food and lodging information
2021 Polaris Titan
The Polaris Titan is the brand's versatile work/play snowmobile and for 2021 it offers a quieter track design and new driveshaft that Polaris says offers reduced vibration, quieter operation and increased efficiency.
Complete List of 2021 Polaris Snowmobiles
RMK Family
RMK EVO
600 RMK 144
600 PRO RMK 155
850 PRO RMK 155
850 PRO RMK 163
850 PRO RMK 165
850 PRO RMK 174
850 RMK KHAOS 155
850 RMK KHAOS 163
850 RMK KHAOS 165
850 SKS 146
850 SKS 155
Switchback Family
600 Switchback PRO-S
850 Switchback PRO-S
600 Switchback XCR
850 Switchback XCR
600 Switchback Assault 144
850 Switchback Assault 144
850 Switchback Assault 146
650 Switchback Assault 146
TITAN Family
800 TITAN SP 155
800 TITAN XC 155
800 TITAN Adventure 155
INDY Family
120 INDY
INDY EVO
550 INDY 121
550 INDY 144
600 INDY SP 129
600 INDY SP 137
600 INDY XC 129
850 INDY XC 129
600 INDY XC 137
850 INDY XC 137
600 INDY XCR
850 INDY XCR
600 INDY Adventure 137
850 INDY Adventure 137
550 INDY Adventure 144
550 INDY Adventure 155
550 INDY LXT 144
650 INDY XC Launch Edition 137
650 INDY VR1 137
650 INDY XC Launch Edition 129
650 INDY VR1 129
850 INDY XC Launch Edition 137
850 INDY VR1 137
850 INDY XC Launch Edition 129
850 INDY VR1 129
Voyageur Family
550 Voyageur 144
600 Voyageur 144
550 Voyageur 155